Sawaddee May!
Question of the month: Is there a stereotype or a misuse of terms related to your cuisine or any cuisine you know about?


Last month, I was interviewed by The Bangkok Podcast (listen to the episode here) and we got talking about stereotypes that people in N. America have about Thai food. Peanut sauce is the most obvious example to me. There are bottles of "Thai peanut sauce" in grocery stores, and restaurants make "Thai pizza" simply by putting peanut sauce on it. Yet, if you've been following HTK, out of the 400+ videos I have so far, you can count on one hand the number of times I've made a peanut sauce of some sort. To further my point, there isn't actually a Thai word for "peanut sauce". We just call the sauce for its specific use, like a "pork satay sauce" or "swimming rama sauce."


Coincidentally, right after the podcast came out I was chatting with someone, and we got talking about Pad Thai. She asked me "Do you make your own peanut sauce?" I froze for a second, trying to figure out if she had suddenly changed subject to peanut sauce, or if she thinks there is peanut sauce in Pad Thai. Turns out it's the latter, and I can't blame her because I have seen it done here too!


On a related note, I've been seeing several cases of the incorrect use of the term "nam jim". I've seen "nam jim dipping sauce" written on restaurant menus and recipes, and I was really surprised to see it used in that way because it doesn't actually give people any information about the sauce. Nam jim just means dipping sauce, (nam means water or liquid, and jim means to dip, so basically a liquid for dipping), and it could be absolutely anything you use to dip any food. But somehow people have come to think that nam jim is a specific kind of sauce, though there doesn't seem to be a clear agreement on what this sauce is. How this came to be is a bit of a mystery to me because in any given Thai restaurants there are usually many types of nam jim offered!


Interestingly, my post on nam jim got the "chai tea" people all riled up! Chai simply means tea, so to say "chai tea" is essentially the same as saying "nam jim dipping sauce." But it's almost too late to change that now because "chai tea" has become so engrained in the N. American food vocabulary, and it's commonly understood that when people say "chai tea," they are talking about masala chai. Nam jim hasn't gone that far yet—it has not been associated with a specific kind of sauce, and most people still don't know what it means—and that's precisely why I'm spreading the word, trying to prevent it from becoming another "chai tea"!


If you know of a food stereotype or a
misuse of terms
related to your cuisine or any cuisine you know about, please share it with me! I'd love to know if I'm guilty of any of these stereotypes and misuse myself!
Connect with Me on Social Media!
News & Updates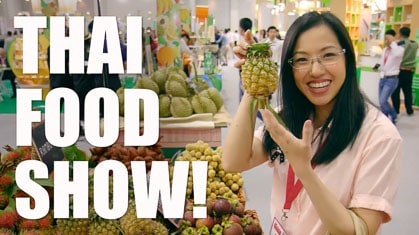 THAIFEX: Thailand's Biggest Food Show is Back on June 2, 2018!
If you're in Thailand during that time you've got to check it out! Last year I filmed the highlight of this incredible food show, and because of great feedback, this year I will be going back for more! The first 4 days are for industry professionals, but the last day is open to the public. You'll see all sorts of food innovations, products old and new, and get to taste lots of samples! Watch my video from last year here!
Latest Hot Thai Kitchen Episodes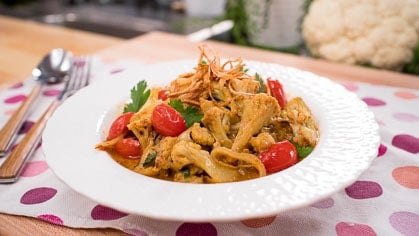 Cauliflower Stir-Fry with Yellow Curry
This flavour-packed recipe is delicious as a side dish, but it's also robust enough to be a vegetarian entree! Cauliflower is seared to develop a more intense flavour, then stir-fried in yellow curry paste which is a perfect flavour match with cauliflower!


Coconut Milk BBQ Chicken (Gai Golae)
Marinated, double basted, and triple grilled: that is the secret to the unbelievable yumminess of this chicken. I grew up on this style of BBQ chicken because it's a specialty of Southern Thailand, and I'm so thrilled to be able to recreate it because it's not easy to find!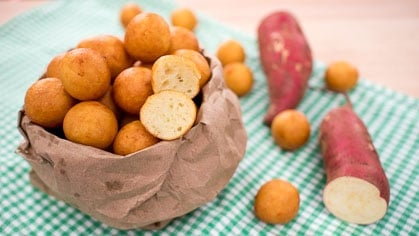 Easy Sweet Potato Doughnuts
This popular street food is also the easiest doughnut recipe ever! No yeast, no kneading, no proofing, yet they still have that yummy chewiness and airiness we all love in doughnuts. Sweet potato makes up the majority of the dough, so not only does that make it flavourful, it's even healthier!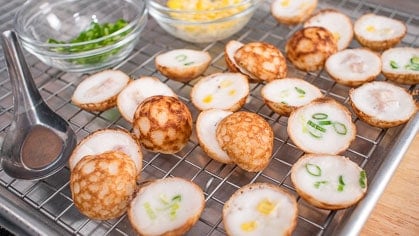 Thai Coconut Pancakes - Kanom Krok
Finally!! Here's the long awaited recipe for the famous little Thai coconut pancakes that are one of the most popular street foods in Thailand! They're so incredibly tasty that I seek them out every single time I go to Thailand.
Pai's Kitchen: Non-Thai Delights
Burmese Fish Curry
Fragrant, healthy, easy and delicious! Tomatoes are cooked down into a luscious sauce with herbs like lemongrass, turmeric and ginger, and then the fish is gently simmered in this flavourful liquid. Get the recipe
Throwback - An Oldie but a Goodie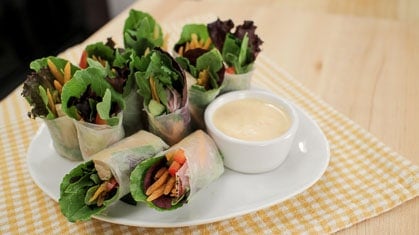 Salad Rolls w/ Spicy Garlicky Creamy Dip
Since summer is almost here, you might be looking for something light and refreshing to make. These gorgeous bite-sized salad rolls have become popular in Bangkok in the recent years. The star of this dish is the dipping sauce: creamy, garlicky, spicy, tart...this is the best thing to dip veggies in! Get the recipe
Fan Photos!
Thank you as always for submitting your beautiful creations! You can send these photos to me by posting them to the Hot Thai Kitchen Facebook page, tweet them at me @hotthaikitchen, or tag me on Instagram @hotthaikitchen.


NOTE: If you're posting photos on Instagram, please "tag" my account on the actual photos rather than just hashtagging or mentioning @hotthaikitchen in the caption. Due to how Instagram works, I might not see the hashtagged/mentioned posts, but I will definitely see the tagged ones.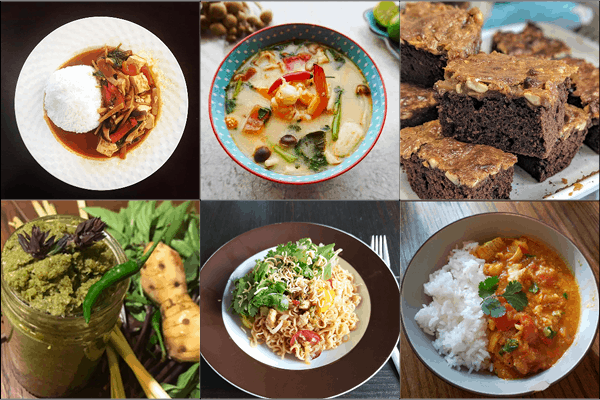 Vegan red curry by @bnjcoady; Creamy Tom Yum Goong by @healthy.pretty.smart; Mocha Toffee Cake by @missy_604; Green Curry Paste by @mister.tjjjjjjjjjj; Yum Mama Instant Noodles by @Flown87; Burmese Fish Curry by @SierraBSilver