Sawaddee July!
Question of the month: What's the most innovative food technology you've seen recently?


Earlier in June I went back to Thailand and had the opportunity to once again visit THAIFEX, the biggest food trade show in Thailand, and one of the biggest in all of Asia. It's an absolute heaven for foodies…I was once again blown away at all the new and interesting food innovations I was exposed to, like a young coconut with a twist top, deep fried mangosteens, freeze dried mango and sticky rice…and so much more!!
And YES lucky for you we filmed highlights of this year's THAIFEX and made it into a video, check it out right below! If you missed last year's THAIFEX video, make sure you check it out right below, as it was just as awesome!

This makes me think a lot about all the food technology and innovation that I've taken for granted. Simple things like…shelf-stable coconut milk. At one point this was revolutionary because fresh coconut milk is HIGHLY perishable, and without this innovation I would not be able to do what I do in Canada. I am thankful for the technology that gave rise to my favourite breakfast cereal, my toaster, and my coffee maker…among other things!! (You can tell I just had breakfast, lol!)
Would love to hear from you: what's the coolest, most interesting food innovation you've seen recently?
P.S. HAPPY CANADA DAY for all of my Canadian viewers!!
Connect with Me on Social Media!
News & Updates
MORE CONTENT FROM ME ON INSTAGRAM TV!
If you're not familiar with IGTV yet, it's a place where people can upload vertical videos of up to 10 minutes, and unlike Ig Stories, they won't disappear and you can go back to find it whenever you want (yay)! I'm excited about it because it's the perfect place for more quick-and-casual videos, and a place I can engage with you at a more personal level.
Based on what people have suggested, here's the content I've planned so far: Tidbit Tuesday (extra culinary tips), What I Eat Wednesday (a vlog on what I eat on a typical day) and Q&A Monday (I answer a question submitted by a fan that I think would be good to share with others. For those who've seen it, it was Friday, but am changing it to Monday.)
Looking forward to seeing you all there!
SEE YOU IN TORONTO & VANCOUVER! Thai Festivals 2018
Are you in Toronto? If so, come out to see me on July 14th at the "Destination Thailand" a Thai festival at Dundas Square! I'll be doing a couple of demos, one at 12:30 pm and one at 3:00 pm. Come enjoy the festival if you're in town, and if you have my book and want it signed, bring it along!


In Vancouver, the Thai Festival will be the July 21-22 at the Vancouver Art Gallery, I don't have any scheduled events but I will likely be hanging out there on the 21st (probably lunch time), so come enjoy the festival and say hi if you see me!
Latest Hot Thai Kitchen Episodes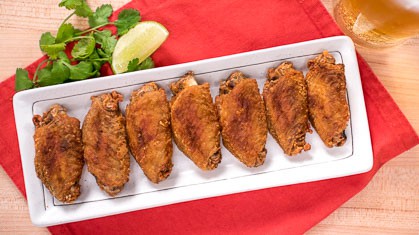 Fish Sauce Wings - 3 Ingredients Only!
This classic Thai appetizer has 3 ingredients...yet they are some of the most addictive, munchy wings ever. Even better with a beer! Get the recipe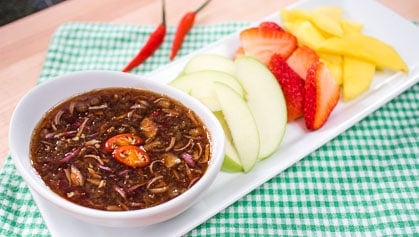 Thai Fruit Dip (Nam Pla Waan)
Sour fruits are no longer a bummer, but an opportunity to dip them in this sweet, salty, umami dipping sauce. So yum!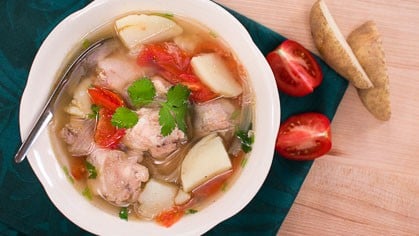 Thai Chicken Potato Soup
This dish was a regular in our household growing up, particularly because it was my brother Eddy's favourite. A great way introduce Thai food to kids! Get the recipe
Black Pepper Beef Stir-Fry
Next time you have a steak dinner, make some extra steaks and you can have this scrumptious and nutritious Thai meal in a snap later in the week! Get the recipe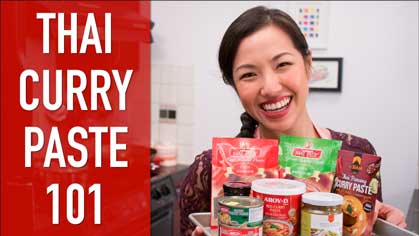 CURRY PASTE 101: What You Need to Know
How do you choose a good curry paste? What IS a curry paste anyway? In this video I answer all of these questions and more.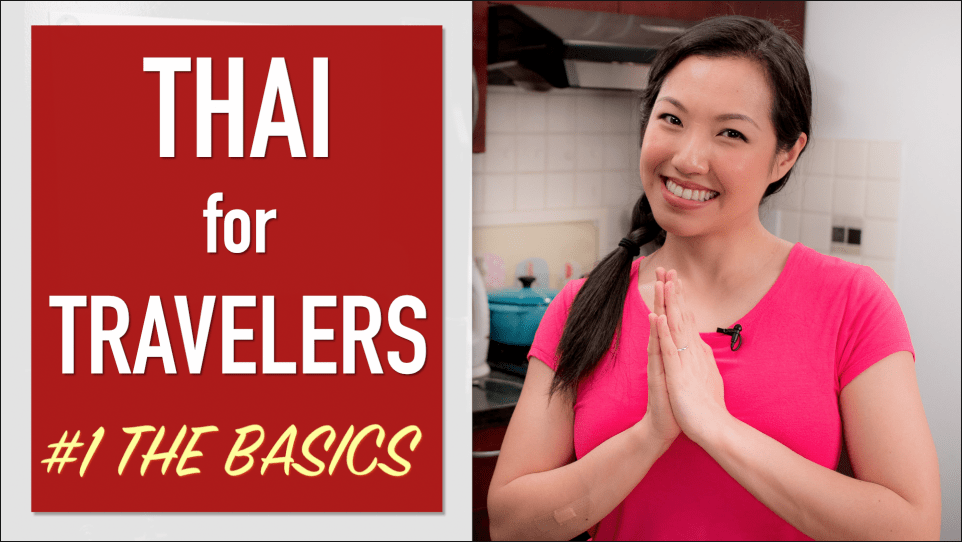 Thai Language for Travelers: The Basics
Several people have asked me to do a Thai language lesson, so in this video I'm starting with some basics to get you by in Thailand!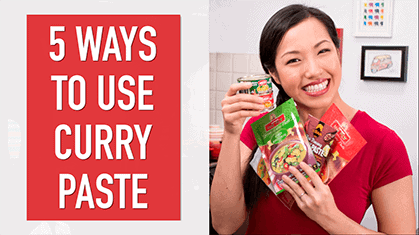 5 Ways to Use Curry Paste
So you have curry paste, and of course you use it for curries...but what else can you do?SO many different delicious ways.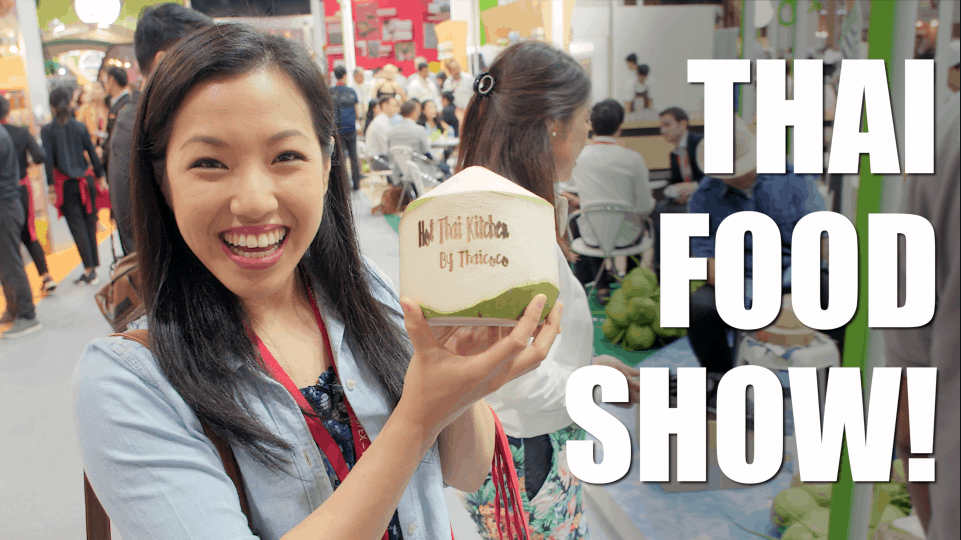 Join me to check out the coolest and newest food innovation coming out of Thailand at the biggest food trade show in the country!
Pai's Kitchen: Non-Thai Delights
Filipino Adobo with Pineapple & Coconut
New and improved Filipino Adobo my friends! This time I'm oomphing it up with some coconut milk and caramelized pineapple. Pairing it with fork tender pork belly, it is to die for! Get the recipe.
Singaporean Laksa
After a trip to Singapore, I fell in love with their laksa which uses a coconut curry broth that is complex, fragrant, and has just the right amount of richness. Seafood stock is the base of the broth, and the flavour that comes through is every seafood lover's dream. Get the recipe.
Throwback - An Oldie but a Goodie
Thai BBQ Pork Jowl & Jeaw Dipping Sauce
BBQ season is upon us! This recipe is an absolute classic when it comes to grilling in Thailand. Pork jowl is a cut that is greatly under appreciated here. It is incredibly flavourful because of the fat that runs through the meat. And that spicy, tart dipping sauce is perfect on any meat!
Fan Photos!
Thank you as always for submitting your beautiful creations! You can send these photos to me by posting them to the Hot Thai Kitchen Facebook page, tweet them at me @hotthaikitchen, or tag me on Instagram @hotthaikitchen.


NOTE: If you're posting photos on Instagram, please "tag" my account on the actual photos rather than just hashtagging or mentioning @hotthaikitchen in the caption. Due to how Instagram works, I might not see the hashtagged/mentioned posts, but I will definitely see the tagged ones.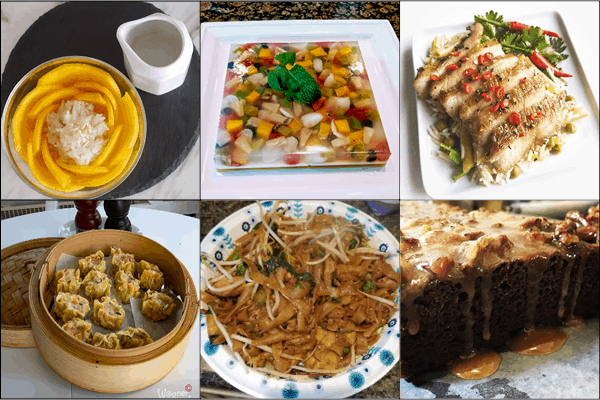 Mango & Sticky Rice by @bakesbyhuda; Agar Jelly Fruit Cake by Nowsheen, Grilled Pork Jowl by @johnwmacdonald; Shumai Dumplings by Henrik W; Pad See Ew by James B.; Mocha Toffee Cake by @tinycusina.