Sawaddee March!
March is a significant month to me in a couple of ways. One, it is my birth month, and two, it is also going to be my baby's birth month! (Unless he decides to show up early in the next two days.) For all we know he and I could end up with the same birthday!


So with baby coming, I wanted to let you all know what my plan is for my "mat leave." So please read on below.


P.S. In Canada we are so blessed to have 1 year of paid maternity leave, but because I am self-employed, this sadly doesn't apply to me. In any case, don't worry, I'm not going to disappear for a year!
Connect with Me on Social Media!
News & Updates
I am 1 week away from my baby's
due date as I write this newsletter, and we have finally wrapped up our last shoot a few days ago. Whew! I was afraid I wasn't gonna make it to that shoot! This means that I have a few more videos which have been filmed but not yet edited, so those will be coming out, but at a reduced frequency of 1 video every 2 weeks.
Some of you may know that I do all the video editing myself, so with baby it's gonna take me a little longer to get each video out, hence the reduced frequency.
Some weeks, instead of recipe videos, I plan on hosting a LIVE Q&A session, so we can stay in touch, and you can get any of your questions answered during that time. I can also introduce baby to you as well! To be notified of my Live Q&A via email: Make sure you are subscribed to my YouTube channel and turn on the notification bell too! If the timing of the livestream does not work for you, you can always watch the replay. :)
SOME THINGS TO KEEP YOU BUSY DURING MY LEAVE:
Panang Curry Beef
A much loved Thai curry, and a very quick one! Plus a recipe for easy "semi-homemade" panang curry paste. Get the recipe
Spicy Chicken & Cucumber Stir-Fry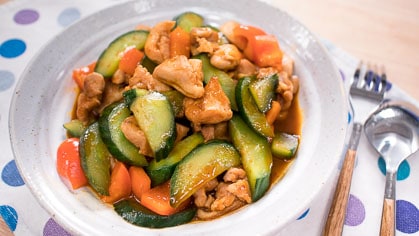 Another ingredient challenge! Do you cook your cucumber? If not, check out this recipe and you'll start cooking them soon! Get the recipe
Fried Ice Cream w/ Pineapple Caramel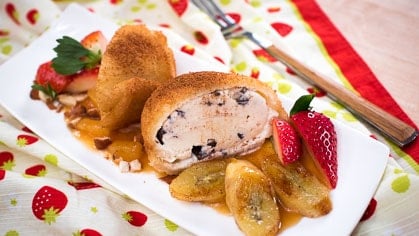 I learned this technique when I worked in a Thai restaurant and was shocked at how easy and yummy it was! The pineapple coconut caramel sauce is amazing as well! Get the recipe
Instant Pot Massaman Beef Curry
After many requests, I finally got an Instant Pot! This delicious Thai Massaman curry that would normally take 3 hours to make, took just 1 in the IP! Get the recipe
Tom Yum Pizza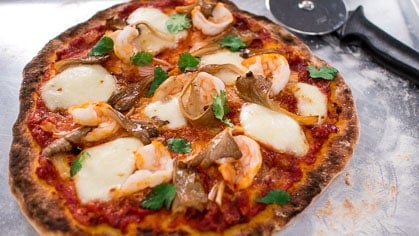 My favourite pizza ever. Thanks to Pizza Hut Thailand for introducing this to me!
Kaeng Liang - Breast Milk Booster Soup!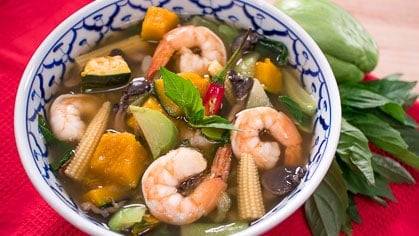 In Thailand, new moms a encouraged to eat a lot of this soup because it is believed to boost breast milk supply! But really, it's a yummy, healthy soup for everyone. Get the recipe
Easy Hainanese Chicken Rice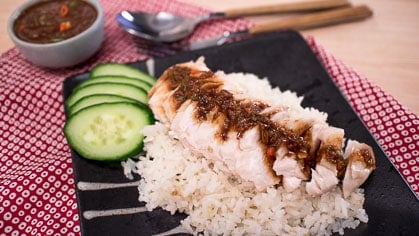 This dish takes hours to make the traditional way, but here's a method that cuts the time down so you can make it on a weeknight, without compromising flavour! Get the recipe
Dim Sum Turnip Cake (Lo Bak Go)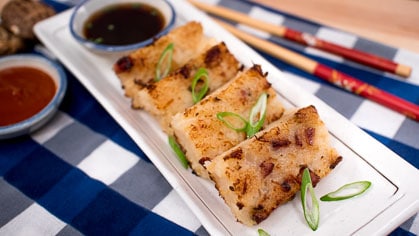 I am honoured and excited to be sharing my mother in law's famous turnip cake recipe! It's a classic dim sum dish, and I've never had a version at any restaurant better than hers.
Throwback: Lesser Known Noodles
Everyone is all about Pad Thai and Pad See Ew, but there are SO many other noodle dishes in Thailand that are lesser known but equally delicious (if not more...) and really deserve some more love. Here are a few for you to try!
Pink Noodles with Coconut Gravy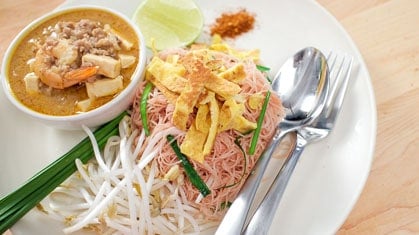 I call this incredibly delicious and beautiful dish the "creamy sister of pad thai." Mee gati shares many of the same ingredients as pad thai, but is truly unique in that it has a rich coconut gravy poured over the pink noodles!
Rice Noodles with Curried Meat Sauce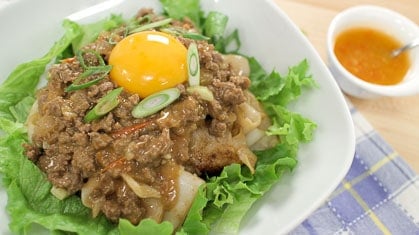 Bolognese sauce with Thai flavours...does that sound delish or what!? If you don't have the flat rice noodles, you can try substituting other kinds of noodles because the sauce works well on so many things!
Fan Photos!
NOTE: If you're posting photos on Instagram, please "tag" my account on the actual photos rather than just hashtagging or mentioning @hotthaikitchen in the caption. Due to how Instagram works, I might not see the hashtagged/mentioned posts, but I will definitely see the tagged ones.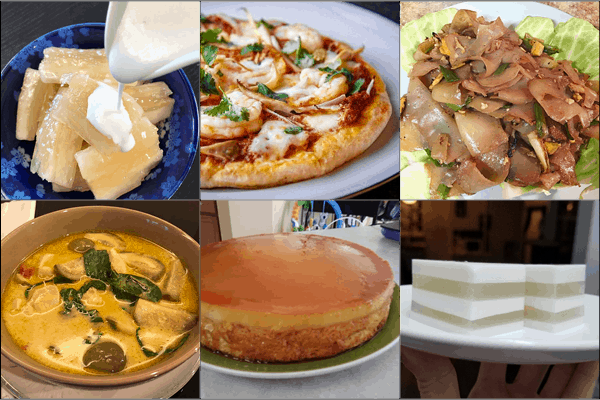 Candied Cassava (from the HTK cookbook) by@cleine_007, Tom Yum Pizza by @still_hungry_dallas, Guay Tiew Kua Gai by @sarah_slimmed, Green Curry by Christian K., Caramel Custard Cake by Mai N., Coconut Duo Jelly by @Kisskisswoo