Sawaddee September!
Sawaddee ka reader! Just curious, what are some of your favourite YouTube cooking shows? I have been on YouTube for quite some time, and when I began (in 2009 believe it or not!!) there were just a handful of cooking shows around. Now, there are tons of shows in all sorts of different styles, specializing in just about everything you can imagine. And I'd love to kow which other shows do you guys enjoy watching, and why? Let me know via your favourite social media, or via my contact form on my website here!


I really love being on YouTube because it really puts me in touch with my viewers and fosters a community. Not to mention I see right away the feedback on each video! So I know what kinds of videos people like, what are some common questions that come up, and I can use that information to make better episodes in the future :)
Connect with Me on Social Media!
News & Updates
I'm coming to Toronto! As mentioned in the last newsletter, my cookbook made the shortlist for the Taste Canada Awards, so I will be attending the Awards Gala on October 30th. It is an event open to the public with lots of yummy food served there, so come join me for the event if you're in town! Details and tickets for the gala here.

I'm going to the Richmond World Festival this weekend!

Celebrate food, art and music from cultures around the world at the Richmond World Festival this long weekend. I will be there on Sept 2nd doing a cooking demo at 6:45 PM. Come say hello if you're around!

New stuff added to KIT.

Don't forget to check back on my Kit page occasionally as I add new stuff to it quite regularly. If you haven't checked it out yet, this is where I list most of the ingredients and tools I use on the show for your reference. Also remember to let me know if I miss anything :)
Latest Hot Thai Kitchen Episodes
Mama Instant Noodle Salad (Yum Mama)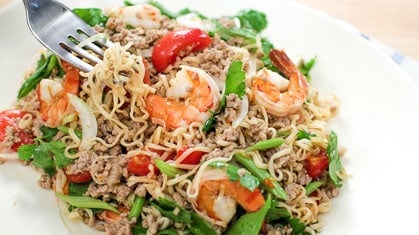 Mama is our national brand of instant noodles, and thee BEST in the world IMO! The noodles themselves are so unique and tasty that people love cooking with them, and this salad is a classic Mama recipe! Get recipe.
Massaman Curry Paste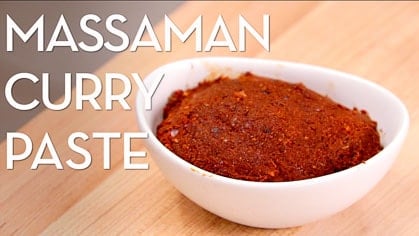 In this video I show you my new favourite technique/tools for DIY curry paste WITHOUT using a mortar and pestle! Get recipe.
Beef Massaman Curry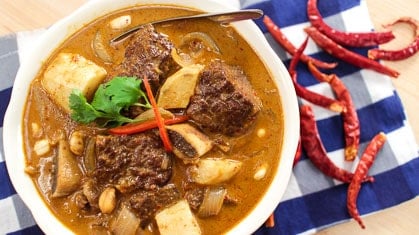 Massaman curry is famous for a good reason—it's so gosh darn delicious!!! If you've had it, you know I'm right :) I'm using beef short ribs in this version, which is hands down the best cut of beef for this. Get recipe.
Glass Noodle Stir-Fry Hainanese Style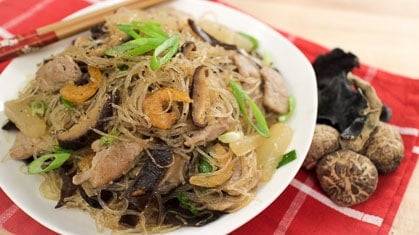 This dish comes from my granma's hometown, and it is one of her signature dishes. I am SO happy to share our family's recipe with you! Get recipe.
Special Vlog: Food Judging at World's Biggest Cultural Festival!
I was invited to judge the best food at the Edmonton Heritage Festival...which means I went around in a golf card tasting food from all sorts of cuisines around the world and had to decide which one was the best! Impossible task, right?! But we did it and it was a ton of fun. Watch the video and find out who won!
Latest Pai's Kitchen Episodes
Hokkaido Milk Bread
The ultimate soft, fluffy, Asian-style bread with tender-but-chewy texture...it seems impossible to recreate at home but with this recipe (and its secret ingredient) I can guarantee you will have success with this bread! Get recipe.
Toasted Coconut Cold Brew Coffee
I had this at Starbucks, and decided I can do way better at home...so I did! This recipe is so tasty and refreshing, and coffee & coconut is a flavour combination you MUST try! Get recipe.
Fan Photos!
As always, I LOVE seeing photos from you, thank you and keep them coming!


NOTE: If you're posting photos on Instagram, please "tag" my account on the actual photos rather than just hashtagging or mentioning @hotthaikitchen in the caption. Due to how Instagram works, I might not see the hashtagged/mentioned posts, but I will definitely see the tagged ones.
Easy Curry Puffs by @chintiayin, Pink Noodles with Coconut Gravy by @fluximuxi, Durian & Sticky Rice by @zhes_cooking_mtl, Tom Ka Gai by Forrest G., Pad See Ew by Davey D., Yum Mama by @chinesecookingdemystified