Sawaddee December!
We're expanding! Quite literally, in fact. In case you have not heard, my husband and I are expecting our first baby boy who will be joining us in March! We're so excited to meet him, and I'm also curious to find out how my cooking and eating life is going to change. Both immediately after birth when I probably won't have much time to cook, and also a little bit later on when I will have to cook for the little one. Any tips from experienced parents are always welcome!


With a busier pregnant life (I've never had to go to so many appointments in my life lemme tell ya!), I didn't send out a newsletter last month, so this one is a double update!


QUICK HOUSEKEEPING: PaisKitchen.com will be consolidated into HotThaiKitchen.com
A heads up about a change around the site.
Up until now I've maintained two separate websites for my 2 shows: HotThaiKitchen.com (HTK) for all my Thai recipes, and PaisKitchen.com (PK) for all the non-Thai food recipes.
In order to help people find recipes more easily, we've decided to consolidate two sites into one—so PK will get absorbed into HTK. We're realizing that people don't always know which site the recipe might be on, or some people don't even realize there are two sites at all, which can make it hard to find a particular recipe.

So you can now find ALL my recipes under the main site HotThaiKitchen.com.
To be clear, Pai's Kitchen will still continue as a show on YouTube, it's just the WRITTEN recipes have moved. Any previous links that you have on PK will still work, but they will now redirect to its new location on HTK.
I hope this will make it easier for you to find my recipes! It's certainly going to be easier for me to maintain 1 website rather than 2. If you have any questions about it, please don't hesitate to get in touch!
Connect with Me on Social Media!
News & Updates
NEW MUGS IN THE MERCH STORE FOR THE HOLIDAYS
I am so excited to be adding a coffee mug to my merch store for the holidays! This design was suggested by a viewer and I just love it. A little morning affirmation while I drink my morning coffee is exactly what I need. Visit the store here!
HOLIDAY GIFT IDEA: PERSONALIZED VIDEO MESSAGE FROM ME!
Do you have a loved one who's a fan of the show, who might be happy to receive a video message from me wishing them happy holidays? Well, you can do that via Cameo.com! Cameo is a place where you can request a personalized video message from people you follow (YouTubers, musicians, athletes, etc.). I'd be delighted to make somebody's day! check out more info here
Latest Hot Thai Kitchen Episodes
Thai Banana Pancakes (Banana Roti)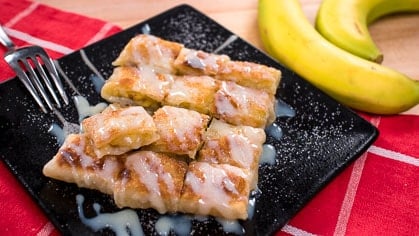 Thai roti is one of THE most popular snacks/desserts amongst visitors to Thailand! And with a little bit of work and patience, you can enjoy this iconic street food at home!
Thai Oxtail Soup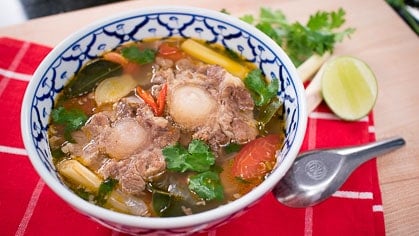 Oxtail soup may not strike you as a dish that sounds particularly Thai, but yes in fact we do have our own version of it that's lighter than most Western oxtail recipes but still comforting and soothing for the winter.
5 Ways to Use Whole Grain Rice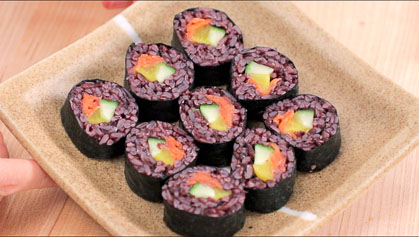 There are so many things you can do with brown, red and black rice beyond just cooking them up as a side dish! Watch this video to find out more. Get cooking!
Soy Sauce 101 - What You Need To Know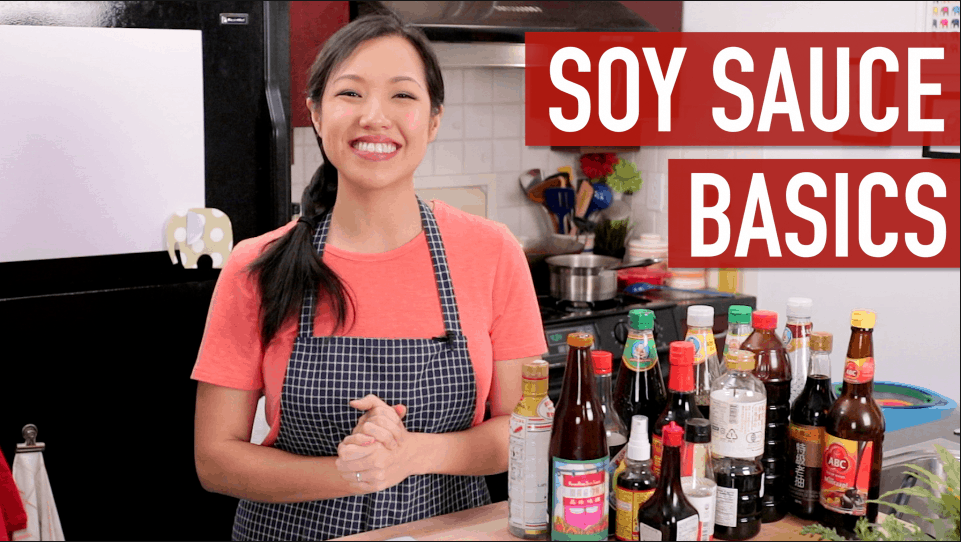 Have you ever been intimidated by the soy sauce aisle at the Asian grocery store? Here's a video that breaks down everything you need to know so you can pick the right soy sauce for the right recipe! Check it out!
Black Sesame Rice Balls in Ginger Tea
The ultimate comfort dessert! Chewy, mochi-like dough is stuffed with a sweet, nutty sesame filling. A warming ginger tea makes everything go down that much easier.
6 Must-Try Thai Snacks on Amazon.com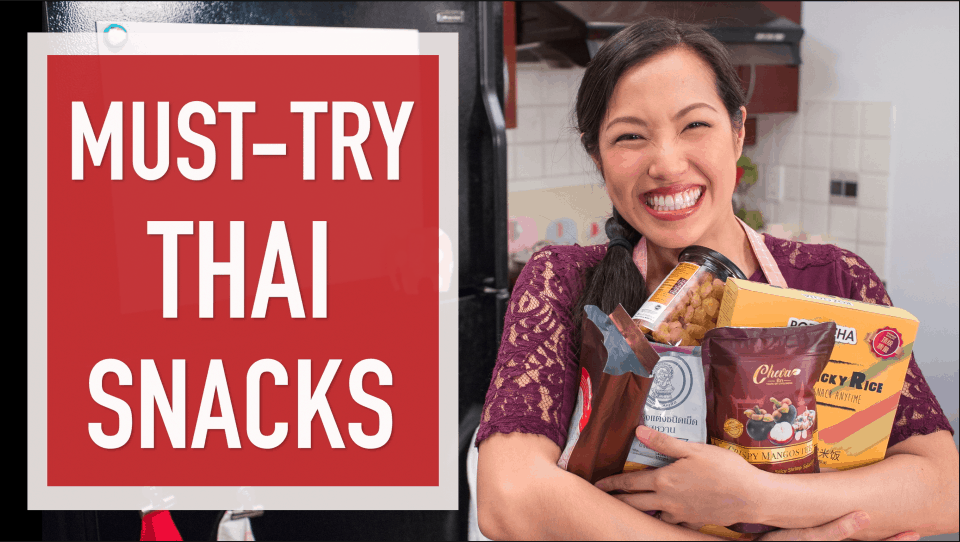 Another way to experience Thai food culture is to try our snacks! Snacks make up a big part of our diet. And here are some treats from Thailand you can buy on Amazon.com.
Tom Yum Spaghetti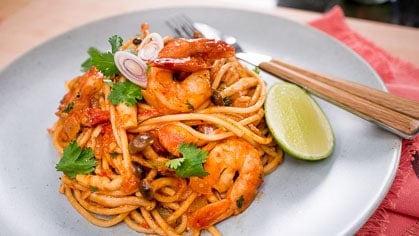 Tom yum and pasta, the perfect marriage Tom Yum Spaghetti is a true flavour bomb! It's one of the most popular Thai pasta dishes in Thailand, and it is no doubt my favourite!
Fried Wontons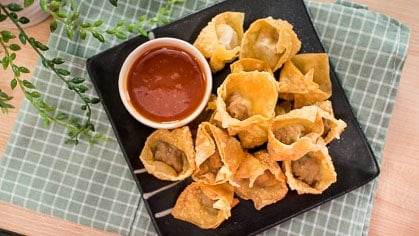 This fried wonton recipe makes the most munchy, addictive snacks that are perfect for a party this holiday season!
Pai's Kitchen: Non-Thai Delights
Steamed Fish with Black Bean Sauce
This is my mother in law's signature recipe and I'm so excited to be sharing her recipe with you for the first time! It's also my husband's favourite way to eat fish. Simple, quick and healthy! Get the recipe
Throwback: For the Holidays!
Roast Beef Tenderloin & Thai Gravy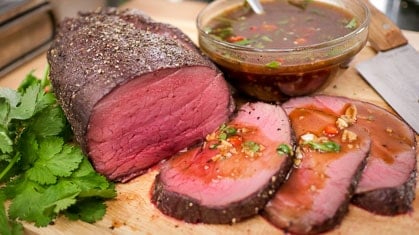 Want roast beef for the holiday table but feel intimidated by it? This video will demystify everything! AND jazz it up with some zingy Thai gravy and I promise everyone will be impressed! Get the recipe
Holiday Gift Guide For Foodies!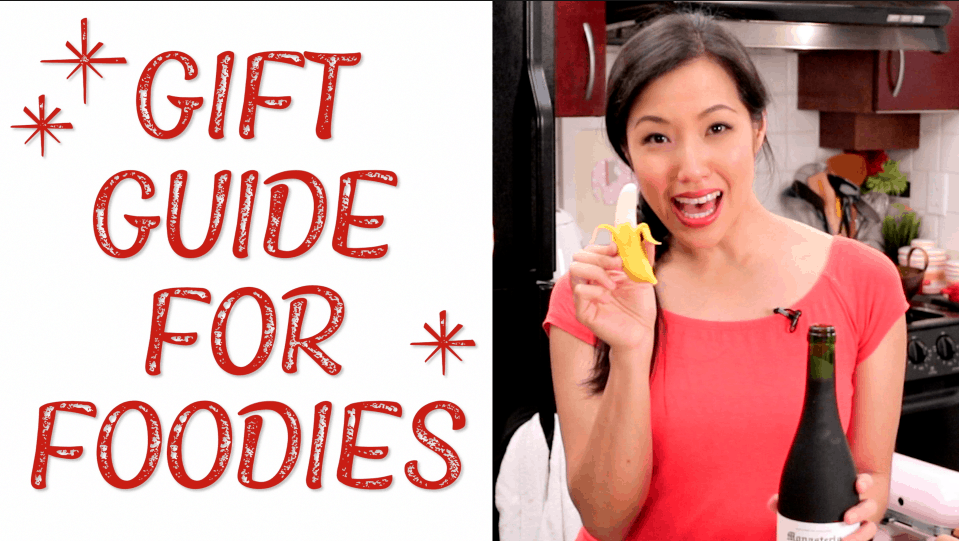 Here's a gift guide for all the foodies in your life! These are items that I have and love, or just things that I think are generally cool and would make great gifts!
Fan Photos!
Thank you as always for submitting your beautiful creations! You can send these photos to me by posting them to the Hot Thai Kitchen Facebook page, tweet them at me @hotthaikitchen, or tag me on Instagram @hotthaikitchen.


NOTE: If you're posting photos on Instagram, please "tag" my account on the actual photos rather than just hashtagging or mentioning @hotthaikitchen in the caption. Due to how Instagram works, I might not see the hashtagged/mentioned posts, but I will definitely see the tagged ones.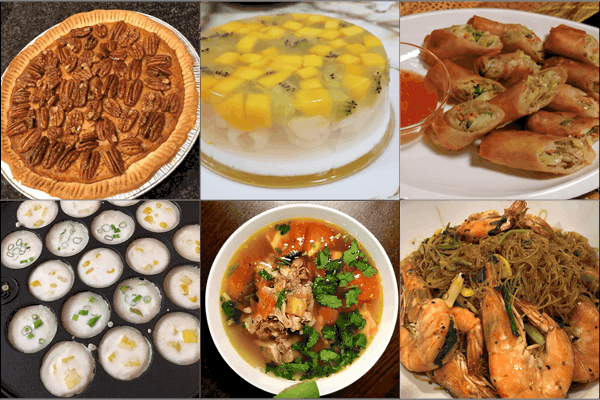 White Chocolate Pumpkin Pie by @nina_theatlfoodie; Agar Jelly Fruit Cake by @traveljunkie1560; Spring Rolls by Wood M.; Kanom Krok by @dragonqwst; Oxtail Soup by Matt M.; Ginger Shrimp and Glass Noodles by Stephanie L.