Sawaddee April!
The wait is over! We're delighted to welcome our baby boy: Kaan. I had a smooth and rather exciting delivery, and we both came out healthy and happy. Kaan is currently feeding like a champ, and loves to blow kisses!


Adjusting to parenthood has not been easy, no doubt, but with every difficult or frustrating moment, there are moments of overwhelming joy and love like I've never experienced before. And that makes it all worthwhile.
My Chinese mother-in-law has been making sure we have good nourishing food during this time, especially food believed to be good for new moms like ginger fried rice, black chicken soup, and papaya and barley soup (papaya is believed by the Chinese to boost milk production).


I haven't cooked for a month, which is the longest I've ever gone without cooking, but I really have had no time or energy, and had it not been for friends and family who always bring food when they visit, we would've been living off of meal delivery service alone!
However, I am finally beginning to feel settled, both in terms of my physical recovery and figuring out a routine with a newborn. So last night I cooked for the first time! I made pan-seared kale to go with my frozen chili which I made before baby. Yes, I know, I only made a vegetable side dish, but hey, baby steps! Oh I also fried an egg at some point in the past week. #smallvictories


P.S. If you want to see more baby photos, I share them in my Instagram Stories.
Connect with Me on Social Media!
News & Updates
FRIENDLY REMINDER OF MY MAT LEAVE PLAN
I am releasing pre-recorded videos at a reduced frequency of once every 2 weeks. So if you're missing my food on the off week, make sure you browse some old videos, there are literally 500 of them in the library!


I am also still posting on social media regularly, especially Instagram, so if you want to stay updated be sure to follow me there!


SOME THINGS TO KEEP YOU BUSY DURING MY LEAVE:
Space-Saving Freezer Thai Curry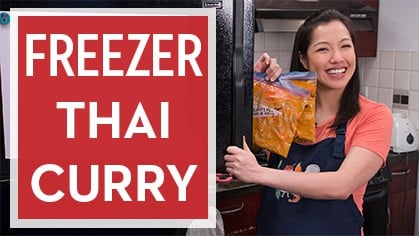 As my pregnancy came to its last weeks, freezer meals were on top of my mind in preparation for this baby! Here's how I make Thai curries for the freezer that will reheat well AND will not take up unnecessary space.
Stir-Fried Turnip Cakes ขนมผักกาด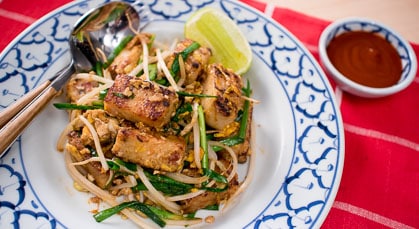 Based on my previous recipe for Dim Sum Turnip Cakes, this is how Thai people like to serve them! It's a little known Thai street food that is becoming harder to find these days, but it's SO easy and delicious!
Spicy Glass Noodle Salad (laab woonsen)
Traditionally laab is a super popular meat-based Northeastern Thai salad with bright flavours of lime and mint. But because it's got such a delicious flavour, nowadays people make laab out of just about anything, including glass noodles! Get the recipe
Dim Sum Turnip Cake (Lo Bak Go)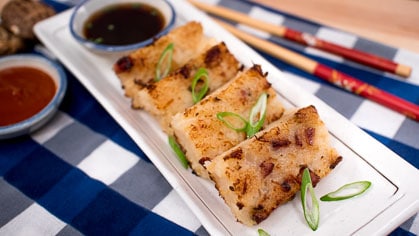 I am honoured and excited to be sharing my mother in law's famous turnip cake recipe! It's a classic dim sum dish, and I've never had a version at any restaurant better than hers.
Throwback: Popular Rice Dishes
Thai Chicken Biryani (kao mok gai)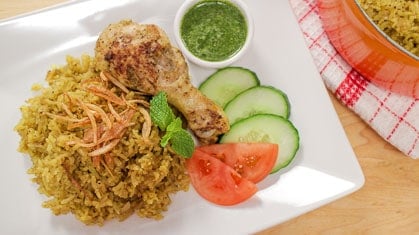 Kao mok gai is the Thai version of chicken biryani. Chicken and rice cooked together in a beautiful spice mix. It's incredibly delicious!
Slow-Braised Pork Leg on Rice (kao ka moo)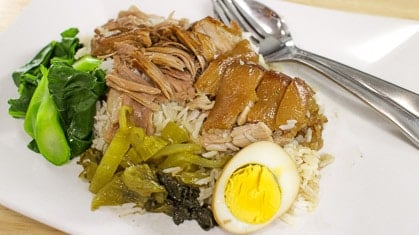 This is the quintessential Thai street food. You can find this all over the streets of Thailand and in any food court. It's beloved by everyone especially kids! Get the recipe
Fan Photos!
NOTE: If you're posting photos on Instagram, please "tag" my account on the actual photos rather than just hashtagging or mentioning @hotthaikitchen in the caption. Due to how Instagram works, I might not see the hashtagged/mentioned posts, but I will definitely see the tagged ones.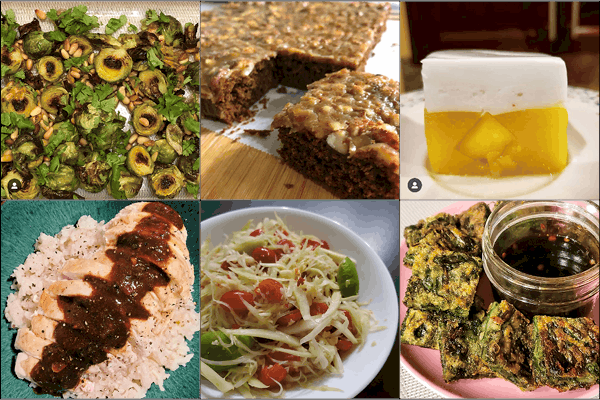 Thai-Style Brussel Sprouts by @restinghungryface; Mocha Toffee Cake by @cheryll.hart; Mango Coconut Agar Jelly by @mangopickle3; Hainanese Chicken Rice by @provisionlab; Papaya Salad by @lemongrassandbaesil; Crispy Garlic Chives Dumplings by tofoodieventures