Sawaddee Peemai Thai!
**There's a Live Q&A coming up! Check the News & Updates section below!**
"Sawaddee Peemai Thai" means happy Thai new year! April 13-15 is the Thai new year or what we call "Songkran". You may have seen or heard about the big water fight that takes place during this time with people splashing buckets of water on each other on the streets. Foreigners from all over the world try to go to Thailand during this time to participate in this unique festivity.


However, these water fights are something that evolved out of a much less aggressive tradition. Traditionally, Songkran involves young people pouring water over the hands of your respected elders, usually parents and grandparents, as a gesture to show your thanks and appreciation for the love, care and support they have given to you throughout your life. The water also symbolizes the washing away of any wrongdoings and bad things that have happened over the past year, so you start the new year "clean". It's a lovely tradition that unfortunately has become forgotten by many, and now many people tend to focus only on the fun water fighting.


I love this aspect of Thai culture—recognizing and appreciating elders who have cared for you is so important in to us, and it shows up in many ceremonies such as Songkran and weddings among others. We even have a special word "gatanyu" which is a characteristic of one who remembers those who have been good to them and comes back to "return the goodness" when they can. Parents and grandparents are obviously people you have to be gatanyu to, but we also include teachers, mentors, or anyone else who have played a part in raising you into the person that you are today.


Are there any traditions in your culture that involves showing thanks and appreciation to respected elders? You can share them with me by responding to this email or get in touch via social media!


Connect with Me on Social Media!
News & Updates
YOUTUBE LIVE Q&A to Celebrate 500K Subscribers: April 7, 11AM PST!

We've reached half a million subscribers!! Yayy!! To celebrate this milestone, I will be hosting a LIVE Q&A on YouTube this Saturday April 7th, at 11 AM PST! Please check what time that is where you live. I know this timing won't work for everyone, but you can still submit your question in advance here, and tune in after the livestream when you can! There's no theme for the Q&A but since we likely won't be able to get to all the questions due to time, we will give priority to questions that are related to food, cooking, or the show :)
Cookbooks are back in stock!

Amazon (US) is now ready to deliver the books, as is BookDepository.com which ships worldwide for free. More about my book here.
Latest Hot Thai Kitchen Episodes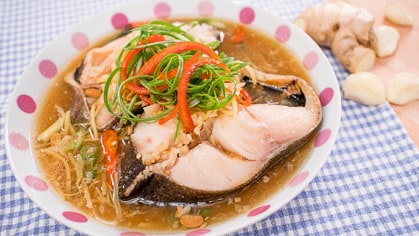 Steamed Fish w/ Ginger & "Thai Miso"
"Tao Jiew" is the Thai version of miso and it goes incredibly well with fish! We also add loads of ginger which is a flavour match made in heaven with fish as well. I'm using black cod here, but this will work with any tender, mild white fish. Get Recipe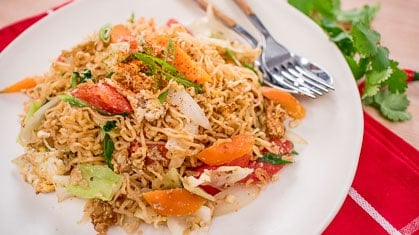 Instant Ramen Noodle Stir-Fry - Pad Mama
"Mama" is Thailand's favourite brand of instant noodles, and we love it so much we use it in all sorts of recipes! Learn how to elevate the humble pack of instant noodles into something more sophisticated, and definitely healthier and yummier than just boiling it in hot water! Get Recipe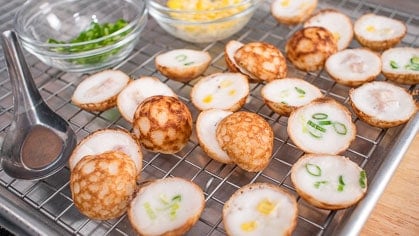 Thai Coconut Pancakes - Kanom Krok
Finally!! Here's the long awaited recipe for the famous little Thai coconut pancakes that are one of the most popular street foods in Thailand! They're so incredibly tasty that I seek them out every single time I go to Thailand. Get Recipe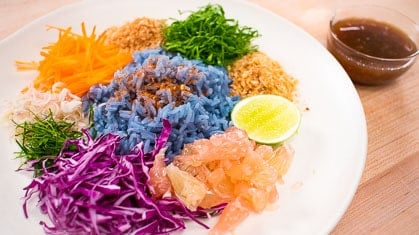 Rainbow Rice Salad - Kao Yum
Kao Yum is a specialty of Southern Thai cuisine, and as a southern girl, this is one of my favourite things to eat, ever! In this video I also show you how to make natural blue food colouring to make the iconic blue rice!
Get Recipe
Pai's Kitchen: Non-Thai Delights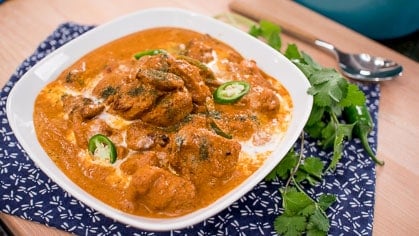 Butter Chicken
There is a reason why this dish is so beloved the world over. It's aromatic, rich, creamy, with deliciously succulent chicken. And here's a secret: there isn't even that much butter in it!
Get recipe.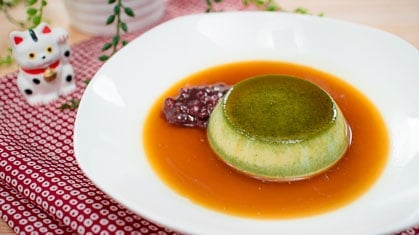 No-Bake Matcha Caramel Pudding!
Love matcha flavour? Well, it's about to get even better combined with the creaminess of the pudding and the intense flavour of caramel! As a bonus, it's so easy you don't even need to bake it!
Throwback - An Oldie but a Goodie
5 Ways to Wrap Wontons & Wonton Soup!
Fan Photos!
Thank you as always for submitting your beautiful creations! You can send these photos to me by posting them to the Hot Thai Kitchen Facebook page, tweet them at me @hotthaikitchen, or tag me on Instagram @hotthaikitchen.


NOTE: If you're posting photos on Instagram, please "tag" my account on the actual photos rather than just hashtagging or mentioning @hotthaikitchen in the caption. Due to how Instagram works, I might not see the hashtagged/mentioned posts, but I will definitely see the tagged ones.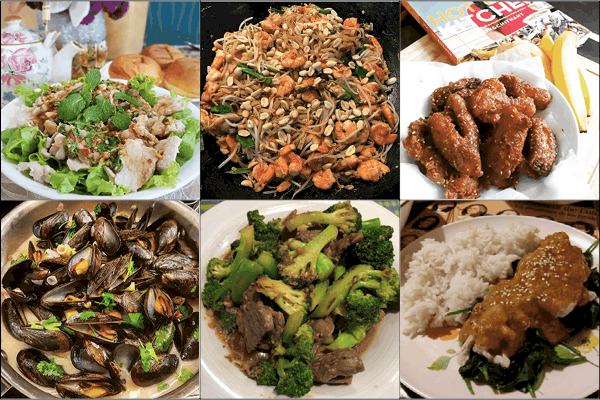 Garlic Lime Pork by @ruththehoney, Pad Thai by @duardeando, Fried Bananas by @delphineouvrard, Tom Ka Mussels by @the.pan, Beef & Broccoli by Aldrin T., Swimming Rama by Daniel K.