Sawaddee October!
What do Thai people eat for celebrations? Thanksgiving is a holiday that is coming up for us here in N. America. People always ask me, "Can you show us dishes that Thai people eat during celebrations?" And I feel like I disappoint them when I say...."we don't really have special celebratory food."


We don't have the equivalent of a Thanksgiving turkey, the Christmas roast beef, or the Easter ham. For special holidays we just eat...whatever we want! Isn't that the way it should be? I love the idea of a traditional meal actually, but I also know many people who don't like turkey or pumpkin pie, and who have had to endure it every year just because "this is just what you eat right now."


The one thing Thai people tend to do is that we eat more expensive dishes, because we can justify spending more for the special occasion. And for many this would be a seafood feast, perhaps with grilled river prawns, steamed crabs, or a fried big fish. All served with Thai seafood dipping sauce of course (can't have seafood without it!). With our family, if we want a seafood feast we just go out to a seafood restaurant because doing this at home is a heck of a lot of work!


For others this splurge meal is a Chinese feast with a Peking duck, a suckling pig and the works. Note: Chinese restaurants in Thailand are often expensive and fancy, and great for large groups.


But unlike the Thanksgiving turkey, there is no expectation that you should have seafood or Peking duck for this or that event. And on the flip side, people can have these feasts sans occasion anytime they want if they can afford it!


Okay, I've got quite a bit of updates in this month's newsletter, so let's get right to it!
Connect with Me on Social Media!
News & Updates
REVAMPING PATREON: NEW REWARDS & REWARD TIER
If you are a Patreon member, you knew this was coming! I am introducing a couple of new rewards:
EARLY ACCESS TO RECIPE at the new $3 level. In addition to

the discount at the store, giveaway entries, and priority response on messages you send me, you can now get each new recipes as soon as I have it finalized! So

you don't have to wait for me to film/edit/post the video, which can take up to 4 weeks. So yes, you get the recipe up to A MONTH earlier than everyone else!

ACCESS TO "THE SHOW AFTER THE SHOW" is the new reward for the $5 level! This is what Adam and I are SO pumped about. We're gonna be filming an exclusive "talk show" after each regular filming where we will dig deeper into something related to the episode. Basically this is any information I would have loved to discuss in the regular show, but there just isn't time for it. Tidbits, tips, variations, cultural discussions, and more!
DON'T KNOW ABOUT PATREON? It's an online community where people pledge a monthly donation of any amount (even $1) to support the work of their favourite content creators. In return, supporters get cool perks, like the above rewards as a thank you!


HTK SHIRTS HAVE SHIPPED & NOW AVAILABLE IN 4XL
Big thanks to everyone who pre-ordered the shirts and aprons from the new merch store! They have started shipping so expect them in the mail soon. I've also started stocking 4XL for those of you who asked for a larger size. Visit the store here!
GET PERSONALIZED VIDEO MESSAGE FROM ME VIA CAMEO.COM
This is a fun new tool I was recently introduced to. Cameo.com is a place where you can request a personalized video message from people you follow (YouTubers, musicians, athletes, etc.). The idea is that you might request it as a gift for someone (or for yourself!) who's a fan of that person—maybe it's your partner's birthday and I could wish them a happy birthday via a short video! If you have someone in your life who would appreciate a video message from me, and this could be you, check out more info here :)
Latest Hot Thai Kitchen Episodes
Pandan Lemongrass Jelly Iced Tea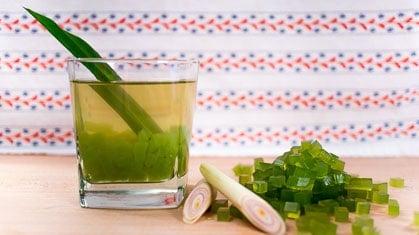 Pandan jelly iced tea is like the Thai, herbal version of bubble tea! The beautiful floral aroma of pandan leaves, brightened with a touch of lemongrass, and the fun texture of pandan jelly cubes are reasons why this drink has become popular in Thailand in the past few years. Get the recipe
Ginger Chicken Stir-Fry (Gai Pad King)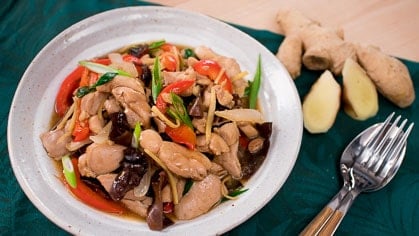 This classic recipe is one of my childhood favourites, and I continue to love it just as much today. This easy stir-fry of chicken, mushrooms and tons of ginger, with its unique sauce, has a flavour unlike any other stir-fries in the repertoire of Thai cuisine. Get the recipe
Garlicky Cabbage & Fish Sauce Side Dish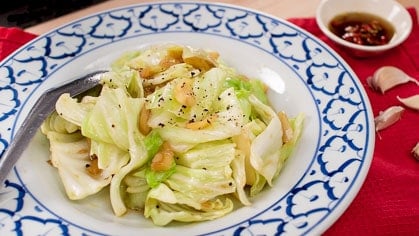 This incredibly simple 4-ingredient cabbage recipe has gained much popularity in Thailand because it is such a delicious side vegetable to go with just about any Thai meal! The humble cabbage transforms into a garlicky, umami dish with just one seasoning ingredient. Get the recipe
Thai Lesson - Food Words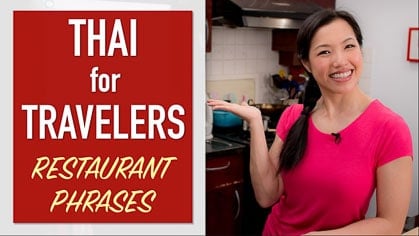 Must watch for anyone planning to go to Thailand! How do you say "vegetarian" in Thai? What about "I'm allergic to peanuts"? Or simply "chicken", "coffee", "ice", or "beer"! I guide you through all the words in this video!
Pai's Kitchen: Non-Thai Delights
Chinese BBQ Pork - Char Siu
Chinese BBQ pork is loved the world over, and it's not hard to make at home if you know just a few key ingredients and techniques. Guaranteed to be just as good (if not better!) than the one you buy! Get the recipe
Throwback: A Halloween Recipe!
Custard in a Pumpkin (faktong sangkaya)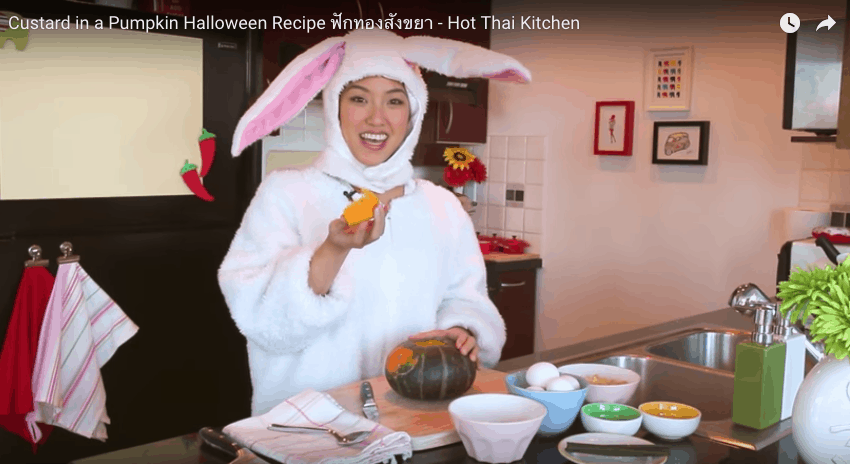 Talk about an OLD recipe! I laugh so hard every time I think about how I filmed this video IN A BUNNY SUIT! Well, Halloween is coming up and there is no better time to remind ourselves of my older, shameless days. Not to mention this recipe is just absolutely DELICIOUS. It is a bit tricky to get the doneness right because it depends so much on the size of your pumpkin, but still worth a try! Get the recipe
Fan Photos!
Thank you as always for submitting your beautiful creations! You can send these photos to me by posting them to the Hot Thai Kitchen Facebook page, tweet them at me @hotthaikitchen, or tag me on Instagram @hotthaikitchen.


NOTE: If you're posting photos on Instagram, please "tag" my account on the actual photos rather than just hashtagging or mentioning @hotthaikitchen in the caption. Due to how Instagram works, I might not see the hashtagged/mentioned posts, but I will definitely see the tagged ones.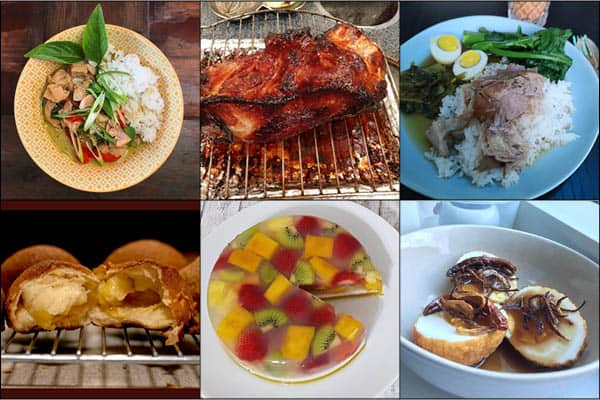 Green Curry by @rosco_bossco; Char Siu BBQ Pork by @T2R4; Pork Leg Stew by @Flown87; Mexican Coffee Buns by @JustJimWillDo; Jelly Fruit Cake by Laura L; Son-In-Law Eggs by Zetty R.