---
I absolutely LOVE banh mi. I never knew what they were until I moved to N. America where these Vietnamese sandwiches have become increasingly popular! As it turns out, it's super easy to make, and it's such a great thing to serve at a party — a make-your-own-banh-mi party, anyone?
The great thing is you can make it as much or as little work on yourself as you want, depending on how many things you want to make from scratch. Feeling lazy? Buy all the ingredients and just assemble. Feeling hardcore? You can make everything, even your own mayo!
In this video, I take what I believe is a good middle-of-the-road approach, and I make 2 important elements of the sandwich: the carrot and daikon pickle, and a delicious grilled lemongrass pork tenderloin!
One of the keys to success is to choose the right bread. Choose one that is light and crisp on the outside and fluffy and soft on the inside. Not the crusty, dense European style baguette. I always just get the bread from my favourite banh mi restaurant which is always perfect!
Watch The Full Video Tutorial!
All my recipes come with step-by-step video tutorials with extra tips not mentioned in the blog post, so make sure you watch the video below to ensure success - and if you enjoy the show, please consider subscribing to my YouTube channel. Thank you!
Print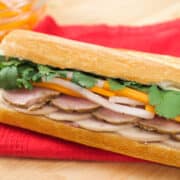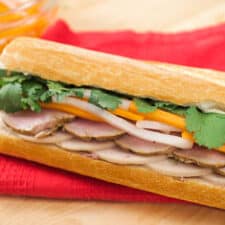 Banh Mi Sandwich with Lemongrass Pork
---
Sandwich Components
Bread (see note) 

Pâté

Mayonnaise

Meat options: Vietnamese cold cuts such as the pork roll (Chả lụa), grilled meats (such as the grilled lemongrass pork recipe below) or any other kind of grilled meats you like (leftover steaks or BBQ meats is great).

Pickled daikon & carrot (recipe below)

Fresh jalapeno (optional)

Sriracha (optional)

Cilantro, torn into short pieces

Cucumber, cut into a long thin stick
Grilled Lemongrass Pork
1

pc (~400g) pork tenderloin, silverskin removed and cut in half lengthwise

3

cloves garlic

½ tsp

white peppercorns

1

stalk lemongrass, bottom half only

1½ Tbsp

fish sauce

1½ Tbsp

oyster sauce

2 Tbsp

honey

1 tsp

five-spice powder

1 Tbsp

vegetable oil

1 tsp

black soy sauce (optional)
Pickled daikon & carrot
90g

carrots, peeled and cut into batons

90g

daikon, peeled and cut into batons

½ tsp

salt

1 tsp

sugar

½ cup

water

½ cup

distilled white vinegar or rice vinegar

¼ tsp

salt

3 Tbsp

sugar
Note: Ideally, look for Vietnamese-style baguette which has a thin and crisp exterior (so you can easily bite through it) with a fluffy and soft interior (so the dough doesn't overwhelm the filling). The easiest way is to buy the bread from your favourite banhmi restaurant. Beware of European style baguettes which tend to be too crusty and dense. You can also use non-baguette bread or buns that fit the description. 
---
Instructions
Grilled Lemongrass Pork:
Place the pork in a mixing bowl or a ziplock bag. In a mortar and pestle, pound garlic, white peppercorns and lemongrass into a fine paste. Add all remaining ingredients and stir to combine. Pour the marinade over the pork and marinate in the fridge for 2 hours or overnight, flipping the pork half way through.
Preheat the broiler on high. Remove the pork from the marinade, shake off the excess marinade and place it on a rack set on a foil-lined baking sheet. Broil the pork on the highest rack for 4-5 minutes per side until the top is browned and slightly charred. Let rest for at least 10 minutes before slicing. You can also grill the pork on the barbecue! 
Pickles:
Massage ½ teaspoon salt and 1 teaspoon sugar into the daikon and carrots until you no longer feel grittiness on your hands. Let sit for at least 3 minutes while you make the pickling liquid; you'll notice that the vegetables are more tender and that there is liquid pooling at the bottom of the bowl.
Meanwhile, make the pickling liquid by stirring together water, vinegar, ¼ teaspoon salt and 3 tablespoon sugar until dissolved.
Once the vegetables have sat, rinse them under cold water and drain thoroughly, shaking off as much water as possible; place into a bowl or jar. Pour the pickling liquid over and let it sit for at least 10 minutes before serving. This will keep in the fridge for about 1 month. Note: Feel free to adjust the pickling liquid to suit your taste by adding more sugar, vinegar, or salt.
Assemble the sandwich:
Spread pate on one side of the bread, and mayo and sriracha (if using) on the other. Fill the sandwich however you like, and enjoy!
---