---
This recipe is courtesy of Natalia Machado, my lovely Argentinian co-host on the TV show One World Kitchen! This is the recipe for a traditional Argentinian cheese bread that Natalia serves at her restaurant as a gluten-free option for the bread basket. They're amazingly cheesy and addictive! Think hot, chewy, cheesy mochi with a crunchy crust..that's exactly what these are like. The chewiness comes from the tapioca starch which you can find at any Asian grocery stores. The recipe is almost exactly as Natalia gave me, with slight modifications I made to better suit a home kitchen 🙂
And if you're not convinced that these are going to be delicious, just check out Natalia's impressive bio: she's a Chopped Champion, a Sweet Genius Champion, and she's the executive chef of a fine dining Argentinian restaurant in Montreal called L'atelier D'argentine. Amazing!
Watch The Full Video Tutorial!
Print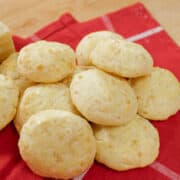 Chipa - Hot Chewy Cheese Puffs!
---
125g

grated

 parmigiano reggiano

 cheese (see note)

125g

grated fontina cheese

250 g

 tapioca starch

¼ tsp

salt

60

ml (¼ cup) milk

40

ml orange juice

1

egg
Note: If you cannot find one of these two cheeses where you live, you can use other kinds, keeping in mind that this will affect the flavour and saltiness of your dough. Also make sure you pick a cheese with similar moisture content to the ones you're replacing.
---
Instructions
Preheat the oven to 375°F (190 °C).
In a large mixing bowl or in a stand mixer, add grated cheeses, tapioca starch and salt. Toss together to separate the cheese.
Add liquid ingredients and knead until a homogeneous dough forms. If using a mixer, use the paddle attachment to mix on medium-low speed until well combined (it may be crumbly, but there should be no more dry flour).
Turn the dough onto a clean work surface and knead a few more times to form a neat, smooth ball. Cut the dough into 4 portions and roll each portion into a log about 1 inch thick. Cut the log into 1- to 1.5-inch pieces. Set aside however much you want to serve today, and put the rest away in the freezer or fridge (they will last upto 2 weeks in the fridge); these must be served warm and they stale quickly, so bake only as much as you can eat in 1 day.
At this point, if the weather is warm and the dough is very soft, I pop the pieces of dough in the freezer for at least 5 minutes to firm them up before baking. I found that warm, soft dough spread too much in the oven. This was not a problem when I worked in cool temperature using cold ingredients taken straight from the fridge.
When ready to bake, place the pieces onto a sheet pan lined with parchment paper, leaving 2 inches of space in between them. Bake for 15-20 minutes or until the dough is puffed, the bottom is golden brown, and you start seeing cheese spots appear on the surface.
Serve hot and enjoy the cheesiness!
---