---
The perfect party appetizer! These vegan corn fritters are boosted with coconut and jalapenos. They're crisp, delicious, addictive AND the batter can be made up to 2 days in advance! They are best eaten when freshly fried, so if you can't eat them all at once, just fry up what you can finish, keep the rest of the batter in the fridge and you can fry it up again later.
Watch The Full Video Tutorial!
All my recipes come with step-by-step video tutorials with extra tips not mentioned in the blog post, so make sure you watch the video below to ensure success - and if you enjoy the show, please consider subscribing to my YouTube channel. Thank you!
Print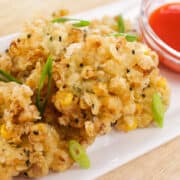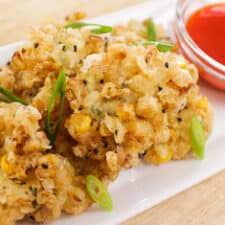 Corn Fritters ทอดมันข้าวโพด
---
1

large ear fresh corn, uncooked (about

250 g

of kernels)

½ cup

all-purpose flour

½ cup

cornstarch or rice flour*

½ tsp

salt

½ tsp

baking powder

1

-

1 ½

cup ice water

⅓ cup

dried shredded coconut, unsweetened

1

-

2

green onions, chopped

1 tsp

black sesame seeds (optional)

½

a jalapeno, seeds and pith removed, small diced (optional)
Vegetable oil for frying
*I have found that rice flour will yield a batter that fries up light and crisp, while cornstarch will yield a batter with firmer crunch. Both are delicious.
---
Instructions
Slice corn kernels off the cob with a sharp knife (see video @1:00 for my technique) and place the kernels into a mixing bowl.
In another bowl, stir together flour, cornstarch or rice flour, salt, coconut, green onions, sesame seeds, and jalapenos. Add 1 cup of ice water and stir just until the batter is smooth, adding the rest of the water only as needed. The batter should be thin enough that it is easily pourable and is not gloppy, but not as thin as a crepe batter. (When in doubt, err on the side of the batter being too thick. It's much easier to add more water to thin it out if your first batch turns out to be too clumpy.)
Pour about ¾ of the batter over the corn and stir to mix well. If it looks like it needs more batter, add some or all of the remaining batter. Note: How much batter you need will depend on the size of your corn, and also whether you like your fritters with more or less batter.
Heat about 1-inch of vegetable oil in a pot over medium heat to 375°F. Drop the batter by the spoonful into the oil, 1 heaping tablespoon at a time. Fry until golden brown, about 3-4 minutes, flipping the fritters half way through. If the first batch of your fritters look clumpy, add a little more water to your batter so that the kernels spread into a nice round disc once they are dropped into the oil.
Drain on paper towel and serve immediately with Sriracha Hot Sauce.
---