This is a special recipe I received from Kelly Neil, a food photographer/blogger from Halifax, Nova Scotia as part of the Rethink Beef Recipe Swap challenge that I talked about in my "Thai Bolognese" or Rice Noodles with Curried Meat Sauce video! I traded recipes with Kelly and she sent me this rather interesting fusion of the two cultures that are significant in her life. Here is how she prefaced it:
"I'm from Halifax, where the donair is ubiquitous. Also, I spent over ten years working in three of the East Coast's most renowned Italian restaurants. My East Coast Panzanella Salad is a mash-up of the Halifax donair and the classic Italian bread salad."
What is donair? (Or döner). Well if you've ever walked passed a Turkish or Middle Eastern restaurant and see a massive vertical rotisserie with the most fantastic smelling ground meat mixture wrapped around it...yep, that's donair. Typically the way I see it served here in Canada is the meat just spins on the rotisserie all day, and the vendor slices off the outside part of the meat and puts it in a pita bread wrap along with fresh veggies and sauce. It is delicious. So Kelly took the idea of donair and turned it into meatballs which go on top of a sourdough panzanella, which is a classic Italian bread salad. I was quite intrigued by this idea and at first wondered how it would turn out, but let me tell you it was so good!!
My Swap Experience. It was SO fun to be following someone else's recipe for a change! As you know, I spend most of my cooking time coming up with recipes for other people to follow, so to be on the other end was such a refreshing experience. I printed out the recipe and took it to the (non-Asian!!!) grocery store, grabbed ingredients I rarely buy, and had a lot of fun with the whole process. It gave me a great insight into how YOU guys feel when you print out my recipes, go to the (Asian) grocery store grabbing ingredients you rarely buy!
I followed the recipe almost exactly as I wanted to taste the recipe the way it's intended, and any changes I made I indicated in the recipe below under "P:". I was extremely happy with the result! This is definitely something I'll be making again.
Advanced Prep Tips: I made the meatballs, the dressing, and the pickled onion one day in advance, and then took it over to my friend's house and composed the salad the next day. This way, I was able to put a beautiful lunch on the table in 15 minutes, which was a bonus! Here are some photos I took (forgot the onion in the first photo!):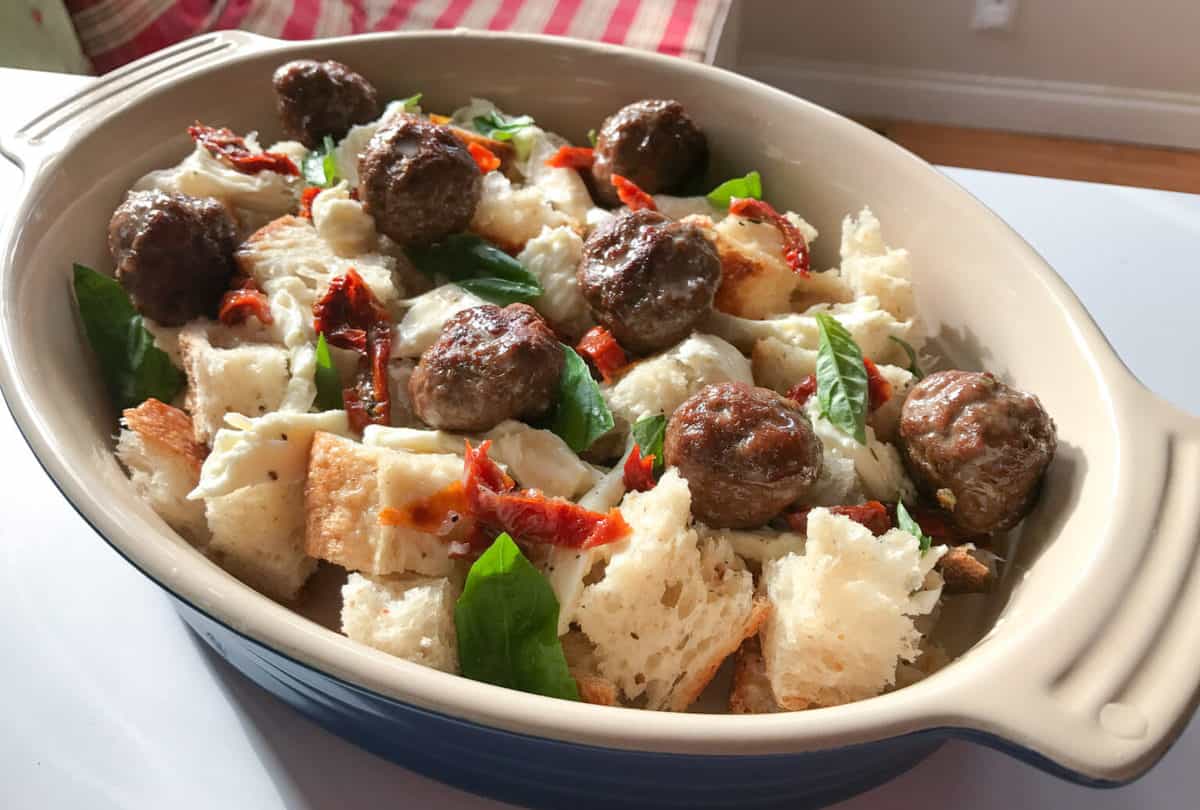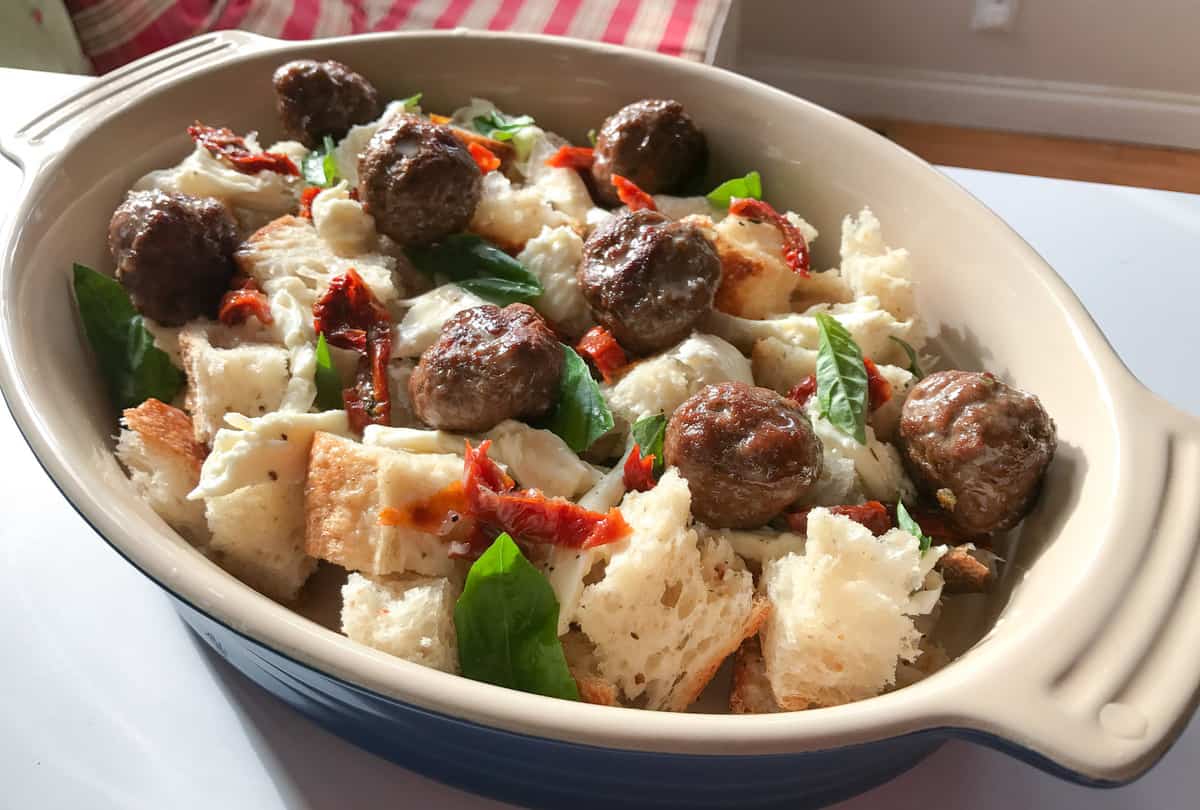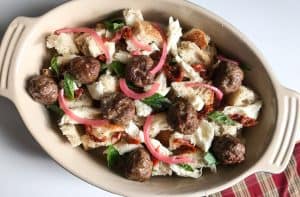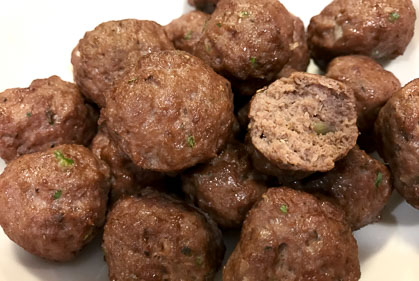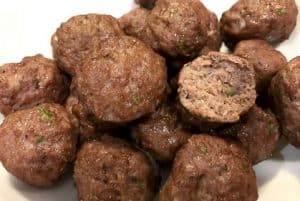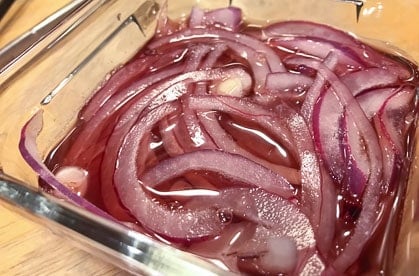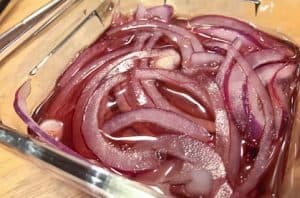 Thank you ThinkBeef.ca for sponsoring this fun project! There should be info on there soon-ish about what other recipes the other bloggers have come up with, I'll keep you posted!
Print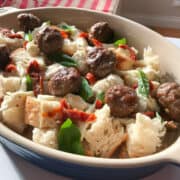 Panzanella Salad with Donair Meatballs
---
The Panzanella
1

small red onion

½ Cup

red wine vinegar

12

pre-baked donair meatballs (see recipe below)

½

loaf sourdough bread

½ Cup

bocconcini or any fresh mozzarella you like, torn into pieces

¼

C sundried tomatoes, sliced
sweet creamy garlic dressing, to taste (see recipe below)
kosher salt
fresh basil leaves for garnish
Donair Meatballs
1

lb ground beef

1 tsp

salt

1 tsp

dried oregano

½ tsp

dried basil

½ tsp

garlic powder

½ tsp

onion powder (P: I didn't have this so I added some green onion instead)

½ tsp

paprika

¼ tsp

pepper
Sweet Creamy Garlic Dressing
(makes approximately 1 up)
½ Cup

canola oil (P: I used avocado oil which is also a neutral flavoured oil but is healthier!)

¼ Cup

white vinegar

¼ Cup

mayonnaise

1 Tbsp

honey

2 tsp

sugar

½ tsp

salt

¼ tsp

pepper

2

cloves garlic, minced
---
Instructions
For the donair meatballs:
In a large bowl, mix all ingredients together by hand until well combined – for true donair texture, pulse the meat in a food processor, in small batches, until smooth. (P: I pulsed it in my food processor but I was able to do it in one batch. I have a pretty big food processor!)
Roll into small balls and bake on parchment lined baking sheet 22-24 minutes – remove from oven and set aside until ready to serve. (P: mine were done after 15 minutes using convection setting, so I'd suggest checking them a bit early. I also kept them in the fridge after cooking and used them the next day.)
When ready to serve, cook meatballs in a hot skillet over medium heat until browned and slightly crispy.
For the sweet creamy garlic dressing: 
Combine all ingredients in a jar with a tight fitting lid and shake well Adjust salt and pepper to taste. (P: I found it difficult to get the honey to all dissolve in the initial shake, but after I let it sit for a while and shook it again, it dissolved completely. You could also whisk everything together.) 
To compose the salad:
Slice red onion as thin as you can – place into a small dish and cover with red wine vinegar – set aside. (P: did this one day in advance.)
Heat a small skillet over medium to high heat (P: I added a little oil to the pan)– once hot, add pre-baked donair meatballs and cook until browned and slightly crisped on the outside – reduce heat to minimum to keep warm.
Tear or cut the sourdough bread into bite-sized pieces – place bread pieces in a large bowl with torn fresh mozzarella, sliced sundried tomatoes, slices of pickled red onion and warm crisped donair meatballs – drizzle with sweet creamy garlic dressing and toss to coat – add more dressing to taste if desired – serve garnished with a sprinkle of kosher salt and fresh basil leaves. (P: I did not find that it needed any extra salt on top, and be generous with the basil!)
---