---
Japanese style pasta is a very common genre of food in Japan, and for good reason! Full disclosure: this dish is a copy cat! My attempt to recreate a dish I fell in love with at a local Japanese pasta restaurant here in Vancouver. It's a light cream sauce flavoured with "masago" or the little orange fish roe you sometimes see on sushi! It has all the iconic flavours of Japanese cuisine: a balance of sweet, salty and umami. The masago and bonito give flavours reminiscent of the ocean. Top it with a fried egg and seaweed, and I'm a happy gal! Oh, did I mention it is insanely easy??
Watch The Full Video Tutorial!
All my recipes come with step-by-step video tutorials with extra tips not mentioned in the blog post, so make sure you watch the video below to ensure success - and if you enjoy the show, please consider subscribing to my YouTube channel. Thank you!
Print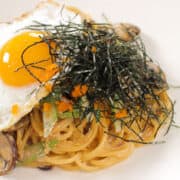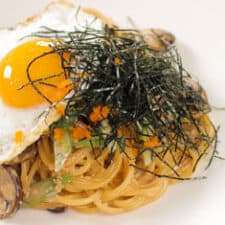 Japanese Masago Spaghetti
---
½ cup

whipping cream

½ cup

dashi (see note)

1 Tbsp

Japanese kewpie mayonnaise

1 Tbsp

+

1 tsp

soy sauce

3 Tbsp

Masago (capelin roe)

1 tsp

mirin or

½ tsp

sugar

2

eggs

160g

Spaghetti

150g

crimini mushrooms, sliced

6

spears asparagus, thinly sliced on a bias (see note)

Half a lemon

Julienned nori

3

-

4

shiso leaves or green onions
Note: In this recipe I use a simple type of dashi called "katsuodashi" which you can make simply by steeping 5 grams of bonito flakes (katsuobushi) in 1 cup of off-the-boil water for 10 minutes. You can also buy dashi powder and just mix with hot water for convenience, although you may need to reduce soy sauce a little as powdered dashi is saltier.
If your asparagus are thick and woody, you may snap off the bottom of the stalks or peel the skin off the bottom part. If your asparagus is quite thin and soft, this is not necessary as we're slicing it quite thinly.
---
Instructions
Bring a large pot of water to a boil. Meanwhile, make the sauce by mixing mayonnaise, cream, dashi, 1 tablespoon of the soy sauce, mirin and masago.
Fry the eggs to your liking; set aside.
Once you're ready to make the sauce, salt the water (about 1 teaspoon per liter of water) and drop the spaghetti. Stir the pasta until it comes back to a full boil to prevent sticking. Set the timer for 1 minute less than the package instruction.
In a wok or a large saute pan, add a little vegetable oil just to coat. Sear mushrooms until browned on one side and flip them. Add asparagus, season with 1 teaspoon soy sauce and saute the vegetables for about 1 minute. 
Add cream mixture and let reduce for about 30 seconds. If the pasta is not ready at this point, turn off the heat and wait for the pasta. 
When the pasta is ready, use tongs to move the pasta directly into the sauce. Turn the heat on the sauce back on and let the pasta cook in the sauce for about 30 more seconds. It should look like there's slightly too much liquid right now. Turn offf the heat then add a squeeze of lemon juice (making sure you don't let the seeds fall in). Taste and adjust seasoning.
Plate the pasta, top with julienned shiso, nori, and fried eggs. Enjoy immediately!
---