---
Watch The Full Video Tutorial!
All my recipes come with step-by-step video tutorials with extra tips not mentioned in the blog post, so make sure you watch the video below to ensure success - and if you enjoy the show, please consider subscribing to my YouTube channel. Thank you!
Print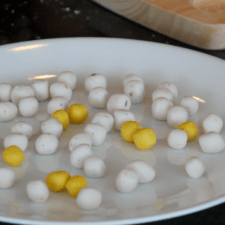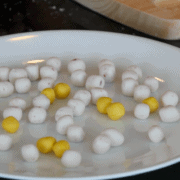 Rice Balls in Coconut Milk บัวลอย (bua loy)
---
Dough

1 cup

(

100 g

.) Glutinous rice flour

½ cup

cooked and mashed taro root, kabocha squash or other colourful juices such as pandan juice or beet juice*

¼

-

½

cup water, as needed **
Sweet Coconut Milk

2 cups

coconut milk

1 cup

water

¾ cup

chopped palm sugar

¾ tsp

salt

½

pandan leaf, optional
Recipe Notes:
* If you want multiple colours in one batch, you can make half this recipe per colour. For example, if you want a three-coloured Bua Loy like I made in this video, you can do ½ cup glutinous rice flour for each colour, and ¼ cup of the flavouring vegetable or juice.
** If you are using a juice to flavour the dough, you don't need to add any more water--the juice would serve as both the flavour and the water in the dough. Squashes can vary greatly in their water content, so the amount of water you need will vary accordingly.
---
Instructions
For the dough: Mix the glutinous rice flour and mashed taro or squash using your fingers until well mixed. Add water, a little at a time, and knead until a dough forms. The dough should be soft but not sticky or tacky. If it becomes sticky, just add a little more flour and knead until it no longer sticks to your fingers.
Turn the dough onto a cutting board and pat it down into a rectangle a little less than 1 cm thick. Cut the dough into 1 cm-thick strips and separate the strips so they don't fuse back together. Take each strip and cut them into 1 cm-long pieces so that all your pieces are now roughly 1 cm cubes. Roll each piece either between the palms of your hands or the tips of your fingers so you have little balls. Now is the time to get your kids and friends involved!
When all the balls are rolled, keep them wrapped tightly in plastic wrap if you are not ready to cook them immediately so they don't dry out. Bring a pot of water to a full boil, and while waiting for the water to boil, make the sweet coconut milk.
For the sweet coconut milk: Put the coconut milk, water, pandan leaf, ½ cup of chopped palm sugar and salt into a pot and cook over medium heat, stirring until all the sugar is dissolved. Taste and add more sugar as needed. Turn off the heat and remove the pandan leaf.
To cook the Bua Loy: Have a large bowl of cold water ready beside the pot of boiling water. Drop the Bua Loy into the boiling water in batches without crowding the pot. Within 1 minute they should float, and as soon as they float, fish them out using a slotted spoon and put them directly in the bowl of cold water (they will sink in cold water). Repeat until you are finished with all the dough.
To assemble: Drain the Bua Loy well and add them to the coconut milk. Heat the coconut-Bua Loy mixture just until it comes back to a simmer so that the Bua Loy can absorb the flavour of the coconut milk, and turn the heat off immediately.
Serve warm or room temperature.
Tips for advanced preparation: You can make the dough (uncooked) one day ahead of time and keep it in the fridge, well-wrapped in plastic wrap. You can also make the coconut milk the day before. However, it is best to serve them the day they are cooked as the rice balls will continue to absorb liquid and become mushy over time. Reheating leftovers after 1 day of refrigeration is doable but the texture won't be as chewy as when they are fresh. I don't recommend keeping leftovers any longer than 1 day.
---