---
I got so many requests for this recipe, and I am very happy about that because it's one of my favourite Filipino dishes! I remember the first time having it and thinking "it's like a Filipino version of tom yum!" Sinigang is a sour soup, owing its sour flavour from tamarind. With lots of veggies and hearty pork ribs, this is the perfect healthy winter dish.
Nowadays, most people make sinigang using a powdered soup mix, but I make mine completely from scratch and you'll see that it's really not any more difficult! Change up with protein if you don't eat pork, as sinigang can be made with any kind of protein. Change up the veggies, too, if you like!
Watch The Full Video Tutorial!
All my recipes come with step-by-step video tutorials with extra tips not mentioned in the blog post, so make sure you watch the video below to ensure success - and if you enjoy the show, please consider subscribing to my YouTube channel. Thank you!
Print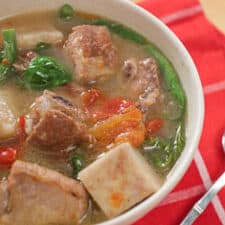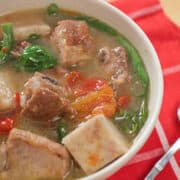 Filipino Sinigang with Pork Ribs
---
1 ½

lb pork spare ribs, chopped into small pieces (see note)

1

generous pinch of salt

45g

seedless tamarind pulp or

4

-

5

Tbsp tamarind juice

½

large red or yellow onion, roughly chopped

2

roma tomatoes, large dice

2 Tbsp

fish sauce

3

heads baby bok choy, water spinach or other greens you like in soup

1 cup

long beans or green beans, cut into

1

"-2" pieces

2 cups

taro root, large cubes

Thai chilies, crushed just until broken
Note: You can buy chopped up spare ribs at Asian butchers. If you cannot find it, you can simply use a rack of ribs, separated into individual bones; it's just gonna be a bit harder to sear and to eat. You can also substitute other kinds of meat; however, if using boneless meat, you MUST use a good stock instead of water, otherwise your soup will be really weak in flavour and body. 
Shop Ingredients & Kitchen Tools I Use
---
Instructions
Salt the pork ribs. In a large heavy bottomed pot, add a little oil just to coat. Once oil is hot, add the ribs and sear until browned on both sides; do not crowd the pot, you will probably need to do this in a couple of batches.
Once the pork is all seared, add them all back to the pot and add just enough water to cover the pork by about 1 cm. Simmer for about 15-20 minutes or until scum and foam has collected on top. Skim off the scum with a fine mesh strainer, then add onion and tomatoes, and simmer for another 45 minutes or until the pork is fork tender.
Meanwhile, if using tamarind pulp, use this time to make tamarind juice. Place the pulp in a medium bowl, cover with off-the-boil water and let sit until cool enough to handle. Squish the tamarind with your hands until all pulp has been released into the water. Strain off all the fibers.

Once the pork is fork tender, add taro cubes and chilies, and simmer for 7 minutes. Add the beans and cook for 2 more minutes, then add bok choy or any leafy greens you're using. Check that the taro is tender by piercing a fork through it and it should go through easily. Season the soup with most of the tamarind juice and then taste, adding more fish sauce and tamarind as needed (note: I used up all of my tamarind juice in the video). You shouldn't need any added sugar for this, but if the soup feels too sour, you can add a little sugar to balance. 

Serve with jasmine rice!
---