---
Don't let the word "tofu" stop you! This recipe has become my favourite to make when I need a delicious and decadent dessert in a snap. Not to mention it is vegan and gluten-free so I never have to worry about who's coming over! Compared to a classic chocolate mousse, it is far easier, healthier, more flexible, but just as delicious.Try it once and I promise you'll be hooked!
Watch The Full Video Tutorial!
All my recipes come with step-by-step video tutorials with extra tips not mentioned in the blog post, so make sure you watch the video below to ensure success - and if you enjoy the show, please consider subscribing to my YouTube channel. Thank you!
Print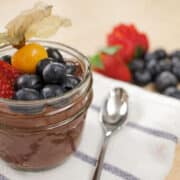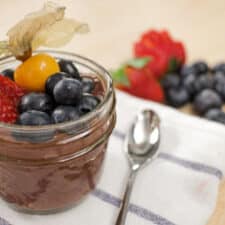 ---
150 g

dark chocolate, roughly chopped (see note)

300 g

soft or silken tofu

¼ cup

(packed) dark brown sugar or white sugar (see note)

Flavourings of your choice (see note)

⅛ tsp

salt
For serving: fresh fruit, crumbled cookies, cake cubes
Note: Customizing Your Mousse
If you want a softer mousse, you can use less chocolate, and if that makes the chocolate flavour too light for your liking, you can add a bit of cocoa powder to make up the darkness. You can blend the cocoa powder along with the tofu, but if you want to add more cocoa powder at the end to the finished mousse, dissolve the cocoa in a bit of water to create a paste—this will prevent lumps.
I use 70% chocolate which yields quite a dark and rich mousse. You can go darker or lighter as you wish.
Using brown sugar will make the mousse richer; for a lighter mousse, use white sugar.
Some options for flavourings:

2

-

3

 Tbsp espresso, this will really darken and intensify the chocolate flavour. You can also do a combination of coffee and flavoured liqueurs like I did in the video.

2

-

3

tablespoon flavoured liqueurs—orange, Irish cream, hazelnut and mint liqueurs are some great options

½

-

1

teaspoon extracts such as vanilla, mint or almond extracts. If using extracts, add 2 additional tablespoons of neutral-flavoured liquid such as soymilk, milk, or water to help soften the texture of the mousse.
---
Instructions
Put the chocolate in a heatproof mixing bowl, then set it over a pot of simmering water (the bowl should not touch the water). Let it melt, stirring once or twice.
While the chocolate is melting, place all other ingredients in a food processor or blender and blitz until smooth, scraping the side once.
Once the chocolate is melted, turn off the heat but keep the bowl on the pot. Gradually whisk in the tofu mixture until well blended, turning on the heat if the chocolate becomes too stiff and isn't blending smoothly. Taste and adjust the mousse as desired.
Remove the mousse from the pot. Using an electric mixer or a stand mixer, beat some air bubbles into the mousse to lighten it up (this step is optional—and you can beat the mousse for as long as you'd like depending on how much air you want to incorporate). Portion the mousse out into serving dishes then chill until ready to serve.
Serve with fresh fruit, crumbled cookies or cake cubes!
---