---
Watch The Full Video Tutorial!
All my recipes come with step-by-step video tutorials with extra tips not mentioned in the blog post, so make sure you watch the video below to ensure success - and if you enjoy the show, please consider subscribing to my YouTube channel. Thank you!
Print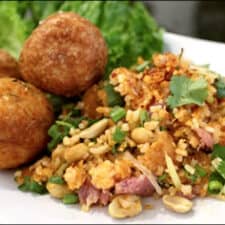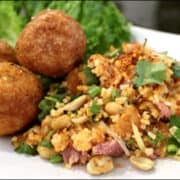 Rice & Sausage Salad ยำแหนมข้าวทอด (yum naem kao tod)
---
The Rice Balls (Kao Tod)
3 Tbsp

red curry paste

2 tsp

fish sauce

1 tsp

sugar

3

-

4

kaffir lime leaves, center rib removed, thinly julienned

½ cup

grated coconut meat

1

egg

4 cups

freshly cooked rice
For the Batter (optional, see note)
½ cup

rice flour
scant

½ cup

water
For The Salad Bar
Naem (sour fermented sausage), see note
Ginger, thinly julienned
Peanuts, whole, roasted
Cilantro, roughly chopped
Green onions, chopped
Shallots, thinly sliced
Sawtooth coriander or mint, roughly chopped (optional)
Chili flakes
Fresh lime juice (I used about half a lime for every serving of 2 rice balls)
Fish sauce (I used about 2 teaspoons for every serving of 2 rice balls, but start with 1 teaspoon and adjust from there)
Crisp lettuce for wrapping such as green leaf, romaine, or butter lettuce
*If you cannot find naem, you can also use another type of a neutral-tasting sausage (one without any strong, distinct flavour of an herb or spice) and let it marinade in some lime juice to imitate the sour flavour of naem.
**You may also fry the rice balls without dipping them in batter; please see video (at 6:49) for explanation.
---
Instructions
For the rice balls: In a large mixing bowl, stir together curry paste, fish sauce, sugar, kaffir lime leaves, grated coconut meat, and egg until well mixed. Add the rice and mix well. Form the rice into balls of about 2-inch diameter; you can also flatten them into pucks if you want to use less oil for frying. Press the balls together tightly.
Preheat frying oil in a pot until it reaches 350 F. Stir the rice flour with water to achieve a thin batter. Dip the rice balls into the batter, let excess batter drip off, and fry them in the oil until crispy and golden browned, about 8 minutes. If you're foregoing the batter, it will take slightly less time. Let the rice balls cool while you prep the salad bar.
To serve: Break up the sausage into small pieces, set aside. In a mixing bowl, smash the rice balls (about 2 balls per person), and add all other ingredients. Taste and adjust the flavour and amounts of ingredients to your liking. You can eat the salad just like that or wrap each bite in a crisp piece of lettuce.
Leftovers? Perfect, because it makes a mind-blowing breakfast! Heat up the left over salad and top it with some fried eggs (over easy or sunny-side up is best), toss the egg together with the rice and prepare to be amazed.
---