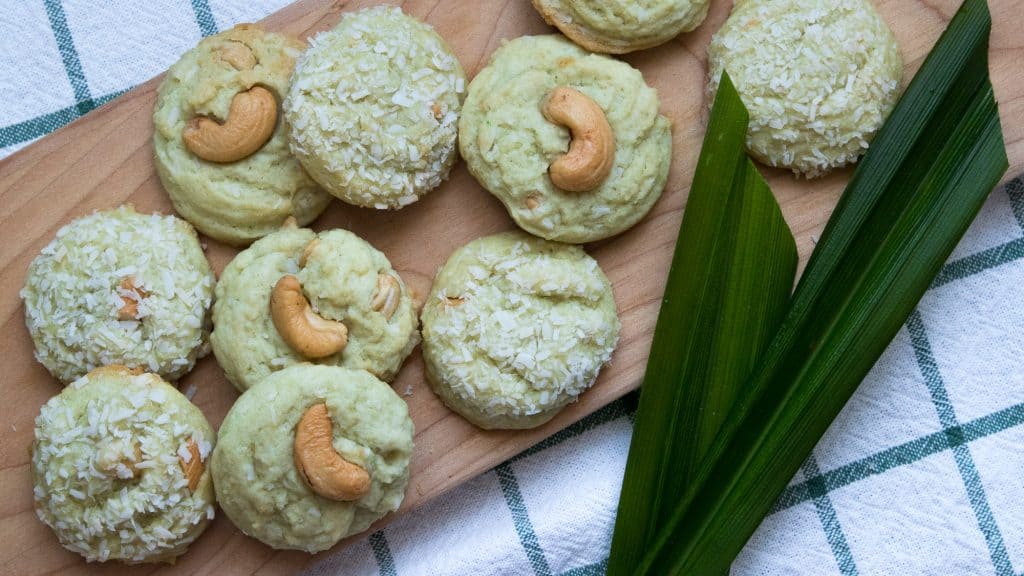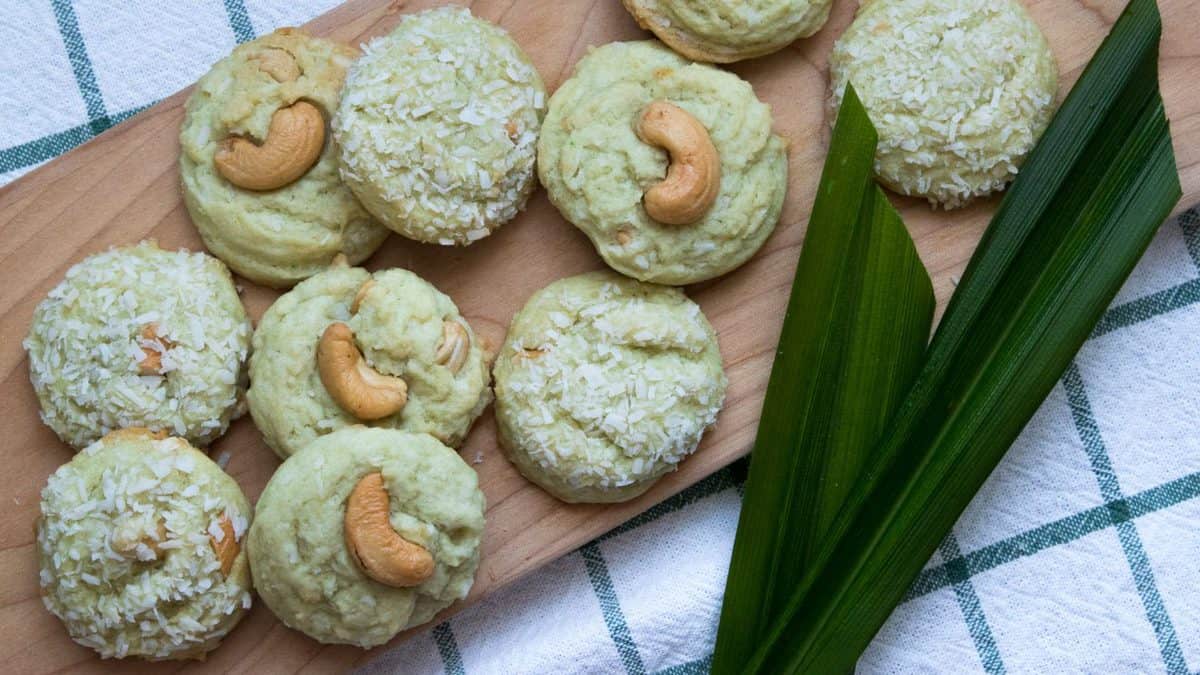 Sponsored by the makers of Becel.
Many of you who have been following the show for a long time probably know that I love adding Thai twists to non-Thai food. So when the makers of Becel asked me to partner with them to take their customizable cookie recipe and add my own spin on it, I was excited by the challenge! This cookie recipe is called "Plant-Based Anything Goes Cookie Dough", and it's a versatile soft and chewy cookie dough recipe that you can use as a base and customize by adding your choice of flavours and mix-ins. The recipe uses Becel Original which is a non-hydrogenated, trans-fat free margarine that can replace butter 1:1 in baking. As a busy mom, I also love that it's soft when refrigerated, so I can use it right away without having to wait for it to soften!
Pandan and Coconut: Quintessential Thai Dessert Flavours
When it comes to Thai dessert flavour, there is nothing else more classic than the flavour of pandan leaves and coconut. So it wasn't hard for me to come up with this recipe using these two flavours. I added cashews for texture and nuttiness, and fun fact: cashews are one of the only 2 nuts we use in Thai cuisine! The other being peanuts, of course.
What are Pandan Leaves?
Pandan is basically our vanilla. Pandan leaves are long, thin, dark green leaves that have a floral aroma that goes incredibly well with coconut. It's commonly used in Southeast Asian desserts, and in Thailand, it's added to almost all of our sweets. It is even used in some savoury dishes, such as the broth of boat noodles. 
You can buy pandan leaves fresh or frozen at Asian grocery stores that carry a lot of Southeast Asian products. If you buy them fresh, you can store any leftovers in the freezer. Make sure you wash and dry them first and store them in a heavy-duty freezer bag and they'll last you several months.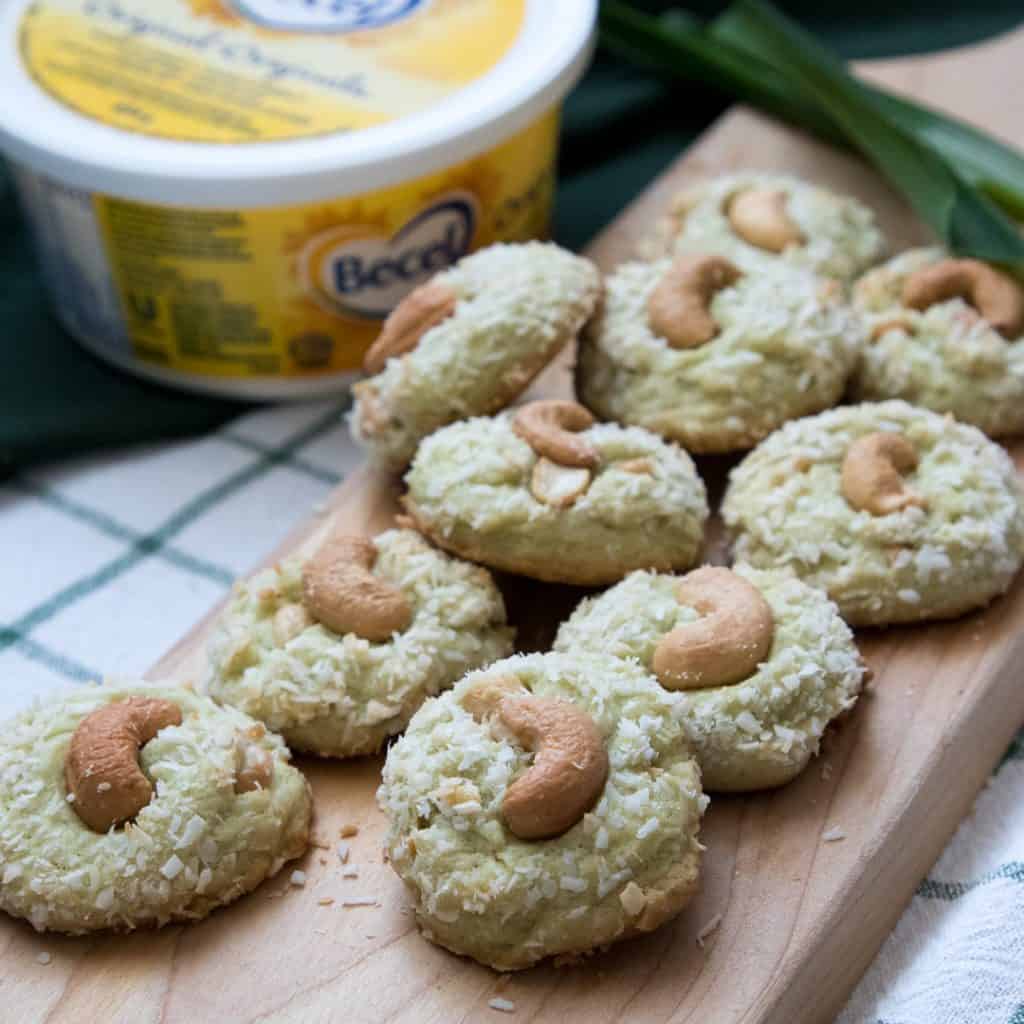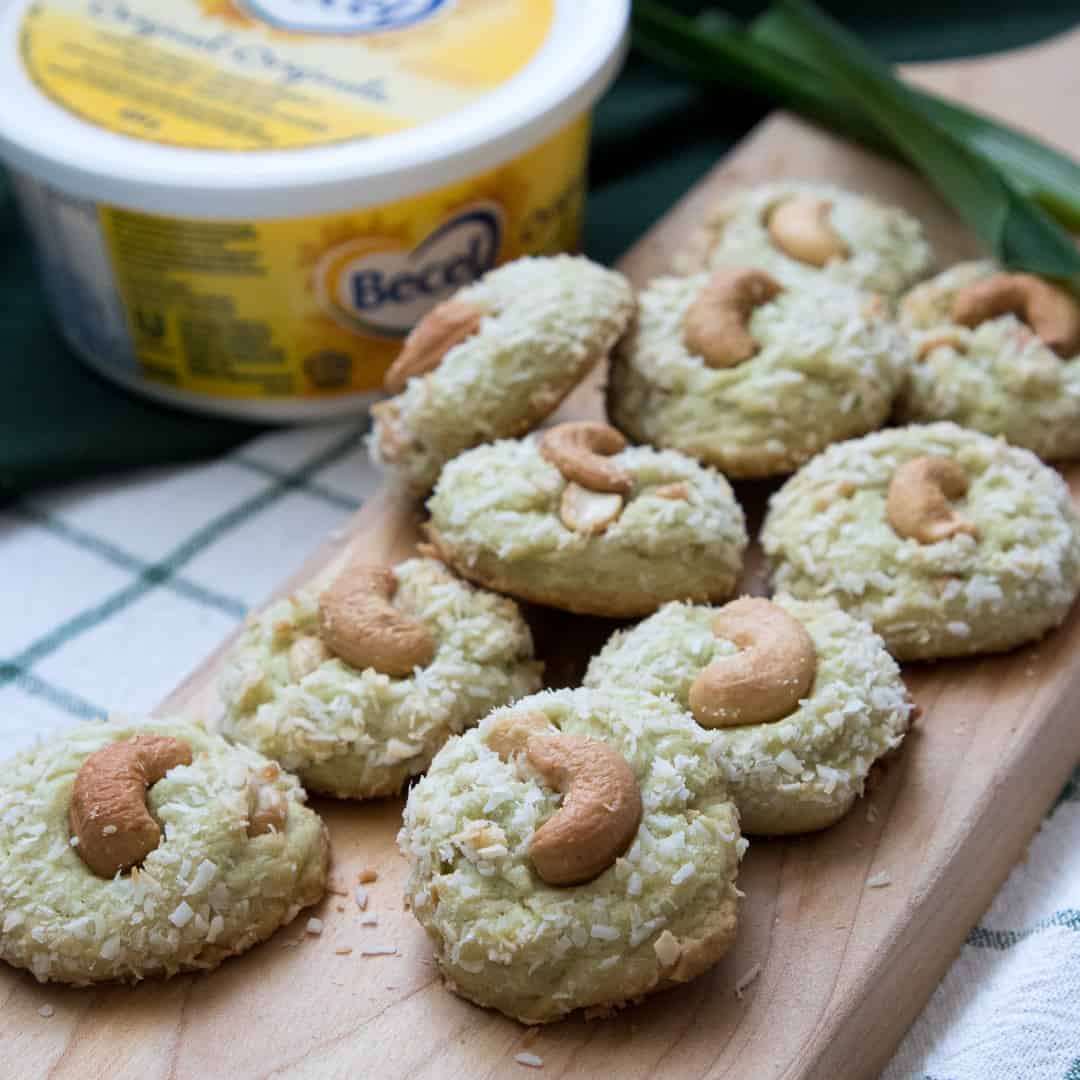 Print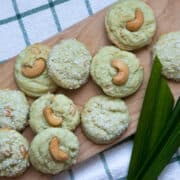 Pandan Coconut Cookies with Cashews
---
---
1 ¾ cups

(425 mL) all-purpose flour

⅓ cup

shredded coconut, unsweetened, plus extra for garnish

1 ½ tsp

(7 mL) cornstarch

1 tsp

(5 mL) baking powder

½ tsp

(2 mL) baking soda

¼ tsp

salt

½ cup

(125 mL) Becel® Original margarine

¾ cup

(180 mL) granulated sugar

¼ cup

(60 mL) unsweetened applesauce

3 Tbsp

concentrated pandan juice (recipe follows, see note)

2

-

3

drops green food colouring (optional)

⅓ cups

roasted chopped cashews

30

whole roasted cashews for garnish, optional
Concentrated Pandan Juice
8

pandan leaves, washed and chopped

½ cup

water
Note: Pandan leaves are long, thin aromatic leaves that can be found frozen or fresh. Look for them at Asian grocery stores that carry a lot of Southeast Asian products. If you cannot find it, you can substitute 1 teaspoon coconut or vanilla extract plus 3 tablespoon of water.
---
Instructions
For the pandan juice:
Blend half of the pandan leaves with the water until fine. Strain, then put the juice back into the blender.

Add the other half of the pandan leaves in the blender and blend until fine and strain.
Notes:
I'm blending half of the leaves at a time because the blender cannot process all the leaves at once with this amount of water.
This makes more than you need in the recipe, but I find that the blender needs at least this much volume in order to blend effectively. You can make pandan tea with the leftover juice—simply add water and sweetener of your choice and enjoy it hot or iced.
For the cookies:
Whisk together flour, shredded coconut, cornstarch, baking powder, baking soda and salt in medium bowl; set aside.

Beat Becel® Original margarine and granulated sugar using electric mixer until light and creamy. Beat in applesauce, pandan juice and green food colouring until blended.

Gradually add in flour mixture and beat on low speed, scraping down sides of bowl occasionally, stopping just as the flour is almost completely blended, but not quite.

Add cashews, and use a wooden spoon or rubber spatula to fold them in until they are evenly distributed and the dough is well blended (do not overmix).

Refrigerate dough at least 30 minutes or until chilled. You can make the dough up to 2 days in advance, keeping it well covered in the fridge.

While cookie dough is chilling, preheat oven to 350°F (180°C) and set the rack in the middle of the oven. Line baking sheet with parchment paper.

Drop cookies by tablespoonfuls on prepared baking sheet 2 inches apart.

Optional cashew garnish: place a whole roasted cashew on top of each dough ball, pressing them in so that the bottom half is buried into the dough. Optional coconut garnish: Roll the top side of each dough ball into shredded coconut. If you want to garnish the cookies with both cashews and coconut, make sure you put the cashews in first before rolling them in the coconut.

Bake 10-12 minutes or until edges are golden. (Shorter baking time yields softer cookies.)

Let cookies cool for 5 minutes, then transfer them onto a wire rack to cool completely.
---