---
Watch The Full Video Tutorial!
All my recipes come with step-by-step video tutorials with extra tips not mentioned in the blog post, so make sure you watch the video below to ensure success - and if you enjoy the show, please consider subscribing to my YouTube channel. Thank you!
Print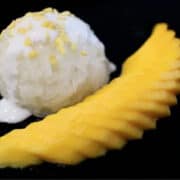 Mango & Sticky Rice ข้าวเหนียวมะม่วง (kao niew mamuang)
---
Coconut Sticky Rice
1 cup

white glutinous white rice

⅔ cup

coconut milk

½ tsp

salt

½ cup

of sugar
Salted Coconut Sauce
½ cup

coconut milk

¼ tsp

salt

1 tsp

rice flour

1 Tbsp

water
Others
2 Tbsp

shelled, split mung beans

2

-

3

mangoes
Note: If you don't have any sweet, fresh mangoes, you can make a mango compote using good quality frozen mango (see instructions at the end of the video).
Click here for the tutorial on how to use the bamboo cone steamer to make sticky rice.
---
Instructions
For the sweet sticky rice:
Wash the rice in cold water, vigorously swishing the rice, 5 times or until the water runs clear. Let soak in water for at least 4 hours or overnight. Drain the rice very well and steam the rice for 25-30 minutes.
While the rice is cooking, put the coconut milk, sugar, and salt in a pot. Cook, stirring, until the sugar is completely dissolved. Keep warm.
When the rice is done, immediately pour the syrup over the rice. Stir and break up any lumps, then cover with foil and let sit for 20 minutes. After 2o minutes, stir the rice again with a rubber spatula, folding the bottom part up to the top. Let sit for at least another 20 minutes or until ready to serve.
For the salted coconut sauce:
Dissolve the rice flour in the water until there are no more lumps. Combine the rice flour slurry, coconut milk, and salt in a small pot. Cook over medium heat until the mixture comes to a gentle boil and has thickened. Let cool.
For the mung beans:
Rinse the beans twice in cold water. Add the beans to a small pot and cover with 2 cups of cold water. Over medium heat, bring the water to a gentle boil. Once boiled, immediately remove from heat and cover the pot; let sit for 10 minutes. Drain off the cooking water and rinse the beans in cold water. Drain the beans well. In a lightly greased saute pan, toast the beans over medium high heat, stirring frequently, until the beans are dry, crunchy and starts developing a light golden colour. Let cool on a plate.
Assembly:
Serve the rice beside sweet, fresh mango. Spoon some salted coconut sauce over the rice and sprinkle with the crispy mung beans.
---