Crab curry stir fry or pu pad pong garee is a classic Thai dish and a mainstay of Thai seafood restaurants. It's so good it's easily in my top 5 Thai seafood dishes. Yet, it's almost unknown outside of Thailand as very few Thai restaurants offer it.
Why? Probably because crab is expensive, and also because...well...it's not the prettiest dish you've ever seen, as you'll see, though it does dress up nicely. But it is out-of-this-world delicious AND extremely easy and quick to make. Perfect for some weeknight luxury.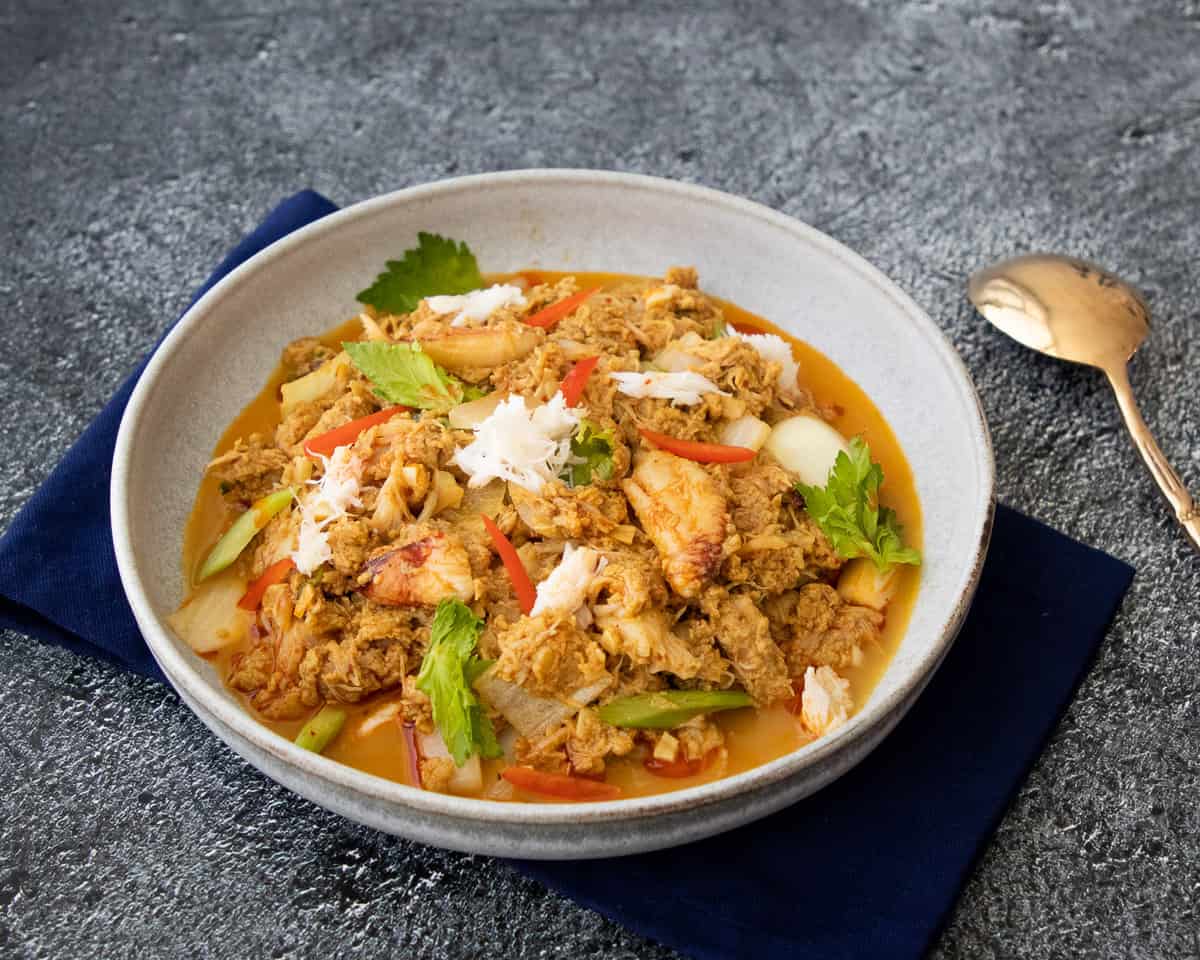 What is Pu Pad Pong Garee?
Pu (pronounced bpoo) means crab, pad means to stir-fry, and pong garee means curry powder. But the name omits a key element: eggs. So more accurately it's crab stir fried in a soft custard flavoured with curry powder.
There are two versions of this dish: the original version uses a whole crab, still in the shell, chopped up into chunks and tossed into the stir fry (pic below). You can imagine how that would be a total pain to eat though - having to pick crab meat out from the gooey shell that's covered in a custardy sauce - so it is not my preference. So my family always opt for the other version that uses crab meat only. It's more expensive, but totally worth it.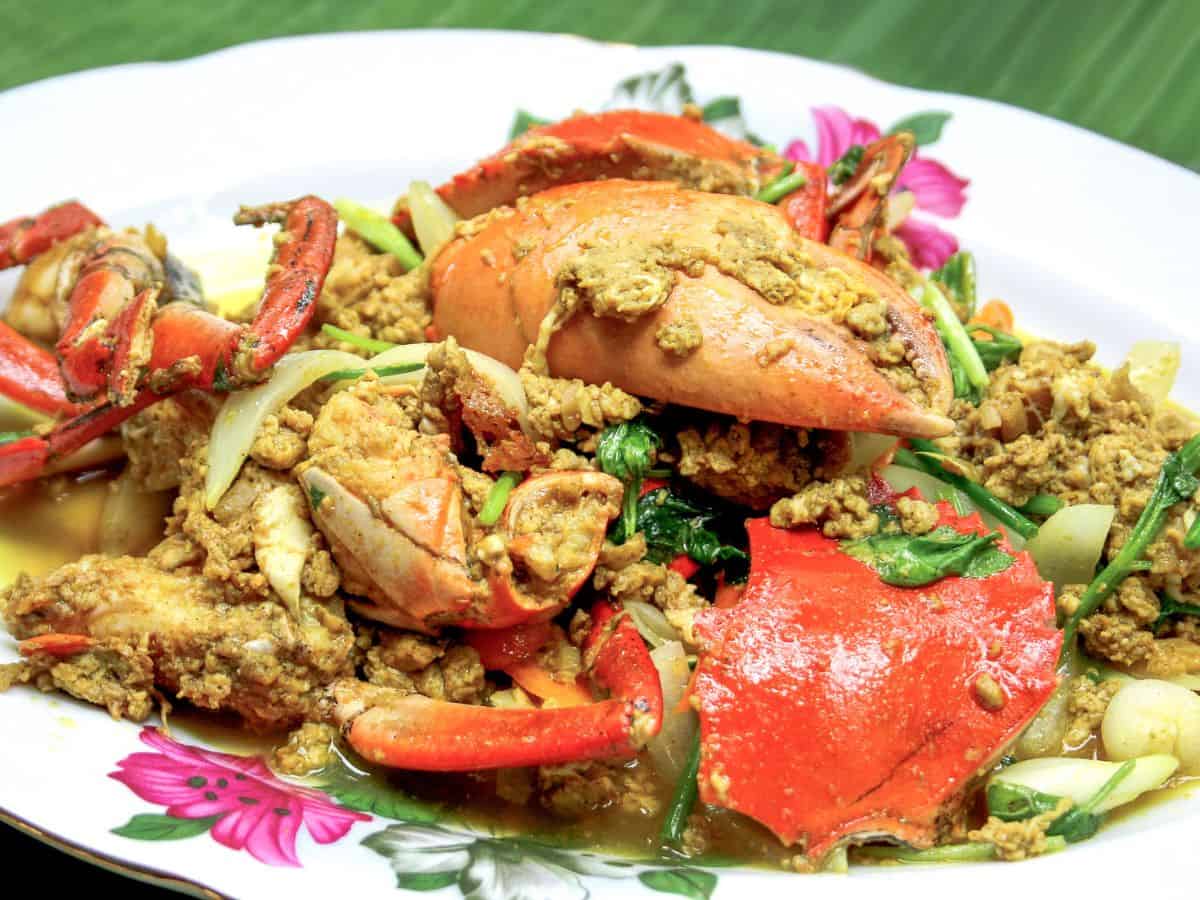 Ingredients
Here are all the ingredients for this dish with explanations. For amounts, see the full recipe card below.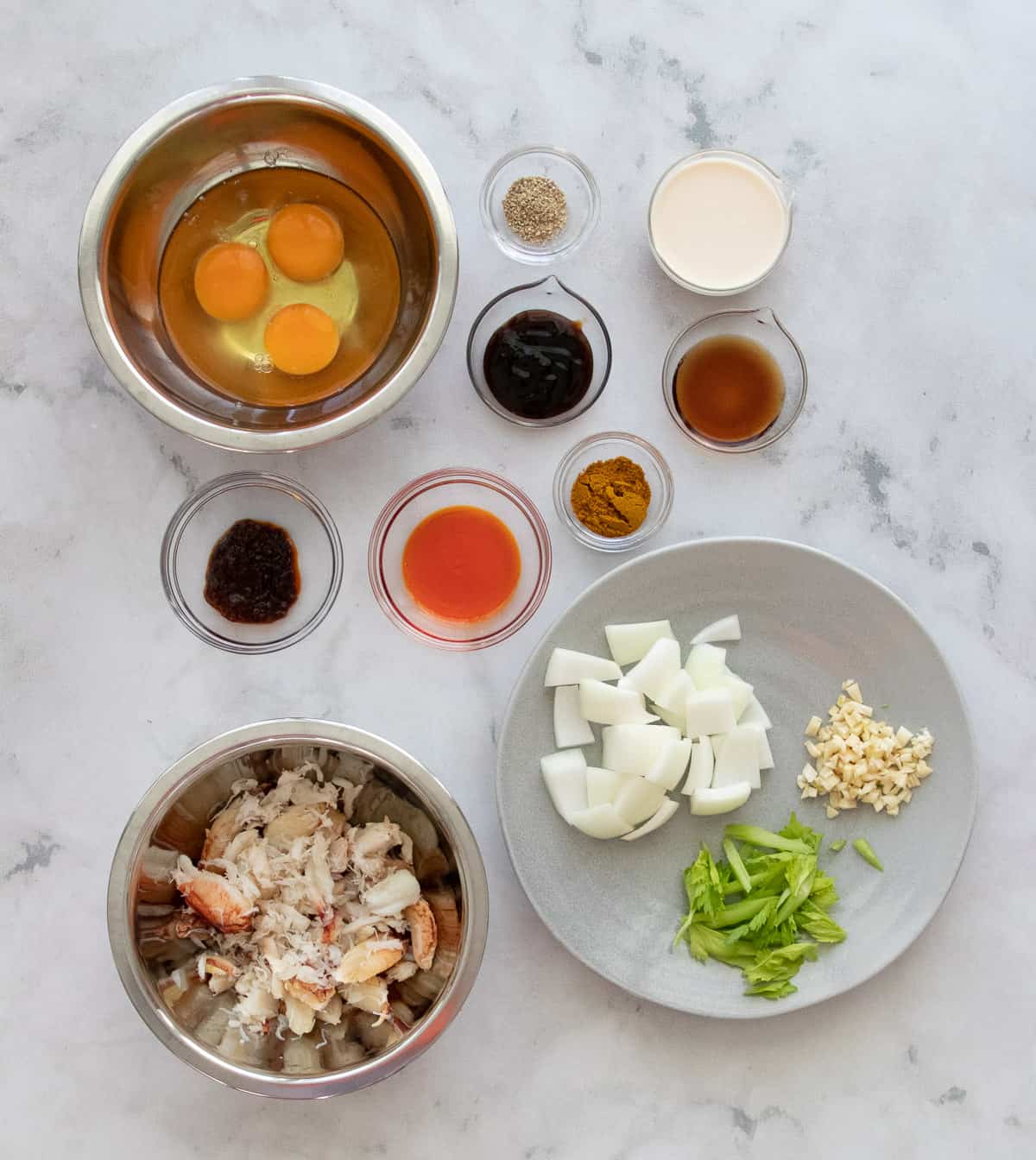 The Custard
Thai chili paste or nam prik pao. You can buy this from Asian grocery stores, or you can make it at home using my nam prik pao recipe here. If you don't have it, you can omit it and substitute about a teaspoon of sugar (the chili paste is quite sweet), but the flavour will be a little different.
Chili oil. Typically we use the chili oil that sits on top of the Thai chili paste when you buy it. If you don't have enough of this left, substitute any other kind of chili oil. This is added mostly for colour; because without the red, the curry powder will leave the dish a sort of yellow and that's not, to put it delicately, very...um...appetizing.
Evaporated milk. You may be surprised by this seemingly non-Thai ingredient. Traditionally we use coconut milk to add creaminess, but in more modern recipes such as this, you'll see evaporated milk used where a more neutral flavoured creaminess is desired. Creamy tom yum soup is another dish where evaporated milk is used (and it's totally delish btw). But you can use coconut milk instead and it will still be excellent.
Eggs
Oyster sauce. See my post on choosing the best oyster sauce.
Fish sauce. See my post on how to choose the best fish sauce.
Ground white pepper.
The Stir Fry
Fresh crab meat. You want this as chunky as possible, so no canned crab! I used dungeness cuz I'm in the West Coast, but blue crab would be even better. You can also make a shrimp version which is less common, but still good. Precook the shrimp first and proceed with the recipe as usual.
Onion, if you have sweet onion, it's really good in this.
Garlic, chopped.
Curry powder. My preference is Japanese SB brand. If you can find it, the most popular brand in Thailand is Waugh's curry powder (made in England).
Celery leaves and thinly sliced stalk. I am using this as a substitute for Chinese celery, which is what is used in Thailand.
Julienned red chilies or bell pepper, optional for garnish. If you're serving guests, garnishes are VERY important because, ungarnished, this dish does not look great to be frank, lol.
Optional: fresh chilies. This dish is typically not spicy, but it is quite tasty when it's got a little bit of heat. So you can add some chopped Thai chilies, or even chili powder.
Jasmine rice for serving.
Condiment: Though not necessary, Prik Nam Pla is a great condiment for this dish because the zing offsets the richness. A little sprinkle with some chili pieces for some heat would suffice.
How to Make Thai Curry Crab
This recipe is easy but it goes FAST so you need to know exactly what you're doing once the wok is on. You also need to know the consistency you're looking for in order to not turn the whole thing into scrambled eggs. So I highly recommend you watch the video tutorial in the recipe card before you cook in order to ensure success!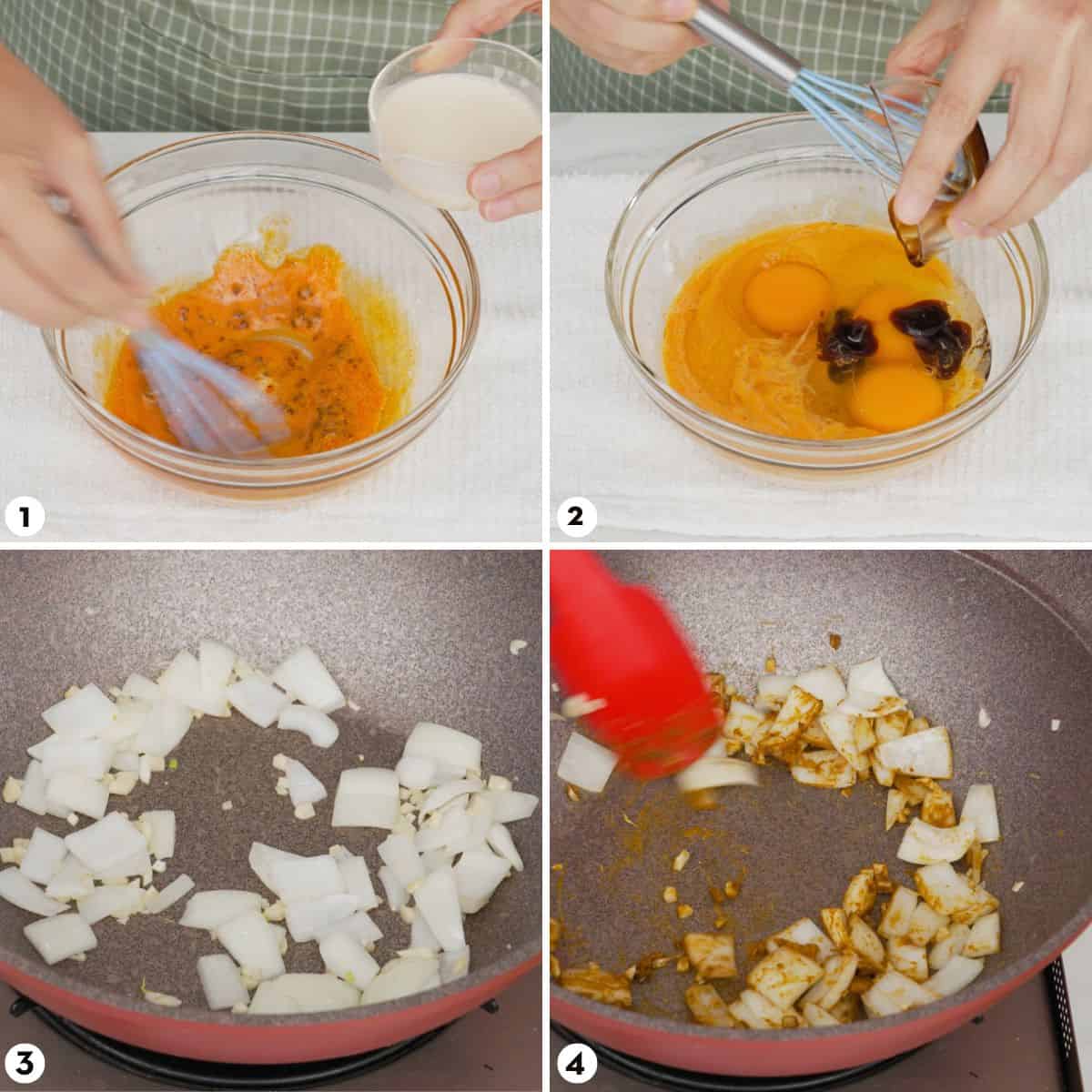 Combine the Thai chili paste and chili oil with a splash of the evaporated milk and whisk until the chili paste is no longer clumpy.
Add the remaining evaporated milk, eggs, oyster sauce, fish sauce, and white pepper. Whisk until smooth.
In a nonstick wok or skillet, sauté the onion and garlic in oil for a couple minutes on medium heat; just until the onion is softened slightly but is still crunchy.
With the heat on medium and no higher, add the curry powder and stir to mix with the oil for literally 5-10 seconds.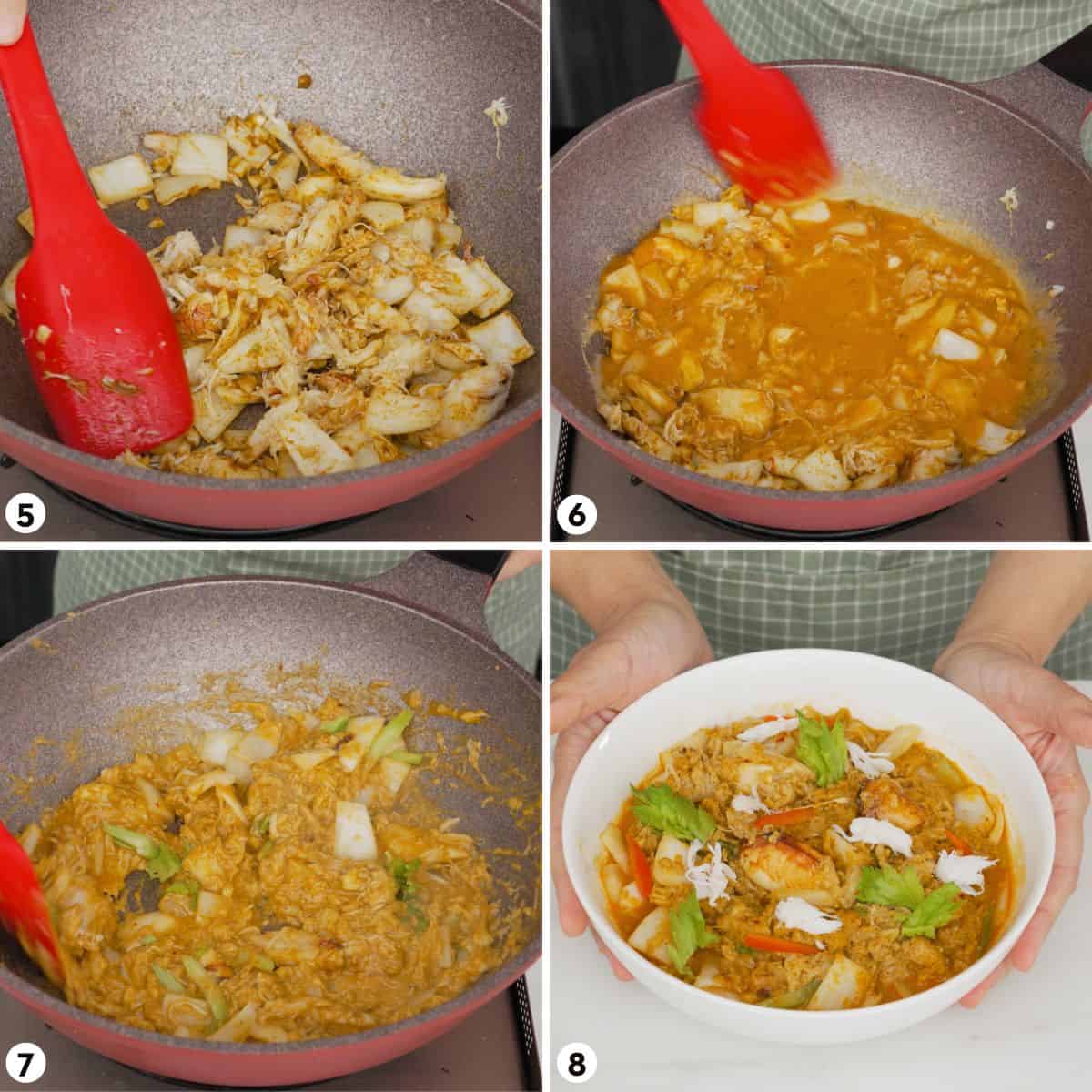 Add the crab meat and gently toss to heat it up for 10-15 seconds, being careful not to break up the crab.
Add custard and stir constantly, scraping the bottom, until it looks creamy and thick.
Turn off the heat and add the celery and plate immediately so that the eggs will not overcook in the residual heat of the pan.
Garnish with more celery leaves, red pepper and some extra crabmeat, if desired. Serve with rice!
Tips For Success
This recipe is pretty simple, but there are a few tips to keep in mind for best results.
I like to use a rubber spatula instead of a wok spatula for this as you'll need to scrape the eggs off the bottom constantly. It's also more gentle on the crab and won't break it up too much.
The texture of this dish is soft and creamy, so you want the onion to still be crunchy otherwise the whole dish will lack textural variety...in other words, it'll all be mush. So don't overcook the onions or cut them too small.
Do not use high heat, especially when you add the curry powder, or you might burn it. Also, if you don't work fast enough, a high heat will overcook the eggs quickly.
What to Serve with Pu Pad Pong Garee
This is a dish that I don't think should be the only thing you're serving in the meal. It's rich, creamy, and soft, and could really benefit from another dish that is light and has some crunch for texture.
Garlicky cabbage stir fry is a super easy one if you want to keep the meal simple, or one of these Thai salads would provide the bright acidity that will complement the dish well.
FAQ
Can curry crab be made in advance?
Ideally not, because it is tricky to reheat without overcooking the eggs. But it takes literally 3 minutes to cook (you can see it in real time in the video) so if you get all your ingredients prepped in advance, there should be no reason why you can't cook this right before serving. 
Is there a substitute for crab meat?
You can substitute any kind of protein you'd like, actually! In Thailand we make this dish only with crab and shrimp, but you could certainly use tofu, fish, or even chicken.

Pre-cook your protein of choice first though, and then follow the recipe as is without any modifications. Keep in mind however that if your protein is bland, like chicken or tofu, you might want to marinate it a bit with some soy sauce or fish sauce before cooking.
How do I store and reheat leftovers?
Leftovers will keep in the fridge for 3-4 days, but when you reheat, don't reheat it too hot or you'll overcook the eggs. Using the microwave is fine but stir it every 20-30 seconds (depending on how much you're heating) just until it's warm. Serve it on piping hot rice and it'll be fine. You can also reheat it in a frying pan, over medium high heat, stirring constantly until it's warm.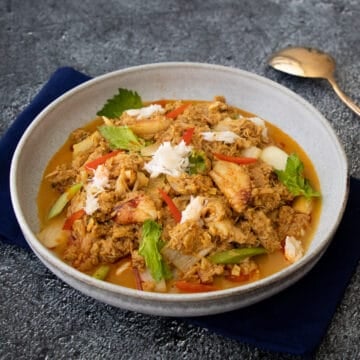 Thai Curry Crab Stir Fry
Pu Pad Pong Garee is a classic seafood dish in Thailand, and one of my fave. Crab meat is stir fried in a custardy curry sauce. The flavour is to die for, and it is incredibly quick and easy to make!
Ingredients
The Custard
1

Tablespoon

Thai chili paste (nam prik pao)

,

1

Tablespoon

Thai chili paste oil (the red oil that floats on top of the chili paste jar)

,

or another chili oil

¼

cup

evaporated milk

,

or coconut milk

3

large eggs

1

Tablespoon

oyster sauce

1

Tablespoon

fish sauce

½

teaspoon

ground white pepper
The Stir Fry
1

Tablespoon

neutral oil

¼

onion

,

1-inch dice (preferably sweet onion)

3

cloves

garlic

,

chopped

2

teaspoons

curry powder

7

oz

fresh crab meat

,

set aside a couple of teaspoons for garnish

1

small handful

celery leaves and thinly sliced stalk

,

or chopped Chinese celery, plus extra for garnish

A few pieces of julienned red chilies or bell pepper

,

optional garnish

Jasmine rice,

for serving

Prik nam pla

,

optional condiment
Check Out Ingredients and Kitchen Tools I Use
All my recipes come with step-by-step video tutorials with extra tips not mentioned in the blog post, so make sure you watch the video to ensure success. If you enjoy them, consider subscribing to the YouTube Channel to not miss an episode. Thank you!
Subscribe to my YouTube Channel
Instructions
For the custard: Whisk the chili paste and the chili oil together to loosen the paste. Add about a tablespoon of the evaporated milk and whisk to make sure there are no lumps of chili paste remaining. Add the rest of the evaporated milk, the eggs, oyster sauce, fish sauce and white pepper. Whisk until well combined.

1 Tablespoon Thai chili paste (nam prik pao),

1 Tablespoon Thai chili paste oil (the red oil that floats on top of the chili paste jar),

¼ cup evaporated milk,

3 large eggs,

1 Tablespoon oyster sauce,

1 Tablespoon fish sauce,

½ teaspoon ground white pepper

Have all your ingredients and serving plate ready to go and within arm's reach, as the cooking goes very fast!

Place a nonstick skillet or well-seasoned wok on medium heat, then add the oil, onions, and garlic and saute for a minute or so just until the onion doesn't taste raw but is still crunchy.

1 Tablespoon neutral oil,

¼ onion,

3 cloves garlic

Keeping the heat on medium, add the curry powder and stir for just 5 seconds to infuse into the oil. Do not use high heat or the curry powder will burn instantly.

Add the crab and toss for just 10-15 seconds to heat up the crab. Be gentle, try not to break up the crab too much.

Add the custard and using a rubber spatula stir without stopping until the mixture is thick and creamy, but still looks slightly undercooked. Off the heat, stir in the celery and immediately transfer onto a serving plate.

1 small handful celery leaves and thinly sliced stalk

Garnish with red pepper juliennes, more celery leaves and extra crab meat

A few pieces of julienned red chilies or bell pepper

Serve with jasmine rice and prik nam pla, if desired.

Prik nam pla,

Jasmine rice
Watch my videos AD-FREE and get bonus content on Patreon!
Nutrition
Calories:
256
kcal
Carbohydrates:
8
g
Protein:
20
g
Fat:
16
g
Saturated Fat:
4
g
Polyunsaturated Fat:
2
g
Monounsaturated Fat:
9
g
Trans Fat:
0.02
g
Cholesterol:
198
mg
Sodium:
1285
mg
Potassium:
350
mg
Fiber:
1
g
Sugar:
3
g
Vitamin A:
332
IU
Vitamin C:
8
mg
Calcium:
132
mg
Iron:
2
mg
Tried this recipe? Share a pic!
Tag @hotthaikitchen on Instagram and Twitter!