---
This is the perfect dish for a busy wednesday night! I came up with this dish because I was craving some tomatoey pasta (which happens quite often...), but I didn't have time for a slow-simmering pot of tomato sauce, so I whipped out my wok and put this together! Lo and behold, it turned out absolutely delicious so I really wanted to share this with you! The sauce is spicy, garlicky, bit with that familiar tomato sauce flavour from lots of roma tomatoes and basil.
With just a few simple ingredients, it's a handy recipe to have in your back pocket for when you're tired and hungry from work and need to put satisfying food on the table quickly. I use roasted eggplant in this video but you certainly can change it up with other vegetables you like to roast. The sausage is totally optional so it can absolutely be vegetarian or vegan. Enjoy!
Watch The Full Video Tutorial!
All my recipes come with step-by-step video tutorials with extra tips not mentioned in the blog post, so make sure you watch the video below to ensure success - and if you enjoy the show, please consider subscribing to my YouTube channel. Thank you!
Print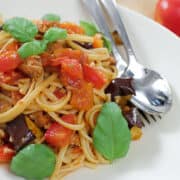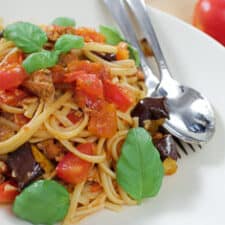 Garlicky Tomatoey Weeknight Pasta
---
Half of an Italian globe eggplant

Olive oil, as needed
Salt and pepper, to taste

200 g

dry pasta (if possible, choose pasta with a matte, rough surface)

1

-

2

Italian sausages (optional)

Chili flakes, to taste

7

cloves garlic, finely chopped

1

lb (450 g) roma tomatoes, roughly chopped

1 cup

Italian basil leaves, roughly tear if leaves are large

Parmiggiano reggiano or parmesan cheese for serving (optional, but recommended)

Salt & pepper to taste
---
Instructions
Preheat the oven to 425 °F or 220 °C, use convection if you have it. Bring a pot of water to a boil for pasta. (Keep track of how many liters of water you're using, so you know how much salt you will need to add.)
Cut the eggplant into chunks, slightly bigger than you want it to be as they will shrink when roasted. drizzle a little olive oil over the eggplant and season with a generous pinch of salt and pepper; toss to coat evenly. Place on a parchment- or foil-lined baking sheet and bake for 10-12 minutes, or until the edges are browned.
Meanwhile, if using the sausage, take the sausage out of the casing and cook it off in a dry saute pan, breaking the sausage into chunks. Set aside.
Once the eggplant is done and the pasta water is boiling. Add salt to the pasta water, 1 teaspoon per each liter of water, then add the pasta to the water and set the timer to be 1 minute less than the package instruction.
As soon as the pasta is dropped, heat the wok over low heat and add about 2 tablespoon of olive oil, garlic, and chili flakes, if using. Saute the garlic and chilies, letting them simmer gently for a 3-4 minutes to infuse the flavour of the garlic into the oil.
Add the chopped tomatoes, crank the heat to medium high and add ¼ tsp salt and some black pepper to taste. Toss the tomatoes until they start to lose their shape. Add the eggplant and the cooked sausage, if using, and toss just to combine. Turn off the heat and wait until the pasta is done. Taste the sauce and add more salt as needed, keeping the salt level a bit on the mild side as there will be more salt added from the pasta water.
Once the pasta is done, transfer the pasta directly into the wok using tongs or a slotted spoon (don't drain it!). Add about ½ cup of pasta water, turn the heat back on and toss to combine, adding more pasta water if it becomes too dry. Once it is well mixed, and the sauce coats the pasta thoroughly, turn off the heat and taste it one last time to adjust the seasoning as needed.
Plate and sprinkle with a generous amount of fresh basil leaves. Grate some parmigiano-reggiano cheese over and serve immediately. Enjoy!
---