---
Improving Cheap Takeout
This recipe is inspired by my husband's favourite dish from a Chinese restaurant that his parents often go to for takeout. It is one of those very ordinary places—not bad, not great, but cheap and satisfactory when the mood is right.
Their honey garlic ribs is good, given what it is, but I knew that the combination of fried pork ribs and a sticky honey garlic sauce is one with much potential, so I wanted to make a "gourmet" version, maximizing all the flavour potential it has to offer. I'm glad to report that I succeeded, and let's just say I've raised the bar and my husband probably won't enjoy those ribs from the restaurant quite as much. A small price to pay 😉
The Secrets
Here are techniques I used that elevate these to "gourmet" status:
Super tender ribs. Typically the ribs are just marinated and fried, which is fine, but pork ribs are not the most tender of meats so you always end up having to work a bit to get all the meat off the bones. I decided to steam them first until the meat becomes fork tender, so when you eat it, the meat just falls right off. This also means I don't have to worry about whether the pork is undercooked or overcooked when I fry them.
Using pork juice in the sauce. When I first steamed the pork, I found myself with delicious pork juice that was released during steaming. I didn't want to waste it, so I thought I should use it in the sauce. This was one of my greatest culinary ideas. It adds umami, richness, and meaty flavour to the sauce that really elevates the dish.
Using pork juice in the batter. I was not able to use up all the pork juice in the sauce, so I thought... where else can I use this precious liquid? Well, the batter for when I fried the pork! Boom, another flavour opportunity taken. This also means that the leftover batter can get drizzled into the oil and fried up into the most addictive crunchy bits ever.
Using pork fat in the sauce. On top of the pork juice released after steaming is also another tasty thing: pork fat. So instead of using vegetable oil to saute the garlic for the sauce, I skimmed this fat and used it instead.
Good honey. I have serious doubt whether the restaurant actually uses real honey in the sauce because real honey is not cheap, let alone GOOD real honey. So when you're home, you can choose to use good quality, tasty honey for the sauce if you wish.
Watch The Full Video Tutorial!
All my recipes come with step-by-step video tutorials with extra tips not mentioned in the blog post, so make sure you watch the video below to ensure success - and if you enjoy the show, please consider subscribing to my YouTube channel. Thank you!
Print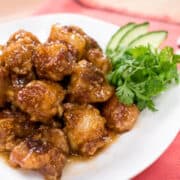 ---
1

lb (450 g) spare ribs, chopped into small pieces (see note)

2 tsp

fish sauce

5

cloves garlic, chopped

½ tsp

ground white or black pepper

2 Tbsp

honey

2 tsp

soy sauce

2 tsp

oyster sauce

2 Tbsp

all-purpose flour (approx.)

2 Tbsp

cornstarch (approx.)
Notes: You can buy chopped spare ribs at Chinese butchers. If you can't find it you can also buy regular spare ribs and cut them into individual pieces. This will obviously yield longer pieces that may require longer cooking time and it'll be a bit more unwieldy to work with, it'll work all the same.
---
Instructions
Toss ribs in fish sauce in a flat dish and marinate for at least 30 mins. (Don't use a round-bottom bowl or the fish sauce will pool at the bottom).
While the ribs marinate, preheat the steamer, bringing the water to a boil.
Place ribs in a heatproof bowl and steam over boiling water until fork tender, about 40-45 minutes depending on the size.
Use tongs to remove only the ribs, leaving the pork juice behind, and place them in a mixing bowl.
Let pork juice cool until lukewarm, then put in the fridge or freezer to chill just enough so the fat solidifies a bit. (This step is optional, only to make fat skimming easier. If you don't have time you can just use a spoon to skim off as much of the fat as you can while it's still warm.)
Make the sauce:
Skim off pork fat from the cooled pork juice, and add about 2 teaspoon of the fat into a small pot. Discard the rest or keep for another use.
Heat the pork fat over medium heat, then add chopped garlic and saute for a couple of minutes until the garlic starts to turn golden.
Add 4 tablespoon of the pork juice (don't throw out the rest yet), honey, soy sauce, oyster sauce and white pepper. Simmer for about 3-5 minutes or until the sauce has thickened into a thin, syrupy consistency. Set aside.
Fry the Pork:
You should have a few tablespoons of pork juice left, add this back to the ribs in the mixing bowl. (If for some reason you don't have any liquid left, just add  a couple of tablespoons of water.)
Add 1 tablespoon of flour and 1 tablespoon of cornstarch to ribs and toss to create a thin batter that coats the ribs (see video for what it should look like). If batter is too runny, add more flour and cornstarch to adjust.
Add about 2 inches of oil in a pot you're using for frying and heat to 375°F. Add ribs to the oil one at a time and fry for 2-3 minutes or until batter is golden brown and crispy. Fry in batches so as to not crowd the pot.
Drain the fried ribs and transfer to a mixing bowl.
If you've made the batter with pork juice, drizzle any leftover batter into the oil and fry them up into yummy crispy little bits of goodness which you can enjoy on their own or top the pork with them 🙂 You will know the bits are crispy once they stop bubbling.
Once all ribs are fried, pour the sauce over them and toss to coat.
Serve immediately as an appetizer or with rice. Enjoy with a cold beverage 🙂
---