---
These are the BEST ribs ever!!! Super easy, and doesn't even require the oven, you just need a bit of patience, but it will be well rewarded. 🙂
For this episode I'm in the kitchen with a Thai cooking virgin! My friend Colin Knecht is a fellow YouTuber and a talented woodworker who made me a beautiful wooden mortar and pestle that I'd always wanted. In exchange, I invited him over for a private Thai cooking lesson so I can get him started cooking Thai! He asked me to teach him a recipe for ribs (because apparently woodworkers love ribs) and he would like to learn how to cook them so that they are *tender* and juicy. I came up with this recipe, and I have to say that I even surprised myself how good they were! Best of all, you don't even need to use the oven for these. So here's a yummy rib recipe that is literally finger-licking good, and also a little 101 on how to cook ribs 🙂 Enjoy!
Check out this video where Colin taught me how to make the mortar and pestle! https://youtu.be/NReB0wd0DNA
Colin's YouTube Channel on Woodworking: https://www.youtube.com/knecht105
Watch The Full Video Tutorial!
All my recipes come with step-by-step video tutorials with extra tips not mentioned in the blog post, so make sure you watch the video below to ensure success - and if you enjoy the show, please consider subscribing to my YouTube channel. Thank you!
Print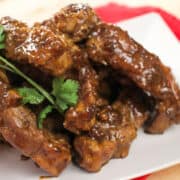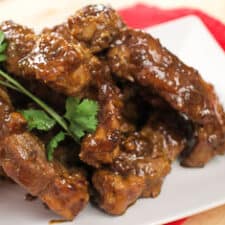 Honey Soy Glazed Ribs ft. Colin Knecht
---
1

rack of pork back ribs, cut into individual ribs

5

cilantro stems or

2

-

3

cilantro roots

7

cloves garlic

1 tsp

white peppercorns
Marinade
2 tsp

coriander seeds, toasted 

3 Tbsp

oyster sauce

2 Tbsp

soy sauce

2 Tbsp

honey

2 Tbsp

Sriracha hot sauce

2 tsp

black soy sauce
Note: A wok with a lid is best for this recipe. It doesn't have to be a lid that is specifically made for the wok; you can use any large pot lid that will be able to cover the ribs. In the video, I use the lid from my steamer. If you really don't have a lid, you can always cover it with tin foil. If you don't have a wok, you can also make these in a large pot, but a wok makes it easier to toss the ribs afterwards. 
---
Instructions
Pound the coriander seeds in a mortar and pestle just until they are broken up into small pieces, they don't need to be super fine. Combine all marinade ingredients together, including the coriander seeds, and pour over ribs. Coat the ribs thoroughly in the marinade and let them sit while you prepare other ingredients.
In a mortar and pestle, pound together garlic, cilantro stems or roots, and white peppercorns into a fine paste. In a wok, add a little vegetable oil and saute the garlic paste until it starts to turn golden. Add the ribs all at once, making sure you get ALL the marinade in there, and add just enough water to almost cover the ribs. Tip: Rinse the ribs bowl with the water so you get all of the marinade into the wok. Bring to a low simmer and cover the pot; simmer for 35-45 minutes or until ribs are fork tender, but not falling-off-the-bone tender, exact timing will depend on the size of your ribs—if they are meaty, they will take longer. After you cover the wok, you will need probably need to turn the heat down a bit to maintain the simmer. Make sure it does not boil vigorously, or the ribs will become dry.
Once the ribs are tender, remove them from the cooking liquid and keep covered in foil to keep warm while you reduce the sauce. Boil the sauce on high heat and reduce it until it thickens into a luscious glaze (this will take a while, so it's a good time to prep your side dishes). Once reduced, add the ribs back in and toss to thoroughly coat the ribs in the sauce. Enjoy on their own as an appetizer or with rice as a meal!
---