If you've been buying ready-made tamarind paste (a.k.a "tamarind concentrate") for cooking, let me tell you why I stopped using them and what I do now. Growing up in Thailand we always made our own tamarind paste for cooking, but when I arrived in Canada I was delighted by the convenient jars from the store!
But after years of using it, I don't know if the products became worse or my standards became higher, but I eventually I became more and more dissatisfied with the quality of premade pastes.
They started to taste bland and diluted to me. And while this isn't the case with all brands, all the time, it was inconsistent enough, even within the same brand, to warrant another solution. Time to go back to my roots and make my own.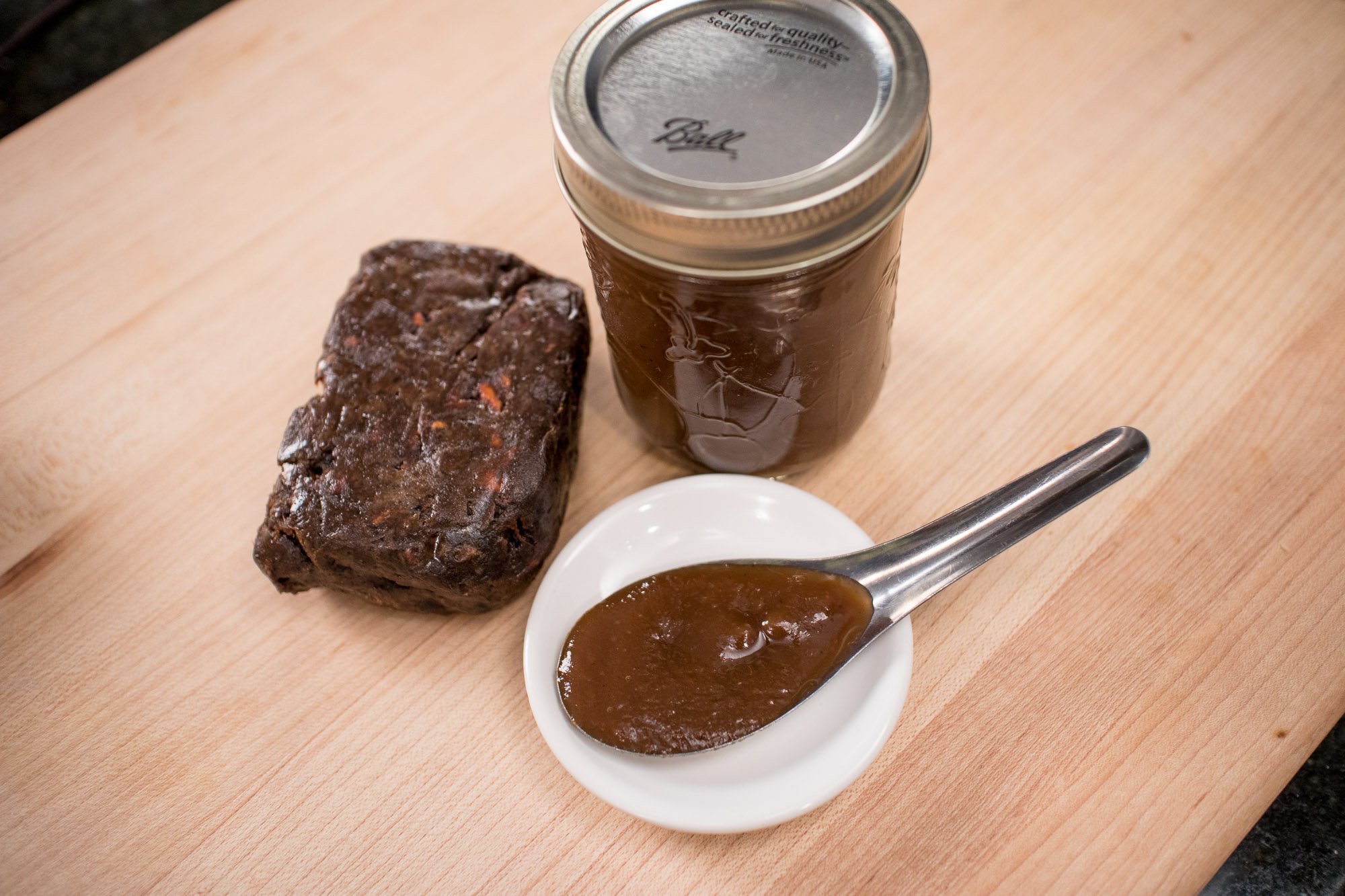 What is tamarind?
Simply put, tamarind is a fruit. Its sticky brown flesh ranges from being very sweet to very sour, depending on the variety. The sweet ones are for eating fresh, and the sour ones are for turning into a paste for cooking.
Note: The tamarind liquid that is used for Thai cooking is sometimes referred to as "tamarind water," and some brands of premade ones are labeled "tamarind concentrate." I used to call it "tamarind juice," but I have switched to "tamarind paste" to avoid confusion with tamarind beverages. This is all very confusing, I know!
For everything you need to know about tamarind, check out my Ultimate Guide to Tamarind video. I also show you what tamarind looks like in its original pod!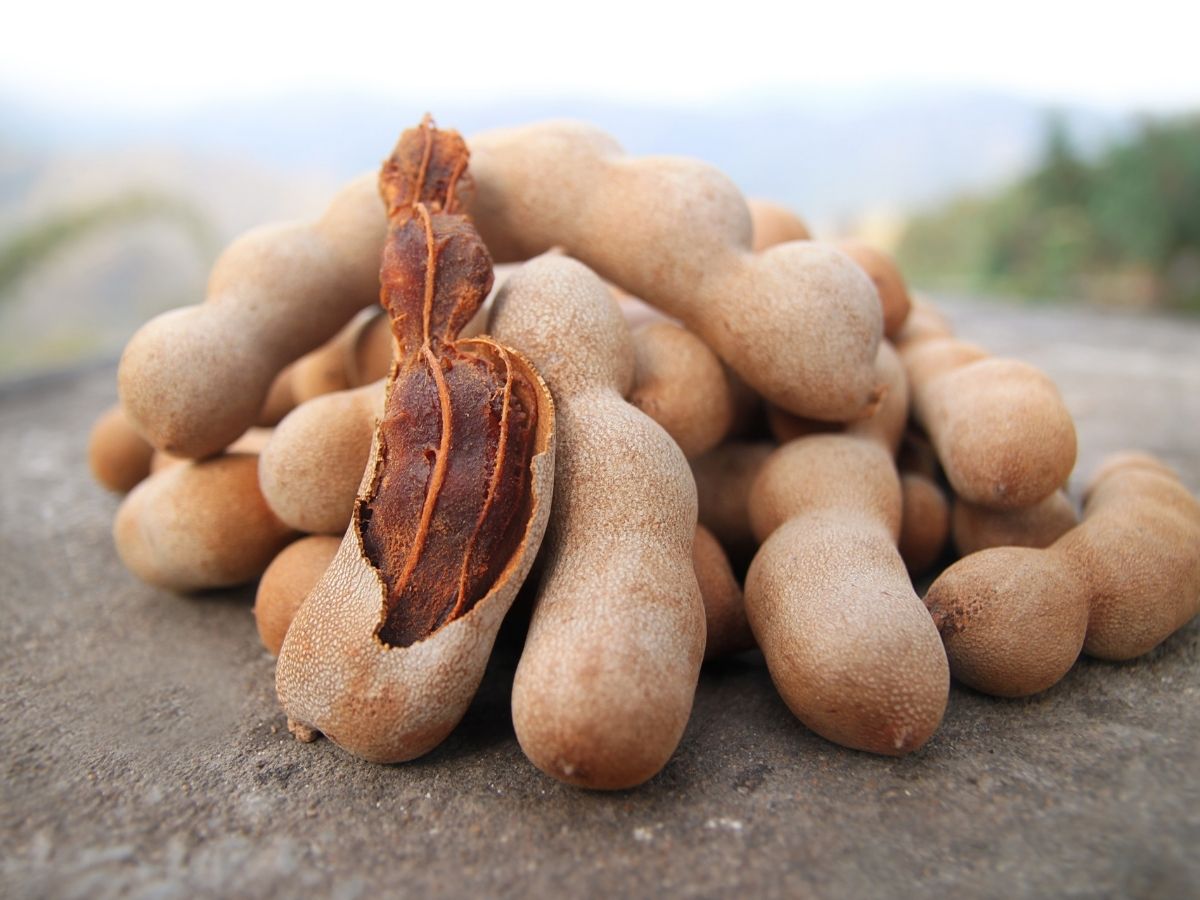 If you find tamarind fruit pods at the store, those are the sweet ones for eating as snacks. Cooking tamarind comes in a brown block, which is simply compacted tamarind fruit pulp, without seeds, but still with some of their fibers (though sometimes a rogue seed or two make it in). These blocks of tamarind are what you'll need to make tamarind paste at home.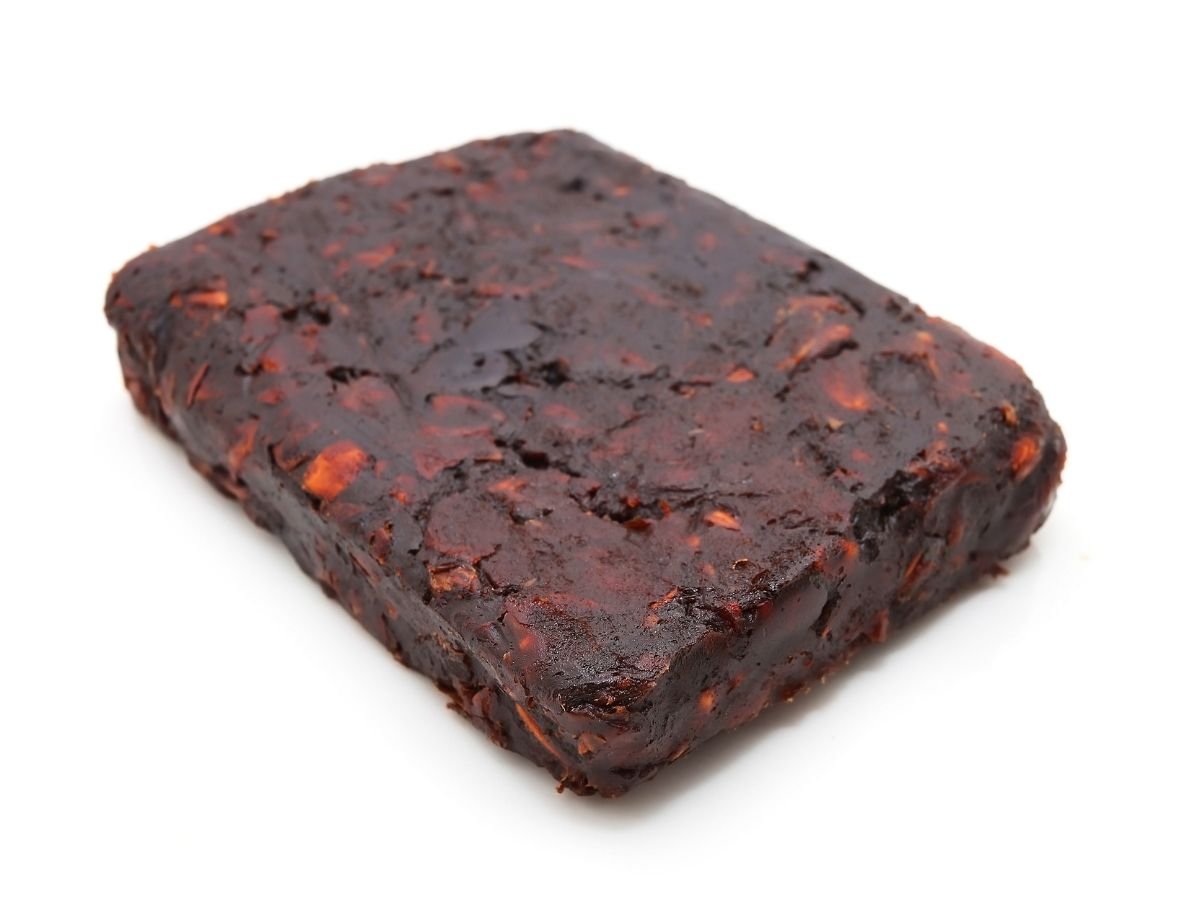 How to Make Tamarind Paste
Here's an overview of the process, but be sure to read the recipe card and watch the video tutorial because this is one of those things that's much better understood once you see it in action. I also include more tips I didn't include here in the video!
Pull apart tamarind pulp into small chunks and place into a heatproof bowl.
Cover the tamarind pulp with hot off-the-boil water and let it sit until the water is cool enough to handle, at least 20 minutes.
Use your hand to squeeze and scrunch the tamarind pulp so that the flesh is released from the fibers and mixes into the water.
Strain the tamarind paste and rinse the remaining fibers with a little more water to remove more tamarind.
You can use this right away, or for storage, cook the tamarind paste in a pot until it bubbles, and let it bubble for about 5 minutes to ensure that it is thoroughly heated. Stir it constantly to avoid splattering!
Transfer the tamarind paste into small jars and once cool, store in the fridge.
Storing Leftovers
The tamarind paste you make is ready to use right away, but for the rest, you will want to cook it before storing to maximize its shelf life. When cooking tamarind, because it's thick, it'll bubble and looks like it's boiling before the entire mixture has reached boiling temperature. So it's important to let it bubble for about 5 minutes to allow it to thoroughly heat through.
If you cook the paste and store it in a mason jar as per my instructions, it will last up to 6 months, unopened in the fridge. Once it's opened, it has lasted me at least 2 months, but always use clean utensils to scoop from the jar.
Because of this, I recommend you putting it in small jars, no larger than 1 cup per jar, to maximize its shelf life. You can also can the tamarind, like you would with jam, to make it shelf-stable, though I have not personally done this.
Learn more about other Thai ingredients
Check out my Thai Ingredient Playlist on YouTube where I have informational videos about the most important ingredients in Thai cuisine.
Recipes with Tamarind
Now that you've got delicious homemade tamarind paste, try using it in these recipes!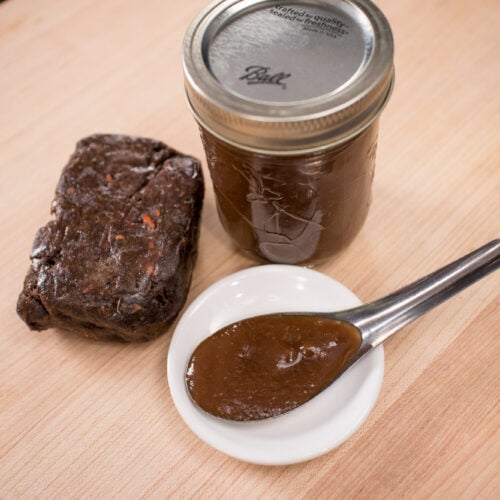 Homemade Tamarind Paste
Homemade tamarind paste is much better than anything you can buy, and it is easy to make. For the best pad thai, you gotta use homemade tamarind! Be sure to watch the video tutorial below as the process can be much better understood once you see it, and you can also watch it on YouTube.
Ingredients
½

lb

seedless tamarind pulp (see note)

2

cups

hot water
Check Out Ingredients and Kitchen Tools I Use
Notes
Note: Buy tamarind pulp that comes in a rectangular block, and it should be a product of Thailand. Do not use tamarind pulp from whole pods, as those are sweet tamarind meant for eating, not for cooking.
All my recipes come with step-by-step video tutorials with extra tips not mentioned in the blog post, so make sure you watch the video to ensure success. If you enjoy them, consider subscribing to the YouTube Channel to not miss an episode. Thank you!
Subscribe to my YouTube Channel
Instructions
Use your hands to pull apart the tamarind block into small chunks and place it in a large, heat-proof mixing bowl. Pour the hot water over the tamarind and let it sit until it's cool enough for you to handle, about 20 minutes, though you can let it sit for as long as you need at this point—the longer it sits, the easier the next step will be.

½ lb seedless tamarind pulp (see note),

2 cups hot water

Use your hand, preferably gloved if you don't want tamarind stuck in your nails, to squeeze and scrunch the pulp to loosen it from the fibers. You should end up with something that has a consistency of a smoothie.

Once you can feel that most of the pulp has been released from the fibers, strain the tamarind mixture, into a pot through a sieve or a colander, preferably not fine-mesh, as the paste will be thick. Push as much of the liquid through as possible, and scrape the bottom of the sieve occasionally.

Gradually pour about ½ cup of room temperature water over the remaining fibers in the sieve while using your hand to mix it around. This will rinse off any last little bit of tamarind still stuck in the fibers.

You can use this right away for cooking, but for storage, cook the tamarind paste over medium high-heat until it boils, stirring constantly, as it is quite thick and can bubble and jump at you if you don't stir. Allow it to bubble for 4-5 minutes to ensure that it is thoroughly heated through before turning off the heat.

Transfer the hot tamarind paste to clean, small mason jars, no larger than 1 cup capacity. I like using the smaller ones so each jar will not be open for as long. Close the lids while still hot and and allow it to cool at room temperature before moving them to the fridge for storage. As it cools the lids will be sucked in and it will seal very well, like jam, but since this was not properly canned, you still need to store them in the fridge.

You can also freeze them in ice cube trays and store the cubes in freezer bags.
Watch my videos AD-FREE and get bonus content on Patreon!
Tried this recipe? Share a pic!
Tag @hotthaikitchen on Instagram and Twitter!