---
Gaeng Hung Lay is one of the most iconic dishes of Northern Thailand, and arguably one of the tastiest! Pork belly and pork ribs are slowly stewed in a WHOLE bunch of herbs and spices. The result is tender fatty pieces of pork that has been entirely permeated by the rich and aromatic sauce. It is a dish to impress, and though it takes time, most of the process is hands-off!
This dish came to Northern Thailand via Myanmar, which in turn has a lot of Indian influences on their cuisine. This is why there are a lot of spices in this recipe, and why you can use Indian garam masala which you can buy from Indian grocery stores instead of making your own hung lay curry powder.
RELATED VIDEOS:
Tamarind: Everything you need to know
Pork Leg Stew Recipe (kao ka moo)
Watch The Full Video Tutorial!
All my recipes come with step-by-step video tutorials with extra tips not mentioned in the blog post, so make sure you watch the video below to ensure success - and if you enjoy the show, please consider subscribing to my YouTube channel. Thank you!
---
Print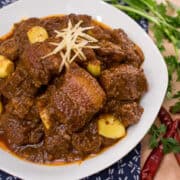 Gaeng Hung Lay - Northern Pork Belly Curry แกงฮังเล
---
Serves 4
Hung Lay Curry Paste (see note)
8

-

10

g dried mild red chilies, plus some spicier ones to taste (see note)

5

cloves garlic

⅓ cup

chopped shallots

1

stalk lemongrass, bottom half only, chopped

5

slices galangal

2

-inch pc turmeric (or

1 ½ tsp

powdered turmeric)

2 Tbsp

hung lay curry powder (recipe below, or use garam masala)

1 tsp

fermented shrimp paste (gapi)
The Curry
1

lb pork belly, cut into big chunks

1

lb pork spare rib tips, chopped

¼

-

⅓

cup tamarind paste

2 Tbsp

dark brown sugar or palm sugar

1

-

2

teaspoon black soy sauce or dark soy sauce (optional, you can add more or less to get the colour you like)

1 ½

-

2

tablespoon fish sauce

1

head garlic (peeled, but keep cloves whole)

½ cup

pearl onions or Thai small shallots

¼

-

⅓

cup julienned ginger
Hung Lay Curry Powder
1

8-inch cinnamon stick

2 tsp

black peppercorns

2 tsp

turmeric powder

1 tsp

ground cardamom

2 Tbsp

cumin seeds

2 Tbsp

coriander seeds

1

star anise

1 tsp

ground cloves or

3

pc whole cloved

½ tsp

nutmeg

2 tsp

fennel

5

pc white cardamom
---
Instructions
Make Hunglay Curry Powder:
For whole spices, toast them in a dry saute pan until aromatic and darkened slightly. You can combine spices of similar size and toast them at the same time.

Then combine all spices in a coffee grinder or blender and grind into a powder.

Once made, store in an airtight container in a cool, dark place. You will have more than you need for this recipe, so feel free to use it as rubs, marinades, or on vegetables!
Make the curry paste: 
Grind dried chilies into a powder in a coffee/spice grinder, removing the seeds if you want to reduce the heat. 

If using an immersion blender: combine lemongrass, galangal, turmeric, shallots, garlic and shrimp paste, and blend into a paste. Add the ground dry spices and blend just to mix.
If using a mortar and pestle: start by pounding lemongrass and galangal into a fine paste. Then add turmeric and pound until fine, then add shallots and garlic until fine. Then add the shrimp paste and ground dry spices and pound to mix.
If using a regular blender: combine lemongrass, galangal, turmeric, shallots, garlic and shrimp paste, and blend into a paste. If it's too thick you can add a little water to get it going, but only add as much as needed. Pour
Add the dried chilies and the hung lay curry powder and blend just until well combined.
Make the curry:
Preheat a wok or large pot over medium heat, do not add any oil as there will be a lot of pork fat rendered. Add the pork belly pieces in one layer, and without crowding the pan, and let them sear until well browned on 4 sides. They will stick at first but once they are browned they will release from the pan.

Add the pork ribs and give it a quick toss. Then add the curry paste and toss to coat all pieces of pork well. 

Once the paste is well distributed and it has had a couple of minutes to fry in the pork fat, add water just until it barely covers the pork.

Add fish sauce, black soy sauce, tamarind and sugar, and cook for 1 hour 45 mins to 2 hours, loosely covered, until the pork is fork tender.

Towards the last 20 minutes, check the amount of liquid, and if it's very soupy, uncover the pot completely to allow liquid to evaporate. You want the sauce to be thick and rich in the end.

Once pork is tender add julienned ginger, whole garlic and pearl onions and simmer for another 15-20 minutes until the garlic is tender. You can add a little more water at any point if it gets to dry. 

Taste and adjust seasoning.
Garnish with extra fresh julienned ginger if desired and serve with rice, enjoy! This curry can also be made in advance and kept in the fridge, and it'll keep well in the fridge for at least a week.
---
Notes
No time to make the curry paste? Here's a "cheat" by combining 3-4 tablespoon store bought red curry paste with 2 tablespoon hung lay curry powder or garam masala.
Dried chilies: I use dried guajillo peppers for colour because they're mild, and then add a few dried arbol or Thai chilies to adjust the heat. In Thailand, the mild dried chilies you're looking for is spur chilies or "prik chee fa."
Keywords: curry, Thai curry, pork belly, hung lay