There is nothing more important to Thai cooking than a solid understanding of Thai ingredients. After all, ingredients are the foundational building blocks of Thai cuisine! I always say that Thai cooking is not hard, it only feels hard because the ingredients are unfamiliar. And that's an easy problem to fix!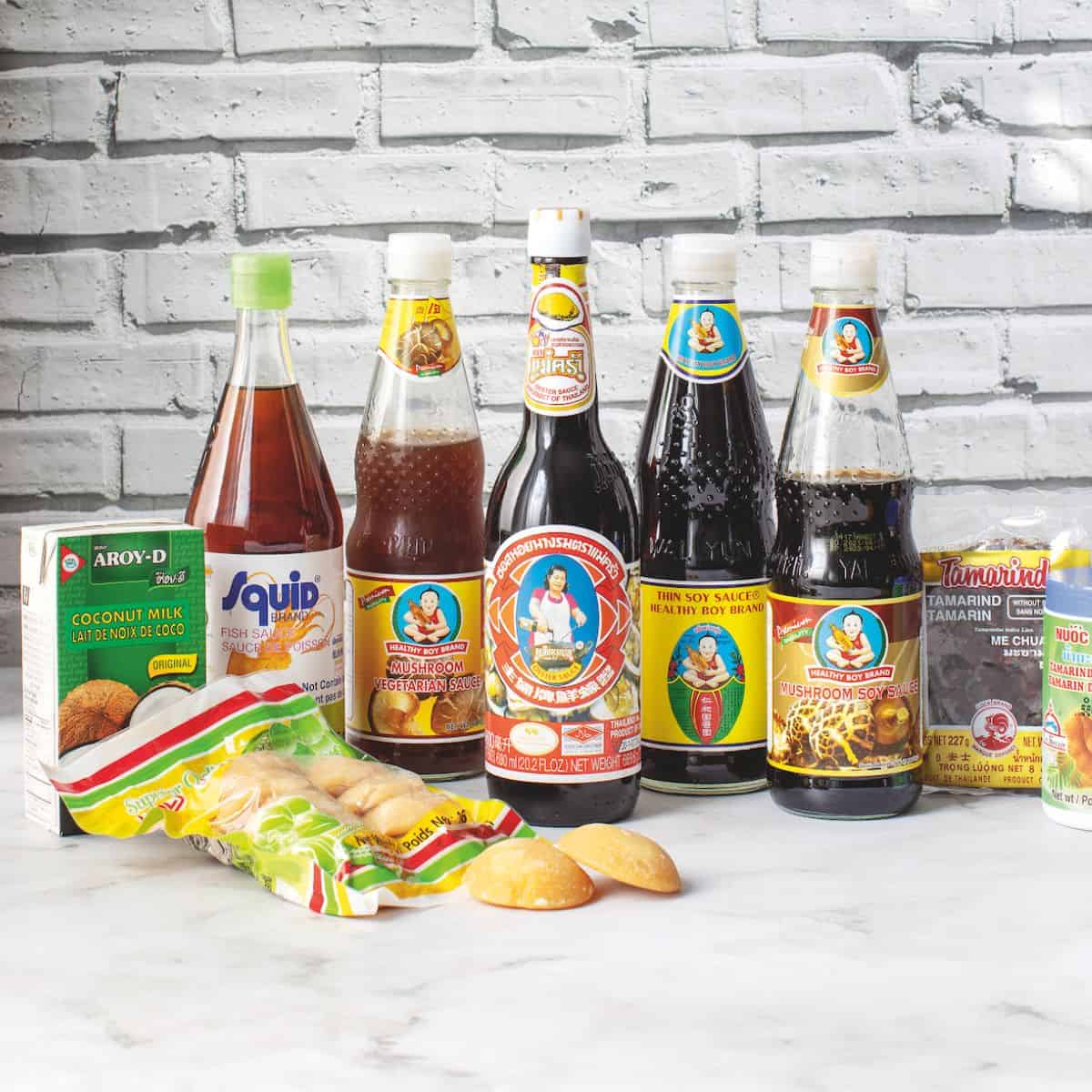 This article will give you an overview of the most important ingredients in Thai cuisine. For many of these ingredients there are also dedicated posts that dive further into the minute details; but this post should provide plenty of information for you to start cooking Thai food with more confidence.
I've divided the ingredients into functional categories: the salty, the sour, the sweet, herbs and spices, and dry goods.
Jump to:
The Salty
Thai cuisine employs a number of different salty sauces in our cooking. Here they are listed roughly in order of how often they are used for the average Thai person.
The Sour
Sour is an extremely important component in Thai cuisine. Every cuisine uses acids in their cooking in some manner, but I can't think of any other cuisine that uses it to the extent that we do. Here are two main acidic ingredients of Thai cuisine.
"Palm sugar" is made by reducing and caramelizing the nectar from the flowers of either the coconut palm or the toddy palm. It has a gorgeous butterscotch flavor that is tasty enough to be candy.
"Coconut sugar" that's often sold in granulated form is technically made of the same stuff, but it can taste different due to different processing. To be safe, stick with Thai brands of palm sugar.
For a palm sugar deep dive, see my ultimate guide to palm sugar.
If your palm sugar comes in a solid puck, shave it with a large chef's knife, then finely chop the shavings.
If your palm sugar comes in a tub you can spoon it out if it's soft enough. If it has hardened, heat it up in the microwave briefly to soften, and then spoon it out while still warm.
Measuring palm sugar for my recipes: My recipes are tested using solid pucks of palm sugar that have been finely chopped and then tightly packed into measuring spoons. One tablespoon of finely chopped, packed palm sugar weighs about 12 g, so weighing would be the easier thing to do. If using soft palm sugar, use the weight measurement as it tends to pack a measuring spoon more fully than chopped palm sugar.
Note: All palm sugar sold outside Thailand is mixed with granulated sugar, so the key is to find one that has the least amount of granulated sugar added because it'll have the most flavour. The only way to know is to taste, unfortunately, the labels will usually claim it is 100% palm sugar (100% not true) or it won't indicate the ratio.
Dry Goods