---
Following up on my previous episode where I showed you how to make a beautiful roast beef (link to that video here), here's a classic Thai beef noodle soup that is the perfect way to use up any leftovers!
Noodle soups are a great way to use leftovers from the holiday table because you don't even need to worry about reheating the meat, it'll heat up perfectly in the hot broth. And it's just so nice to have a pot of steaming broth in the kitchen when it's cold this time of year!
Don't have any leftover roast beef? No problem! Making the beef from scratch is pretty easy, and I include instructions in the written recipe as well.
This video is sponsored by THINKBEEF.CA who has also provided lots of useful information about roast beef including how big of a roast you should buy for the party size you have. Get all of that info right here: ROAST BEEF E-BOOKLET FROM THINKBEEF.CA
Watch The Full Video Tutorial!
All my recipes come with step-by-step video tutorials with extra tips not mentioned in the blog post, so make sure you watch the video below to ensure success - and if you enjoy the show, please consider subscribing to my YouTube channel. Thank you!
---
Print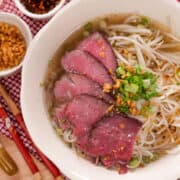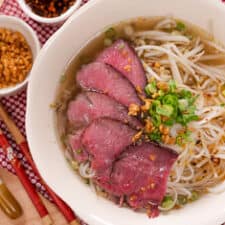 Thai-Style Beef Noodle Soup
---
Thai-Style Beef Broth
2

lb beef or veal bones

3

L water

1

onion, halved

6

cloves garlic

½ tsp

black peppercorns, cracked

3

cilantro roots or

8

cilantro stems

Optional aromatics: 5 pc white cardamom or a few slices galangal

2

-

3

tablespoon fish sauce

2

-

3

tablespoon soy sauce

1

-

2

teaspoon granulated sugar
Noodle Soup Components:
350 g

thin dry rice noodles (see note)

2 cups

bean sprouts
Thinly sliced roast beef (if not using roast beef, see instructions below)

Green onion and/or cilantro for garnish

Fried garlic & garlic oil (recipe below)

Chili flakes, chili oil, or any spicy condiment if you want it spicy
For fried garlic (optional but highly recommended!)
1

head garlic

Neutral flavoured cooking oil
Shop Ingredients & Tools I Use
If not using leftover roast beef...
Choose any cut of beef that is tender, which is any cut that would work as a steak, 100g per person would be plenty. There are 2 ways to do this:
This is my preferred way but not traditional, it'll give you slightly pink meat: Simply salt and pepper the steak and sear the outside until nice and brown, leaving the inside rare or medium rare (remember that the hot broth will cook the meat further). Let the steak cool completely, then THINLY slice, against the grain if possible. It's now ready to be assembled into your soup.
The second way is if you like well-done meat: THINLY slice the steak, marinate it in a bit of soy sauce, then when you're assembling the noodle soup, cook the beef it in the hot broth and pour it over the noodles. If you want to do it this way just be careful not to overcook the meat, you literally need a few seconds and it will continue to cook in the hot broth!
(Yes, I put THINLY in all caps cuz it's important. Otherwise it will be tough and/or overwhelm the noodles.)
---
Instructions
To make the broth:
Rinse the bones and add to a large stock pot. Cover with cold water and simmer for 1.5 hours, skimming off the scum from the surface as needed. (You can make the fried garlic in the mean time.)
After 1.5 hours, add the onion, garlic, cilantro stems, black pepper, and any other aromatics you're adding. Simmer for another 1 - 1.5 hours, uncovered.
Use a slotted skimmer to fish out all the bones and aromatics from the broth. At this point if it has reduced too much and you have less liquid than you need, feel free to add more water to make up the volume. Season with fish sauce, soy sauce and sugar, then taste and adjust seasoning as needed.
Make the fried garlic: 
Chop 1 head of garlic and add to a small pot or pan. Add just enough of a neutral flavoured oil to cover the garlic, then fry on low heat (gentle bubbles) until the garlic is golden and the bubbling has significantly slowed down. Be careful not to let the garlic get too brown or it will become bitter. Strain the garlic from the oil. You can keep them separately in the fridge in an airtight container for several weeks. Use over noodle soups or any dish that can use some extra garlic flavour!
Assembly:
Soak the rice noodles in room temp water for 15-20 minutes or until the noodles are soft and pliable. Meanwhile slice the beef thinly and gather all your components.
Bring a big pot of water for blanching noodles to a full boil. Meanwhile, heat the broth until it's gently bubbling.
*If making several bowls of noodle soup, I find it easier to separate the noodles while they're uncooked and blanch them one at a time since it only takes 5 seconds to blanch, rather than trying to separate hot, cooked noodles.
Place one portion of noodles and beansprouts in a metal sieve or an Asian style noodle strainer and place it in rapidly boiling water and shake it around for 5 seconds. If you're using bigger noodles, or you have under-soaked your noodles and they are still a bit stiff, you will need to cook them longer. Lift it from the water, drain off as much water as you can, and place the noodles into a serving bowl. Repeat with the remaining portions.
Arrange the beef slices over the cooked noodles and ladle the hot broth over; the beef will heat up and cook a little bit more. If you want the beef well-done, simply add them to the broth and let it cook for a few seconds, and then pour the broth and the beef over the noodles.
Finish it off with chopped green onions and/or cilantro, garlic oil, fried garlic and chili oil/flakes if desired. Enjoy!
---
Notes
Noodles: The type I use is the same type used in Vietnamese pho and it is about 2 mm wide when dry. You certainly can use other types of noodles for this, but the noodle blanching instructions below will NOT apply to you. So make sure you adjust accordingly to make sure the noodles are cooked through. 
Keywords: beef, noodles, soup, street food