---
Simple, rustic home cooking right here! Such simple ingredients: salted fish, Chinese broccoli, rice and eggs...yet the flavours are just so satisfying! In Thailand we buy salted fish already made, but in this video I also show you how to make your own, which requires very little effort and I can make is less salty than the commercially made one so I can put more fish in my fried rice!
It's so simple and tasty I promise you'll turn to it again and again 🙂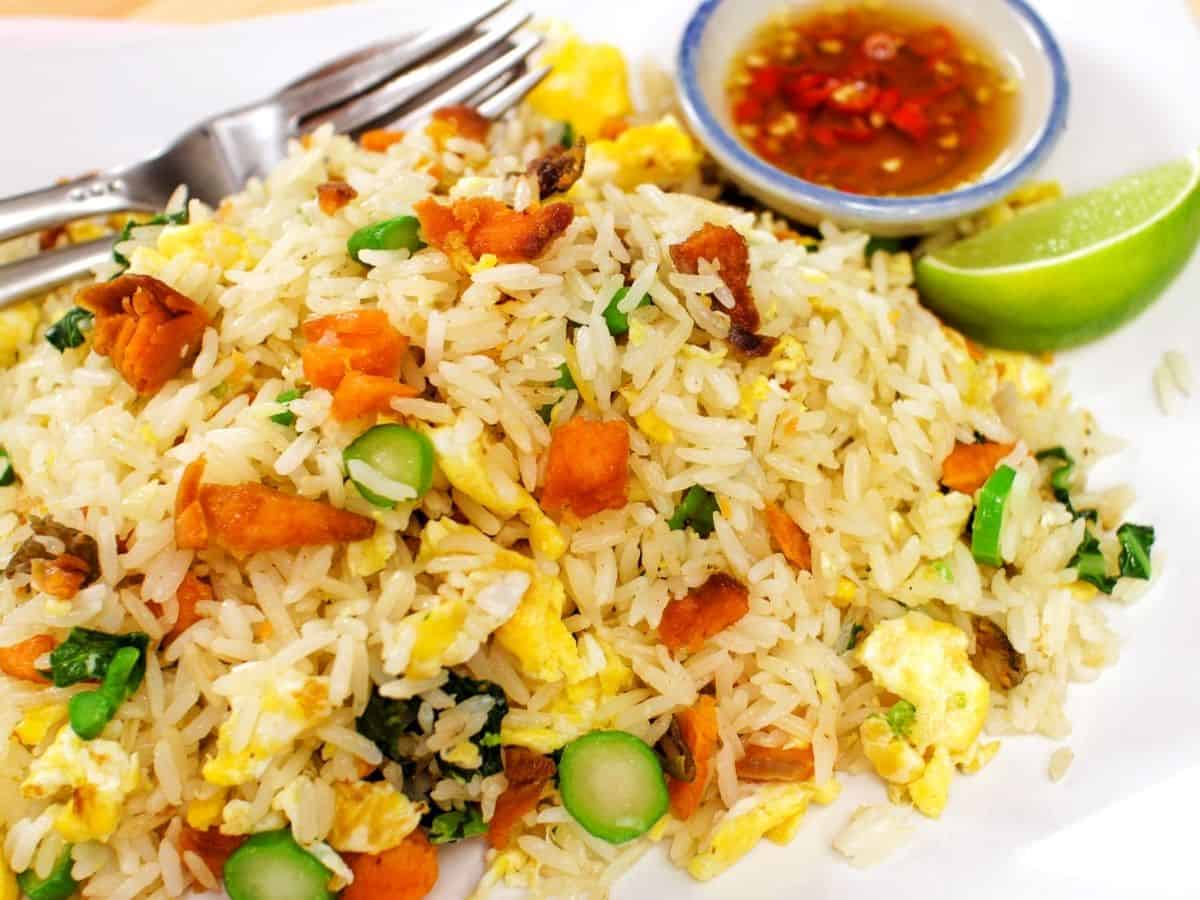 Watch The Full Video Tutorial!
All my recipes come with step-by-step video tutorials with extra tips not mentioned in the blog post, so make sure you watch the video below to ensure success - and if you enjoy the show, please consider subscribing to my YouTube channel. Thank you!
Print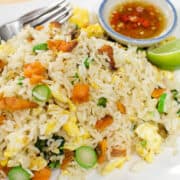 Salted Fish Fried Rice ข้าวผัดคะน้าปลาเค็ม
---
Salted Salmon
1

piece salmon (this can be of any size, you only need about

 

40g per serving)

Sea salt
Fried rice
50

-

60

g cooked salted salmon

3

cloves garlic, chopped

2

eggs

2

-

3

stalks (50g) Chinese broccoli, thinly slice stems, roughly chop leaves

350 g

cooked rice

2 tsp

fish sauce (you may need to adjust this amount depending on the saltiness of your fish)

1 ½ tsp

sugar

¼ tsp

ground white pepper

Chopped cilantro (optional)

Lime for serving

Prik nam pla for serving (optional, made simply by combining fish sauce, chopped chilies, and a quick squeeze of lime juice)
---
Instructions
To make quick & easy salted fish:
Coat salmon generously with salt and let it sit in the fridge for 2-3 hours (2 hours for thinner pieces, 3 hours for thicker ones, or adjust the timing according to how salty you want the fish).  Once it's done, rinse the fish then pat dry.
To cook the fish, heat a generous amount of oil in a wok or a saute pan and fry the fish on both sides until golden. Do not be worried about overcooking the fish, we want it really thoroughly cooked. Once done, remove and drain on paper towel to absorb excess oil. The fish is now ready to be used. If not using immediately, store in the fridge. The fish will keep in the fridge for a couple of weeks, and the saltier the fish, the longer it keeps. 
To make the fried rice:
Chop the desired about of salted fish into small pieces. In a wok, add a little bit of oil and fry the salmon bits until well browned and crispy, about 3-4 minutes. Remove the fish and set aside. To the same wok, add garlic and saute until it starts to turn golden. Add eggs, break the yolk and let it set about half way, then scramble briefly. Add Chinese broccoli, toss quickly just to coat it in oil. Add rice, fish sauce, sugar and white pepper; toss until the rice is hot and all the grains are well separated. Toss in the salmon and remove from heat.
Plate the rice and top with chopped cilantro if desired, serve with a wedge of lime and if you find it needs a little extra seasoning, sprinkle on a little prik nam pla. Enjoy!
---