---
After a trip to Singapore a couple of years ago, I fell in love with their laksa! Singaporean laksa uses a coconut curry broth that is complex, fragrant, and just the right amount of richness. Seafood stock is the base of the broth, and the flavour the comes through is every seafood lover's dream. You might be tempted to skip the clams but trust me...the clams make a huge difference in the flavour of the broth.
There are many types of laksa across Malaysia and Singapore, but this version enriched with coconut milk is the one common in Singapore and is also known as laksa lemak, peranakan laksa, or nyonya laksa.
ADVANCE COOKING TIPS: It's a bit of work to get all the stuff together, as is often the case for noodle soups, but you can make many components in advance and spread out the work. You can freeze the paste, so not a bad idea to make some extra. The broth can be made days in advance, and even the noodles can be cooked in advance. If you're going to make the broth ahead of time, make sure you cook off your clams and shrimp as well since raw seafood doesn't last long, but cooked seafood can last up to a week in the fridge.
Ingredients & Kitchen Tools I Use
Watch The Full Video Tutorial!
All my recipes come with step-by-step video tutorials with extra tips not mentioned in the blog post, so make sure you watch the video below to ensure success - and if you enjoy the show, please consider subscribing to my YouTube channel. Thank you!
---
Print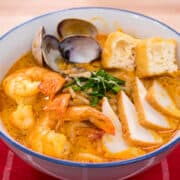 Singaporean Laksa - Seafood Curry Noodle Soup
---
Laksa Paste:
15 g

mild dried chilies

3 Tbsp

dried shrimp
Scant

¼ cup

candlenuts or macadamia nuts

2

Thai chilies, or to taste

8

cloves garlic

½ cup

shallots

1

stalk lemongrass

10

slices galangal

2

-inch turmeric

1

-

1 ½

tablespoon fermented shrimp paste (belacan)
Broth
350 g

head-on, shell-on shrimp, peel, devein and save the shells and heads

5 cups

water

1

lb clams

1

recipe laksa paste (above)

1 ½ cup

coconut milk

2 Tbsp

fish sauce, to taste

1 Tbsp

sugar, to taste
The Rest (amounts are up to you)
Thick round rice noodles (~50g dry weight per person)

Fish cakes

Tofu puffs, cut in half or quarters

Beansprouts

Laksa leaves (a.k.a. Vietnamese coriander or rau ram, you can use a combination of Thai basil and mint as a sub)

Sambal for serving, optional (see note)
Note: Sambal is a general term for spicy chili paste, and it is often served alongside laksa in case you want to add some heat. There are many types of sambal that you can buy at Asian grocery stores, the most common one being Sambal Oelek (green lid, rooster brand) which you can use, but that one is mostly spicy without adding much flavour. Other sambal varieties can be made with more herbs and seasoning, making them more flavourful. One I like is sambal belacan which is made with shrimp paste, so the flavour goes particularly well with laksa. 
---
Instructions
For the noodles:
Soak noodles in hot tap water for 30 minutes (or 1 hour if using room temp water) until it is completely soft and pliable. Drain and cut into small pieces (1-2 inch long) using and sharp chef's knife. **You can save the noodle cooking to the last minute so you don't need to reheat them for serving, recommended if serving several bowls at a time. Or you can cook them in advance to get it out of the way.
To cook the noodles, boil them in plain water for 2-3 minutes, just until they're cooked through but still a bit chewy in the middle. If using right away, divide them into serving bowls, if not, add them to a big bowl of cold water to cool, then drain well. You can make the noodles up to a few days in advance and keep them well-sealed in the fridge.
For the shrimp stock:
Add the shrimp shells and head to a stock pot. Saute the heads and shells over medium heat, pressing out the tomalley in the head, until bits stuck to the bottom start to brown and smells like shrimp on the grill! Add 4 cups of water then take a mental note of wheat that level looks like in your pot, this will come in handy, trust me. Add the remaining 1 cup of water, scrape the browned bits off the bottom of the pot and simmer the stock gently for about 45 mins.
After simmering, you should have about 4 cups of stock left in the pot (see mental note), if you have less, add a bit of water to make up the shortfall. If you have a bit too much don't worry about it.
Fish out the shells, then bring the stock to a full boil. Add the clams, cover and cook for about 1 minute or just until they open. Do not over cook clams or they will become tough! Remove clams with a slotted skimmer and let them cool. Keep clams chilled in fridge till ready to use. If you find clams that did not open, put them back into the pot and cook for 1-2 minutes longer, some clams are just late bloomers! If they still don't open after 2 minutes, discard them.
For the curry paste:
Add dried chilies and dried shrimp into a coffee grinder and blitz until fine. Add candlenuts or macadamia nuts, if using, and blitz until fine. In a blender, add all remaining ingredients and blend until smooth (if using a jug blender, you may need to add a little liquid to get it going). Add the dried stuff and and blend to mix. The paste can be made in advance and freeze.
To make the laksa broth:
In a heavy bottomed pot, add just enough oil to coat the bottom, then add the curry paste and saute for a few minutes until the paste is thickened and oil starts to sizzle away from the paste. Stir in the coconut milk and the seafood stock and simmer for at least 10 minutes to allow the flavours to mingle and develop. Season with fish sauce and sugar, then taste and adjust seasoning. You can also adjust the richness of the broth at this point by adding more water to lighten, or more coconut milk to enrich. 
The broth can be made in advance and kept in the fridge for up to a week.
To assemble:
Bring the broth to a boil and add tofu puffs. Place noodles (if they need reheating) and beansprouts in a noodle strainer and briefly heat them in the broth for 15-30 seconds. Add to serving bowls. Add shrimp and fish cakes to the strainer and cook in the broth until shrimp are cooked, add to the bowls.
Pour the broth over noodles, grabbing some tofu puffs on the way out when you ladle the broth. 
Add clams onto noodles and sprinkle on laksa leaves. Serve with extra sambal for spiciness if needed.
If making several bowls at a time, to be more efficient I would just dump all of the noodles into a separate pot of hot water to reheat, then drain and divide noodles amongst bowls. Cook all the tofu puffs, shrimp, and fish cakes all at the same time in the broth, fish them out and divide them amongst bowls. Then pour the soup over each bowl. 
---