---
Caramel custard cake is easily my favourite cake ever. Period. No questions asked. And I don't say this about very many things. The perfect combination of light fluffy chiffon, and a creamy rich custard and that deep-flavoured caramel is just unlike any other cake. If you're a fan of flan, or creme brulee, this is a must-try. You can buy this cake at many bakeries in Thailand, however, commercial bakeries typically make them with too thin of a custard layer than I would like. I'm happy to report that I've been able to make this recipe exactly how I want it: the perfect amount of custard for the perfect amount of cake.
I will say that this recipe can be a bit tricky especially if you're not an experienced baker, so don't be discouraged if it doesn't turn out the first time! Pay attention to the techniques, definitely watch the whole video before you start.
Can I Make a Bigger/Smaller Cake?
Smaller cakes? Yes! In fact, most caramel custard cakes in Thailand are sold as individual little ones, about the size of a ramekin. And I've had many reports of people attempting smaller versions that are successful, but larger ones have not been so straight forward...
If you want to make MORE cake, I recommend making TWO separate cakes instead of one bigger one.  First of all, flipping out this cake is tricky, and the larger the cake, the more fragile it becomes. Secondly, the timing is tricky...you want the cake and the custard to finish cooking at the same time (and the custard will always cook last). While making smaller ones seem to present no issues, the custard in the larger ones take a really long time and the cake will overcook before the custard has a chance to set.
However, if you've had success trying out different shapes/sizes, do let me know!
Watch The Full Video Tutorial!
All my recipes come with step-by-step video tutorials with extra tips not mentioned in the blog post, so make sure you watch the video below to ensure success - and if you enjoy the show, please consider subscribing to my YouTube channel. Thank you!
Print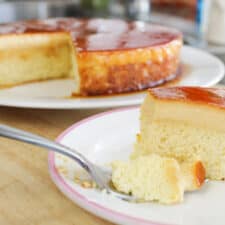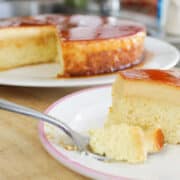 Caramel Custard Cake คาราเมลคัสตาร์ดเค้ก
---
Caramel
Custard
4

egg yolks

½ cup

sugar

1

+

⅓ cup

evaporated milk

1 tsp

vanilla
Cake
100 g

. cake flour (

1

scant cup, sifted then measured by spooning into a measuring cup without tapping)

1

+

¼ tsp

baking powder

¼ tsp

salt

2

egg yolks

3 Tbsp

sugar (for cake base)

3 Tbsp

vegetable oil
Zest of

half an

orange

⅓ cup

fresh orange juice (about

1

orange)

1 tsp

vanilla

3

egg whites

¼ tsp

cream of tartar

3 Tbsp

sugar (for meringue)
Tools
8

-inch round cake pan. Mine is 3-inch high but you can also use a 2-inch one.
A thin off-set spatula to help get the cake out of the pan
A baking pan that's at least 1-inch thick for the water bath.
---
Instructions
Preheat the oven to 350 degrees Fahrenheit. Set the oven rack in the middle.
Prepare a water bath:
Put about ⅓-inch of water into a pan large enough for your round cake pan to sit in. Place the water bath into the preheating oven.
To make caramel: 
Put the cake pan in the hot oven while you're making the caramel. In a small heavy-bottomed pot, heat sugar until it is melted and turns into an amber-coloured caramel, stirring only as needed to even out dark spots. When caramel is almost ready, remove the cake pan from the oven, and once the caramel reaches the desired colour, immediately pour the caramel into the hot cake pan, tilting the pan around to spread out the caramel, making sure it covers the entire pan surface. If there are large bubbles, pop them with a spatula or a spoon. Set aside to cool. (If the sugar hardens before you can evenly spread out the caramel, put the cake pan on the stove on the lowest heat setting to re-melt the sugar.)
For the custard: 
Whisk egg yolks and sugar together until combined. Add evaporated milk and vanilla and whisk until sugar is completely dissolved. Set aside.
For the cake: 
Sift flour, baking powder and salt into a large mixing bowl.
Grate the orange zest into a small mixing bowl, add egg yolks and sugar (for cake base) and whisk until combined. Add oil, vanilla and orange juice and whisk until combined.
Make a well in the flour mixture and pour in the orange juice mixture all at once; whisk until completely smooth.
In a medium mixing bowl, beat egg whites and cream of tartar on high speed until frothy. Gradually add sugar (for meringue) and continue to beat until soft peaks. Lower speed to medium and continue to beat until stiff peaks, being careful not to overbeat the egg whites.    
Gently fold the egg whites into the flour mixture in 3 additions using a rubber spatula.
Strain the custard into the caramel-lined cake pan, and gently pour the cake batter over the custard. If there are large bubbles, pop them by running a toothpick or the tip of a paring knife through them. 
Place the cake in the water bath and bake for 45-55 minutes until the top of the cake is golden brown.
Remove cake pan from the water bath and immediately run a thin metal spatula around the cake to release it from the pan. Make sure that the cake is loose by shaking the pan gently and the cake should move like it is floating on the caramel. Place a large serving plate on top of the cake pan and quickly invert the cake onto the plate. Note: The plate should have some depth so that it can hold in the pooling caramel. Also, it can be a bit challenging to try to invert the cake when hot; please be very careful not to burn yourself when doing it!
Chill in the fridge for at least a few hours until cold before serving.
---
Notes
Safety note: Melted sugar is extremely hot and will cause a very bad burn. If you accidently get hot caramel on your skin, immediately submerge it into very cold water. It is a good idea to have a bowl of ice water on the ready just in case.
Keywords: baking, cake, caramel, custard, caramel custard cake