If you love mangoes, and you love mango desserts, Mango Royale, aka Mango Float, is an absolute must-try; right after mango and sticky rice, of course! It's a frozen Filipino dessert that takes advantage of peak-of-the-season mangoes, and uses only 5 ingredients. There's no baking involved, and it's so easy it's essentially fool-proof!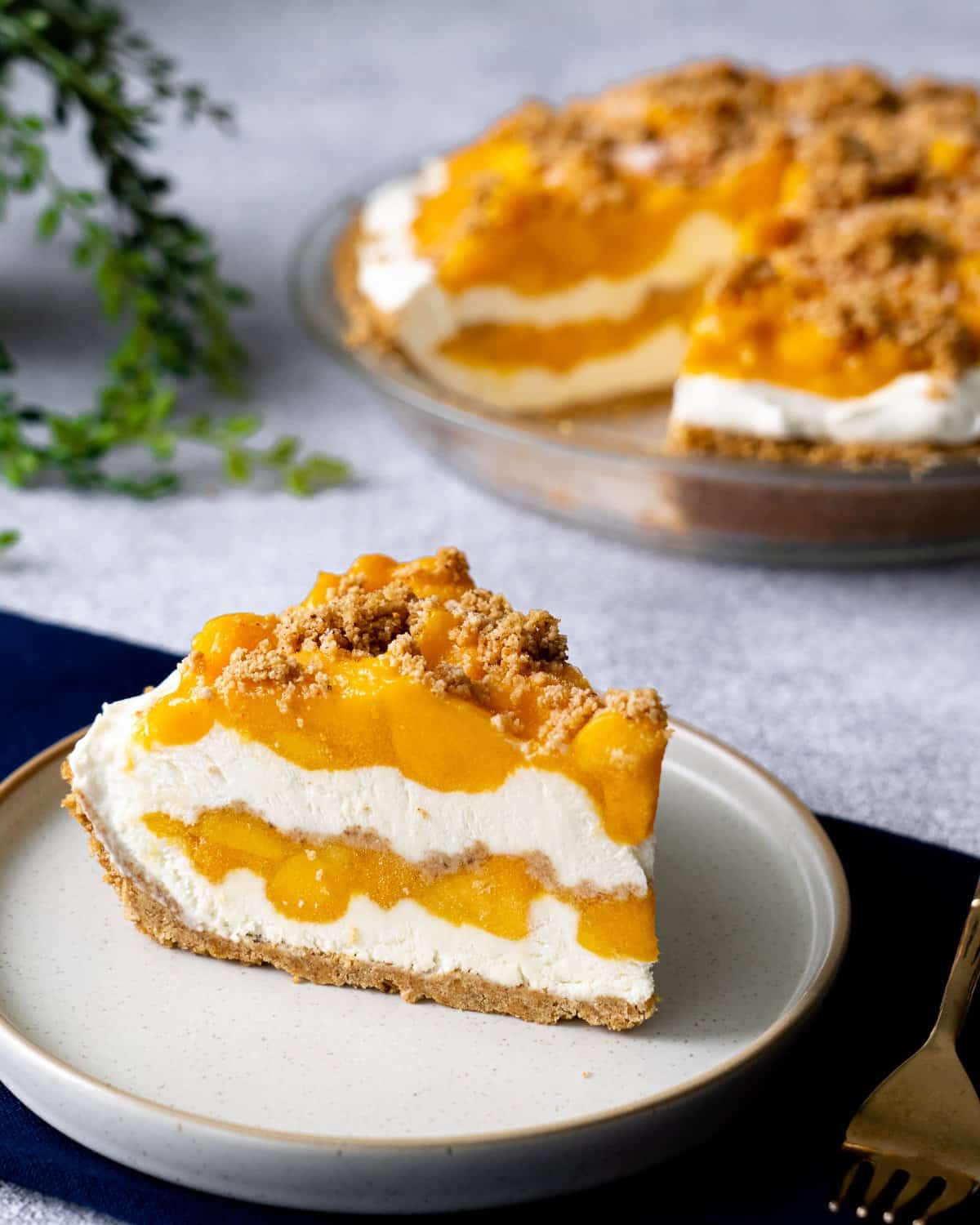 What is Mango Royale?
Mango royale, also known as mango float, is a classic Filipino mango dessert made with layers of sweet whipped cream, Manila mangoes, and graham crackers. It's then frozen and served slightly thawed. It's a version of another popular Filipino dessert called crema de fruta, which is similarly layered, but uses fruit cocktail instead of mangoes, and sponge cake or ladyfingers instead of graham crackers.
I first became aware of mango royale listening to a Good Food podcast episode featuring Isa Fabro, a Filipino-American chef who is well-known for her sell-out mango royale popups in Los Angeles. But instead of making it in a cake pan or a casserole dish, as is more commonly done, she makes hers in a pie plate, which I think is brilliant. This recipe is based on one she has shared publicly, with a few of my own modifications.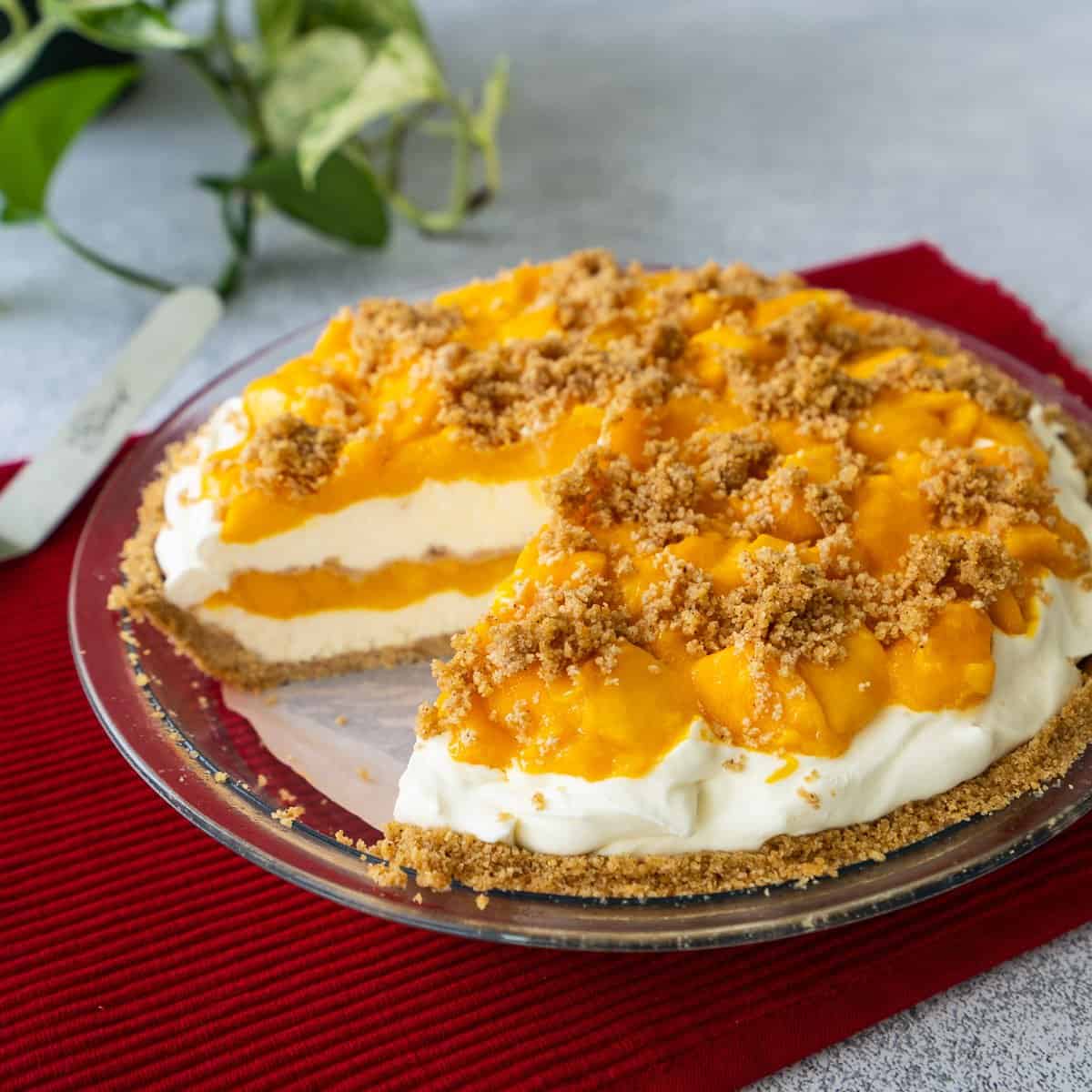 Ingredients You'll Need
You really need only 5 ingredients; the lime is optional but I like the acidity and brightness that it adds. Because it is so simple, the quality of your mangoes is of utmost importance. More on that below.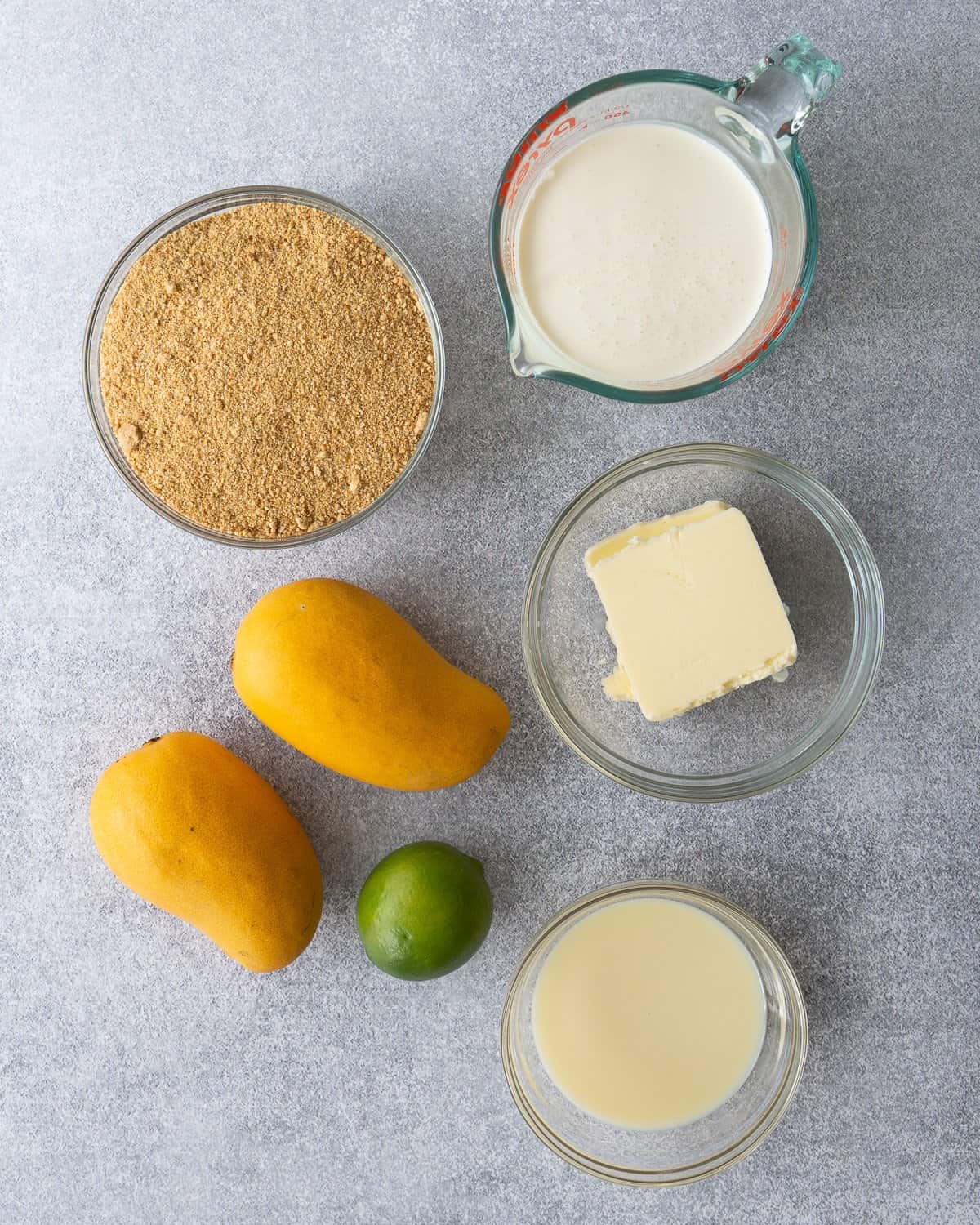 Graham cracker crumbs. You can buy the crumbs, or grind up whole crackers.
Butter, unsalted (though salted is fine, too)
Sweetened condensed milk
Heavy whipping cream
Manila mangoes
Lime juice (optional)
How to Make Mango Royale
Here's a bird's eye view of the process, but be sure to check out the full video tutorial in the recipe card below to ensure success!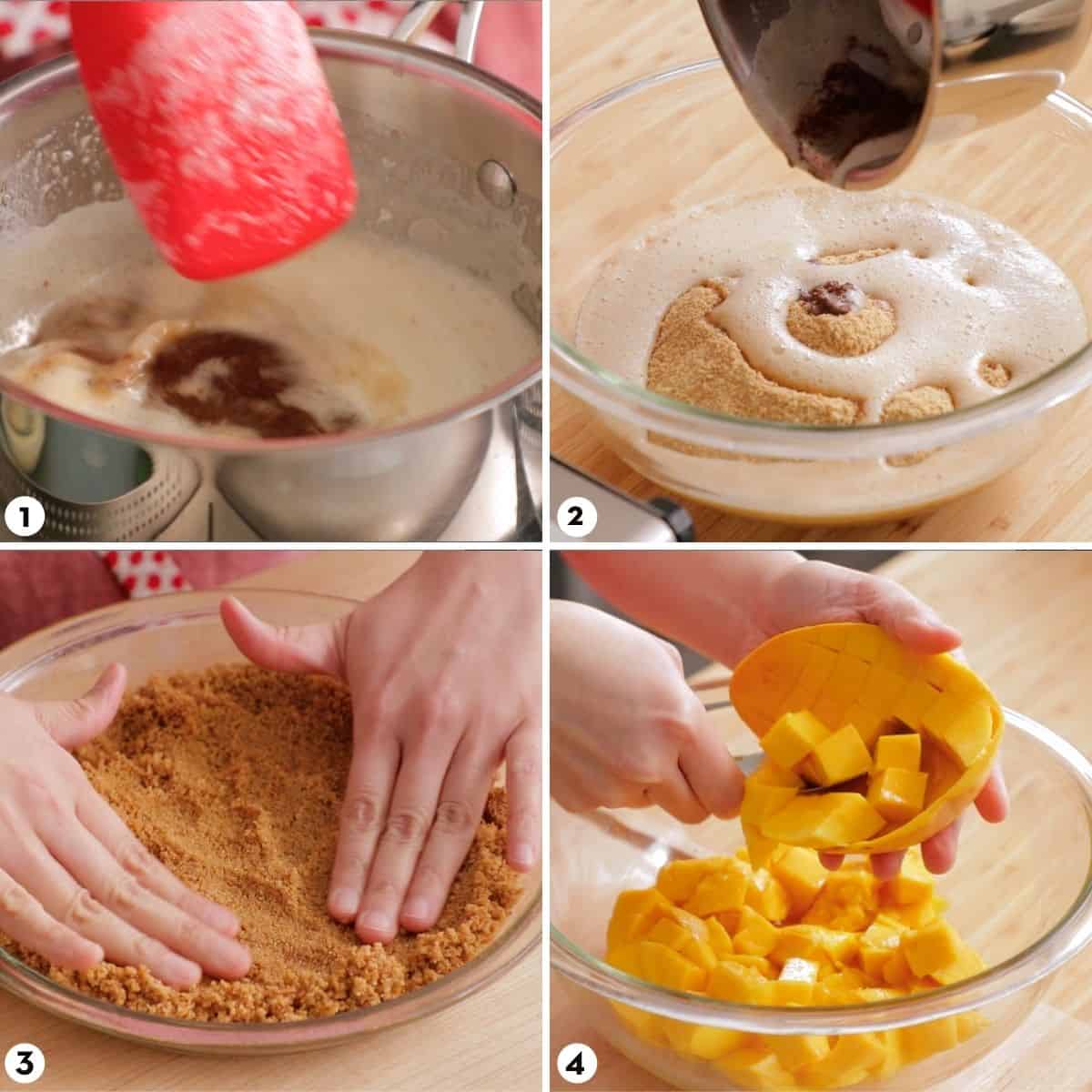 Melt and brown the butter until very dark and nutty
Pour into the graham cracker crumbs and mix
Press about ⅔ of the crumbs into a pie plate which has been sprayed with nonstick spray, and chill.
Score mango cheeks into cubes and scoop into a bowl.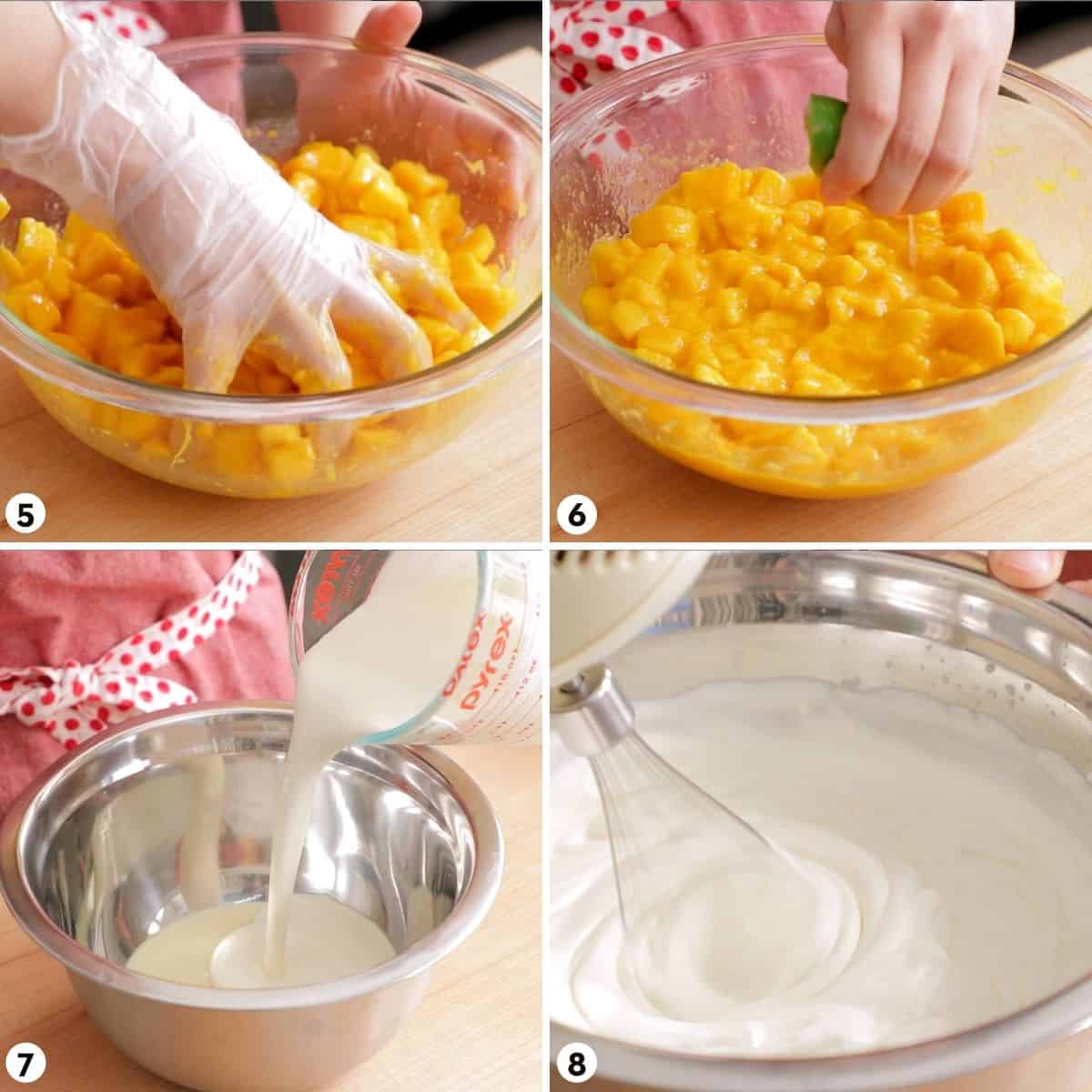 Squish the mangoes with a gloved hand until it looks like half-chunks, half-purée.
If the mango tastes like it could use a little extra acidity to brighten up the flavour, add some lime juice.
Combine the condensed milk and whipping cream.
Whip on medium to medium-low speed until firm.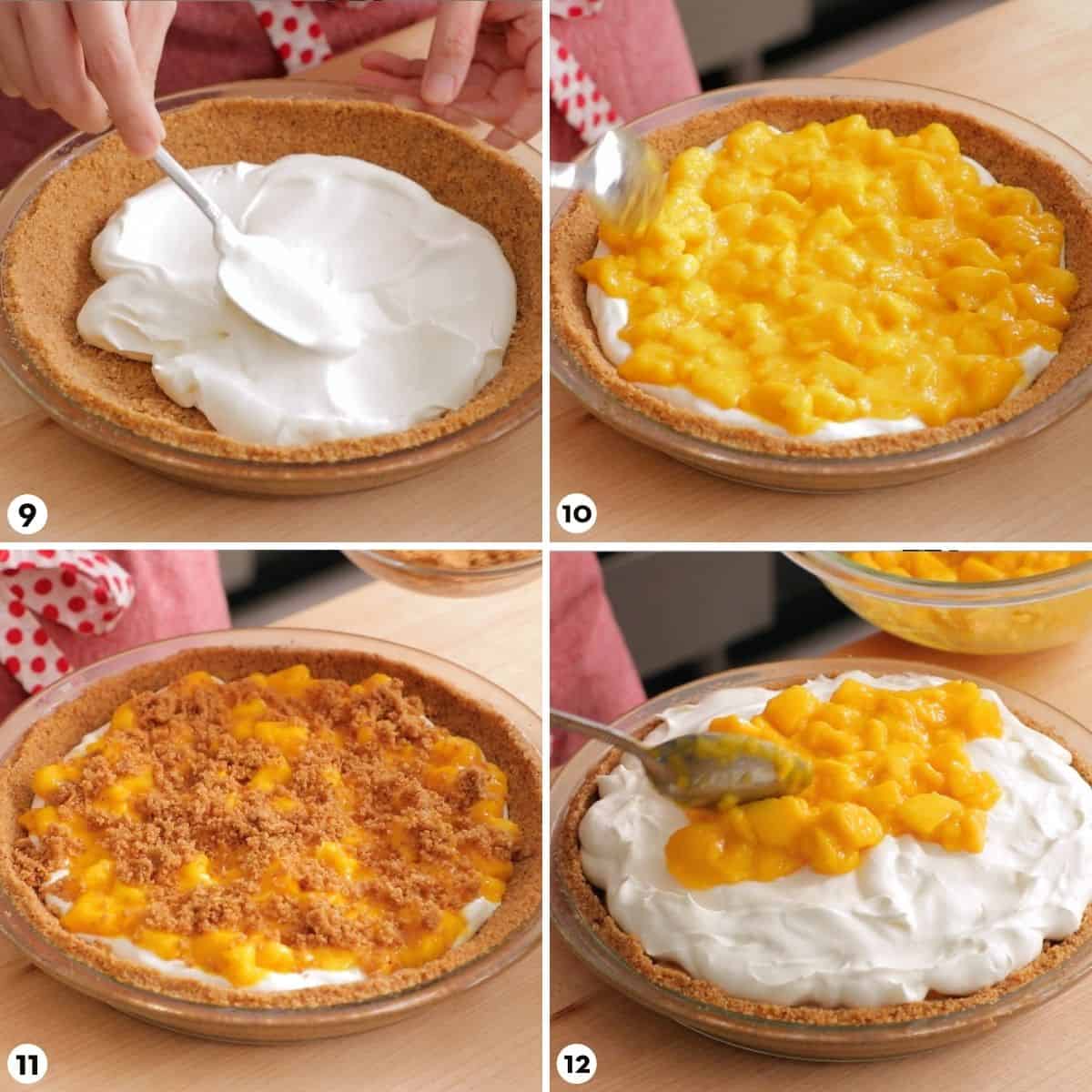 Spread half of the cream onto the chilled crust.
Spread half of the mango on top of the cream.
Sprinkle on half of the remaining crumbs (or however much you like; I like only a little bit of crumbs here.)
Repeat the layers one more time.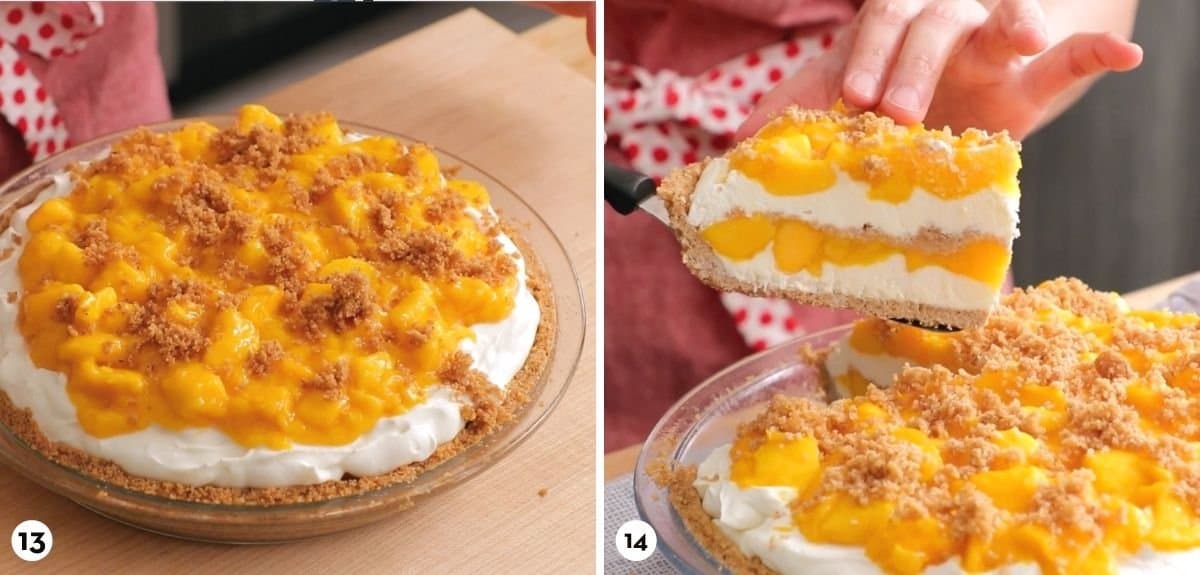 Once completed, freeze the pie for at least 8 hours.
Before serving, thaw for about 1 hour at room temp or overnight in the fridge.
Pro Tip: Slow-Whip the Cream
Chef Fabro stresses that the cream should be whipped slowly for more stability. You can whisk it by hand if you're looking for an arm workout, or if using an electric mixer, use medium or medium low speed. Using high speed creates a lot of air bubbles which makes the cream less stable. Think about the aerosol whipped cream, it's whipped instantly and is the flimsiest whipped cream ever...yeah, we want the opposite of that!
Choosing the Best Mangoes
This pie is so simple, so your mangoes have to be very good. Remember: your pie is only as good as your mangoes! You want them ripe, sweet, juicy, and erring on the side of overripe. If they're wrinkly with black spots on them, even better. This is partly because once the mangoes are frozen, their flavour and sweetness will be dulled slightly.
What type of mangoes should you use? You should use Manila mangoes of course, which in North America are in season around April. If that's not available to you, you can use Ataulfo mangoes which are very similar, and in N. America these are sometimes both labeled as "Manila" mangoes. Ataulfo are also known as champagne mangoes. If neither is available, go with whatever is sweet, fragrant and juicy, but not fibrous.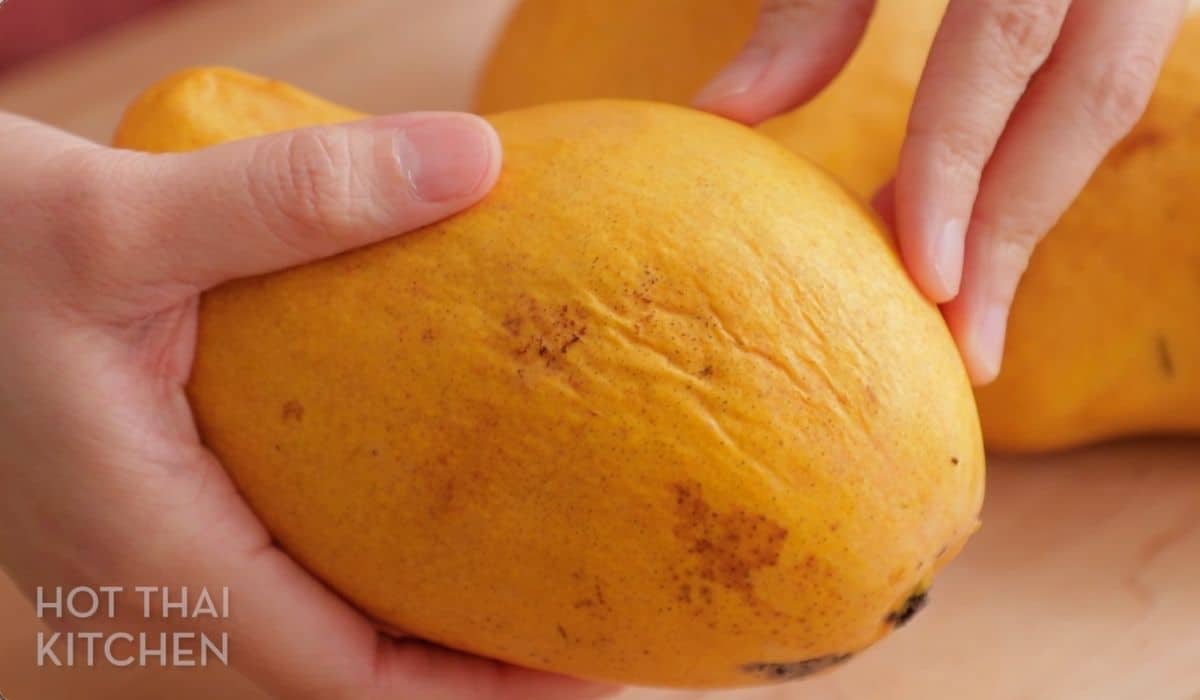 What are Manila Mangoes?
Manila mangoes are teardrop-shaped, bright yellow mangoes that are native to the Philippines. When ripe they should be very sweet with very little acidity (which is why I like to add a little lime juice to the pie) and are not at all fibrous. The seeds are also wonderfully thin, so they're a good bang for your buck! Ataulfo mangoes (aka champagne mangoes) are descendants of Manila mangoes and are very similar so can also be used.
How to tell if Manila mangoes are ripe
If you want to eat Manila mangoes fresh, wait a few days after they have turned completely yellow. If there's still any green on the skin, they are not ready to eat and will be sour. They should also feel soft when gently squeezed.
If you want to make Mango Royale, however, wait longer until the skin starts to get wrinkly. As mentioned, for a frozen dessert you want them overripe for maximum flavour, fragrance, and sweetness.
How to Store Mango Royale
Mango royale is a frozen dessert, so obviously you need to keep it frozen. The only problem is, what if you thaw it to serve, and then have leftovers? Can you refreeze the thawed dessert?
Freezing and thawing most foods multiple times is never a good idea. In the case of creamy things such as this, the multiple freeze-thaw cycles cause the texture to become more icy and less creamy. So if you're not going to eat the whole pie at once, here's my suggestion:
Freeze the whole pie initially as per the recipe.
The first time you serve the pie, and after it has thawed just enough for you to cut into it (about 30 minutes at room temperature), cut the entire pie into slices. Do not let it thaw any more than necessary, so check it early.

P

ut the pieces that you will save for later into a container with a lid and put them straight back into the freezer. Try not to let the pieces touch each other so they will not stick together; you can also put pieces of parchment in between them.
With the pieces that you will be eating today, now that they are cut, they will take only a few more minutes to get to that ideal semi-thawed serving temperature.
With this method, you will have pieces of mango royale cut and ready to serve anytime, and while the whole pie can take an hour to thaw at room temp before it reaches a good serving temperature, each small piece will only take 10-15 minutes.
Frequently Asked Questions
Can I use frozen mangoes instead?
Technically yes, but I don't recommend it. Frozen mangoes are rarely sweet and ripe enough for this dessert. The only brand of frozen mango I've ever come across the might be good enough is the Philippine Brand, which I believe uses Manila mangoes as well. If you want to try it, make sure you taste the frozen mangoes first, and if it's not super sweet juicy and delicious, wait until mango season comes. It'll be worth the wait.
What can I use instead of graham cracker crumbs?
If you don't have graham crackers available, Digestive Biscuits or another semi-sweet biscuits will work. You can also buy the crumbs pre-made, or buy whole graham crackers and grind them up in a food processor.
Do I really need to brown the butter?
Technically no, but you'll want to. This is Chef Fabro's trick, and I have no question that this is why her popups are such a hit with the masses. Trust me, the extra 5 minutes of your time will be very well spent.

Have you ever heard anyone say that they love the crust under a cheesecake? No. Everyone knows the standard graham cracker crust is just functional. But just about everyone who has had my mango royale has remarked, "I love the crust!" If you've never experienced the magic of properly browned butter, you owe it to yourself to try.
Can I serve it chilled, but not frozen?
If you serve it chilled, but not frozen, it will eat more like a soft pudding. Everything will be soft, including the crust. Not bad by any means, but I do prefer it semi-frozen because the crust will be crunchy, and the texture of the mango and the cream will be reminiscent of an ice cream cake, which is awesome.
Other No-Bake Mango Desserts for Mango Lovers
If you've got more mangoes after making mango royale, here are a few other desserts you should try.
Before you start, be sure to watch the video tutorial to ensure success! I always include little tips and tricks not mentioned in the blog post. The video is in the recipe card below, but you can also watch it on YouTube!
---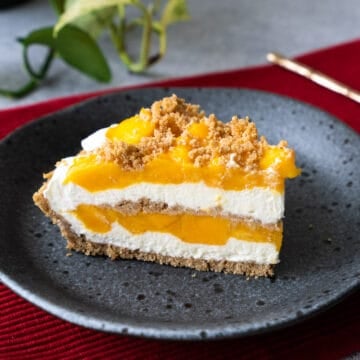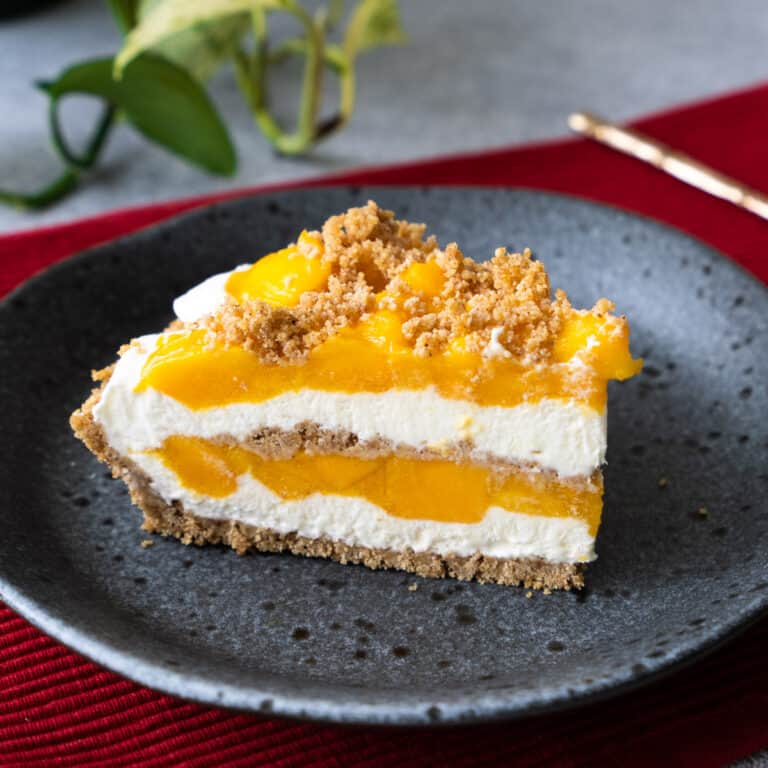 No-Bake Mango Cream Pie - Filipino Mango Royale
One of the simplest mango desserts you can make - yet one of the best. This Filipino classic frozen treat combines sweet, juicy Manila mangoes with fluffy whipped cream, sweetened condensed milk, and a nutty brown-butter graham cracker crust.
Equipment
9-inch pie plate

Nonstick cooking spray

Parchment paper

(optional)
Ingredients
5.5

oz

butter

,

unsalted

2

cups

graham cracker crumbs

25

oz

very ripe manila mango flesh

,

see note 1

1

tablespoon

lime juice

,

optional

4.5

oz

sweetened condensed milk

,

see note 2

1.5

cups

whipping cream

,

cold
Check Out Ingredients and Kitchen Tools I Use
Notes
This is about 5 medium-sized manila mangoes. Manila mangoes are also known as ataulfo or champagne mangoes. If they are not available you can use other varieties as long as they are very sweet and juicy. Your pie is only as good as your mangoes, so make sure they are super sweet and ripe, even overripe, as the flavour will be dulled slightly when it's frozen. 
By volume this is about 100 ml of sweetened condensed milk, ⅓ cup + 1 ½ Tbsp, or ⅓ of a can.
All my recipes come with step-by-step video tutorials with extra tips not mentioned in the blog post, so make sure you watch the video to ensure success. If you enjoy them, consider subscribing to the YouTube Channel to not miss an episode. Thank you!
Subscribe to my YouTube Channel
Instructions
Spray the pie plate with non-stick spray, and if you want you can line bottom with parchment. (The parchment isn't totally necessary but it does make it easier to remove.)

For the brown butter graham crust, place the graham cracker crumbs into a large mixing bowl.

2 cups graham cracker crumbs

Brown the butter by melting it in a stainless steel pot or skillet over medium heat. Once melted, keep stirring until the butter becomes very dark brown and looks almost burnt, about 5 minutes. Remove from the heat. (Note: There will be a lot of foam on top of the melted butter, this is normal, but if you keep stirring you will be able to see the colour of the butter through the foam.)

Pour the brown butter over the graham crumbs and mix well.

Put about ⅔ of the graham crumbs into the pie plate and spread it around, then press the crumbs up the sides of the plate making them a little less than ¼ inch thick. Then press them into the bottom of the pie plate firmly. You can take more of the reserved crumbs to fill the crust as needed, as it's most important that you have an even, sturdy bottom crust. Chill the crust in the fridge while you make the filling.

For the mango filling: Slice mango cheeks off the fruit, then use a paring knife to score the flesh into ½-inch cubes and use a spoon to scoop them out into a large mixing bowl. You can remove the flesh around the seeds, or just snack on them - as long as you have at least 700 g (25 oz) of flesh.

25 oz very ripe manila mango flesh

Use a gloved hand to squish the mangoes until it looks like a chunky mango sauce (about half chunks half puree). Taste, then add lime juice if it feels like it could use a little extra acidity.

For the condensed whip: Combine condensed milk and cold whipping cream in a medium mixing bowl and use a hand mixer to beat them on medium to medium-low speed until firm peaks form. To check for doneness, lift your beater, and whatever sticks to your beater should be able to hold its shape against gravity with gentle shaking. Be careful not to over-whip; once your beater starts leaving clear trails you're almost there, so pay attention and check often.

4.5 oz sweetened condensed milk,

1.5 cups whipping cream

Build the pie: The layers are built in this order: cream -> mango -> crumbs -> cream -> mango -> crumbs.

Spread about half of the cream into the chilled crust, then spoon half of the mangoes over the cream, followed by about half of the remaining crumbs. Repeat the layers with the remaining filling, and if you don't end up using everything, that's fine. You can use whatever's left to make a mini version.

Freeze overnight (at least 8 hours), then allow to thaw for 1 hour at room temp or thaw in the fridge overnight before serving. If your schedule will allow, you can also serve it after 5-6 hours of freezing. Essentially you want to serve it semi-frozen or partially thawed.Tip: If freezing for more than 1 night, to prevent it from drying out and absorbing freezer smell I recommend covering it with a double layer of plastic wrap after the exterior has firmed up.
Watch my videos AD-FREE and get bonus content on Patreon!
Nutrition
Calories:
522
kcal
Carbohydrates:
47
g
Protein:
5
g
Fat:
36
g
Saturated Fat:
22
g
Polyunsaturated Fat:
1
g
Monounsaturated Fat:
9
g
Trans Fat:
1
g
Cholesterol:
98
mg
Sodium:
319
mg
Potassium:
147
mg
Fiber:
1
g
Sugar:
34
g
Vitamin A:
3322
IU
Vitamin C:
13
mg
Calcium:
106
mg
Iron:
12
mg
Tried this recipe? Share a pic!
Tag @hotthaikitchen on Instagram and Twitter!