---
I demonstrated this tofu salad recipe at Veg Expo in Vancouver, and it was a hit with the audience! If you're not a lover of tofu, it's probably because you haven't had it done right. If you've got tofu-haters in your life, try making this for them and see if they might change their mind!
Watch The Full Video Tutorial!
All my recipes come with step-by-step video tutorials with extra tips not mentioned in the blog post, so make sure you watch the video below to ensure success - and if you enjoy the show, please consider subscribing to my YouTube channel. Thank you!
Print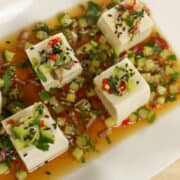 Chilled Tofu & Herb Salad ยำเต้าหู้เย็น (yum tao hu yen)
---
1

300-g package soft tofu, chilled, cut into large cubes

1 ½ Tbsp

soy sauce

1 ½ Tbsp

lime juice

1 Tbsp

palm sugar, packed, finely chopped

Thai chilies, to taste, minced

1 Tbsp

small diced shallots

1 Tbsp

finely chopped lemongrass

2 Tbsp

chopped green onion

3

sprigs cilantro, chopped

3

mint leaves, chopped

¼ cup

small diced cucumber

2 tsp

 very finely diced red bell pepper

A pinch black sesame seeds for garnish
---
Instructions
Arrange tofu cubes on a deep serving plate.
Combine soy sauce, lime juice, palm sugar and minced Thai chilies; stir until sugar is completely dissolved. Add shallots, lemongrass, green onion, cilantro, mint, cucumber, and red bell pepper; stir to combine.
Spoon the herb salad over each tofu cube, then pour the remaining salad and all the dressing around the tofu. Sprinkle with black sesame seeds and serve on its own or with hot jasmine rice.
---