---
This is the ultimate classic Thai BBQ chicken recipe. The flavours are so unique to Thai cuisine that I promise you will not have had BBQ chicken that tastes quite like it. The dipping sauce is a must have for a complete Thai experience, and don't forget some sticky rice and papaya salad on the side!
Watch The Full Video Tutorial!
All my recipes come with step-by-step video tutorials with extra tips not mentioned in the blog post, so make sure you watch the video below to ensure success - and if you enjoy the show, please consider subscribing to my YouTube channel. Thank you!
Print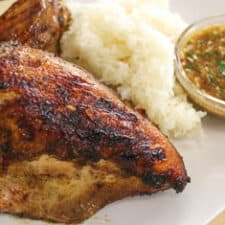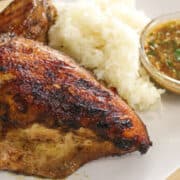 The Ultimate BBQ Chicken ไก่ย่าง (gai yang)
---
1

whole chicken breast (or

2

split breasts), bone-in, skin-on
2 chicken hindquarters (thigh & drumstick combo),2 bone-in, skin-on *
* You can choose any cut of bone-in, skin-on chicken you prefer
Marinade:
1½

 tsp white peppercorns

2 tsp

toasted coriander seeds

1

stalk lemongrass, bottom half only, thinly sliced

5

cloves garlic

3 Tbsp

soy sauce

3 Tbsp

fish sauce

1 Tbsp

black soy sauce (or another kind of dark soy sauce)

1 Tbsp

sugar

½ cup

water

2 Tbsp

vegetable oil
Dipping Sauce - Nam Jim Jeaw
2 Tbsp

tamarind concentrate (what is tamarind?)

1 Tbsp

palm sugar, finely chopped

1 Tbsp

fish sauce

1 Tbsp

lime juice

Chili flakes, to taste

1 Tbsp

shallots, finely chopped

1 Tbsp

green onion, chopped

3

sprigs cilantro, chopped

1 Tbsp

toasted rice powder (see how to make it here, it's easy!)
---
Instructions
Grind white peppercorns and coriander seeds into a powder using a mortar and pestle or a coffee grinder. When fine, add lemongrass and garlic and grind until fine. Transfer into a bowl and add all remaining marinade ingredients; stir to dissolve the sugar.
If desired, you can split the breasts and the hindquarters into individual pieces like I showed in the video. Trim off excess skin from thighs, if any. Add chicken to a zip-top bag or a casserole dish and pour the marinade over, making sure all the pieces are well coated. Marinade at least 2 hours or overnight, stir the chicken or flip the bag half way through to ensure even marinating.
Make dipping sauce: 
Combine tamarind, fish sauce, lime juice and palm sugar; stir until the sugar is dissolved (it will really help to make sure your sugar is very finely chopped). Add all remaining ingredients and stir. If making sauce in advance, don't add cilantro and green onions until ready to serve.
To grill chicken:
Preheat the grill on medium heat, then place the chicken on the grill, skin-side up. Tip: If your grill has hot spots and cool spots, place the chicken on the cool spots to prevent the skin from burning, and you can move them to the hot spots later if more skin charring is desired.  Turn the heat down to low or medium-low and cook with the lid closed, flipping every 5 minutes, until done, about 18-30 minutes depending on the size of the pieces. If you've got large pieces of chicken, keep the BBQ temperature between 275°F - 300°F so the outside doesn't burn too quickly. If using a meat thermometer, cook the chicken until the internal temperature reaches 165 °F or 74°C.
---
Keywords: BBQ, chicken, BBQ chicken, grilling,