Haw Mok (or Hor Mok) is a cross between a curry and a custard. If this sounds strange, trust me, it is phenomenal. It's one of my favourite ways to eat curry (might even be my actual fave). The texture is silky and creamy, but has all the beloved flavours of Thai red curry. This unusual combination is a classic, traditional Thai dish that's one of my mom's favourite meals!
Watch The Full Video Tutorial!
All my recipes come with step-by-step video tutorials with extra tips not mentioned in the blog post, so make sure you watch the video below to ensure success - and if you enjoy the show, please consider subscribing to my YouTube channel. Thank you!
Print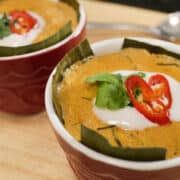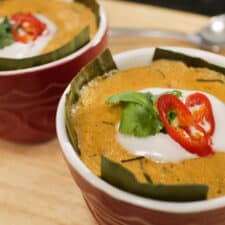 Steamed Red Curry Custard ห่อหมก (haw mok)
---
3 Tbsp

red curry paste

300

ml coconut milk

1 Tbsp

finely chopped or grated palm sugar

2

-

3

teaspoon fish sauce

2

large eggs, beaten

3

kaffir lime leaves, finely julienned

160 g

fish filet, thinly sliced into bite-sized pieces (see note)

1.5 cups

shredded cabbage and/or kale, steamed until wilted

8

-

12

leaves Thai basil

3

-

8

oz ramekins, or any heatproof small bowls or cups of your choice

Banana leaves, optional
Note: You can use any type of fish you want for this dish, or substitute other seafood such as shrimp, squid, or even mussels (without shell!). If you choose a tender fish like sole, basa, or barramundi, you will get a soft, melt-in-your-mouth custard, while firmer fish like halibut or swordfish will add a slight chew.
Garnish
¼ cup

coconut milk

½ tsp

cornstarch

Siced spur chilies or julienned red bell pepper

Cilantro leaves or finely julienned kaffir lime leaves
---
Instructions
Preheat the steamer on medium heat.
In a mixing bowl, add curry paste and just enough coconut milk to dissolve the paste, stir until smooth. Add the remaining coconut milk, beaten eggs, palm sugar, fish sauce, and kaffir lime leaves; stir until well combined. Add fish and stir to mix; set aside.
At this point, if you want to check seasoning, put a small amount of the liquid into a heat-proof bowl and steam for a few minutes until cooked. Taste and adjust accordingly.
Prep the containers: If using banana leaves, measure the length of your ramekin from one edge to the other, and cut a strip of banana leaf along the grain to that length, and make strips just wide enough that it sits flat on the bottom. Wipe clean with a damp cloth. Line the ramekin with one strip, and place the other perpendicular to the first strip.
Put a layer of steamed cabbage and/or kale on the bottom of ramekins (as much as you wish, depending if you like a lot of vegetables in your haw mok or not), then add 2-3 Thai basil leaves to each ramekin.
Distribute fish evenly into each ramekin, and ladle liquid over until about ½-inch from the top.
Steam over medium heat for 15-20 minutes.
While the custard steams, make the garnish. Put cornstarch into a microwave-safe bowl and add a splash of water just to dissolve it. Add coconut milk and stir. Cook in a small pot over medium heat, stirring constantly, until it boils. Remove from heat and pour into a small bowl.
When the custard is done, it will be puffed up and will not jiggle much when shaken. To serve, spoon a little of the coconut cream on top, then top with cilantro leaves and spur chilies. Serve with jasmine rice.
---