This recipe is as much a tasty treat as it is a study in traditional, royal Thai cuisine. These are savoury dumplings filled with a sweet-salty pork and peanut filling, wrapped in a tender butterfly-pea-flower-dyed dough. It's a LOT of work, and I'm not gonna pretend it's something you can pull off on a Wednesday night. But if there's a special occasion coming up, the deliciousness and the wow-factor of these might very well be worth the effort, and they're also gluten-free and dairy free!
P.S. If you want super tasty dumplings that don't require nearly the amount of skills and time as thes, try my easy shumai recipe that's perfect for dumpling beginners!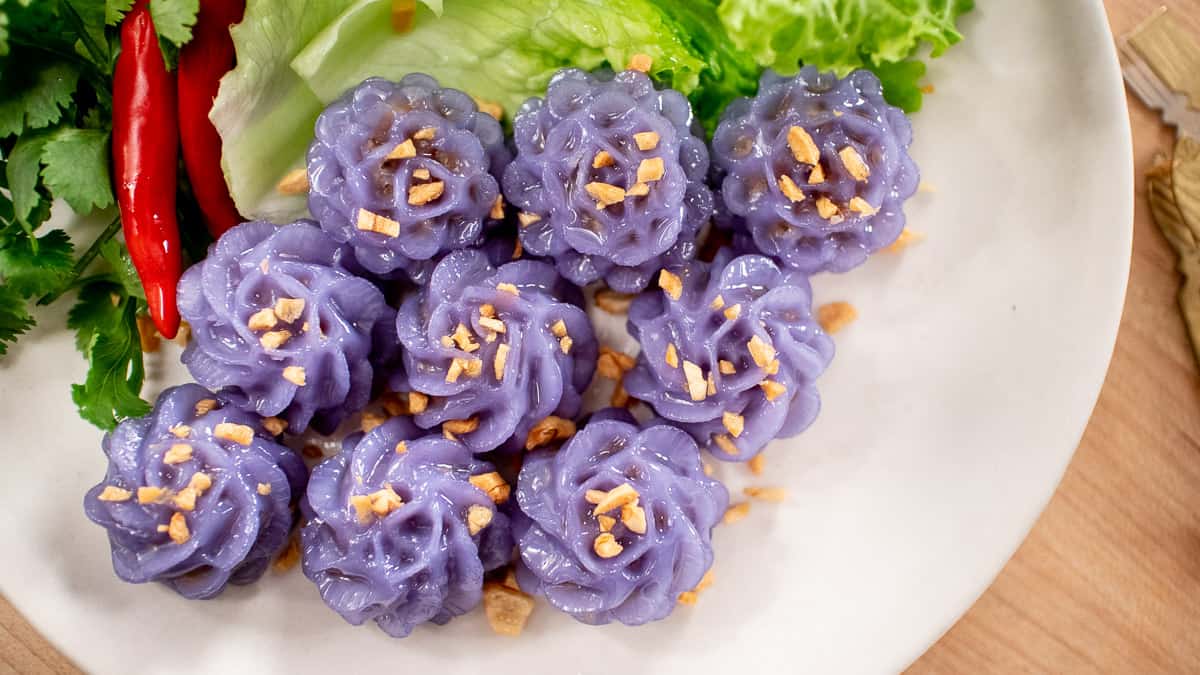 The Chor Muang Tweezers
The only annoying thing is that this recipe requires a special tool to make the petals. These brass tweezers come in 2 styles: the squared and the leaf shape. You can use either one to make the 2 different styles, but the squared one is the most common, and is the one shown in the video.
Where to buy Chor Muang tweezers? If you have a Thai grocery store that sells a lot of specialty Thai ingredients and tools, they might sell them. They're hard to track down online, but I did find this one listing on eBay.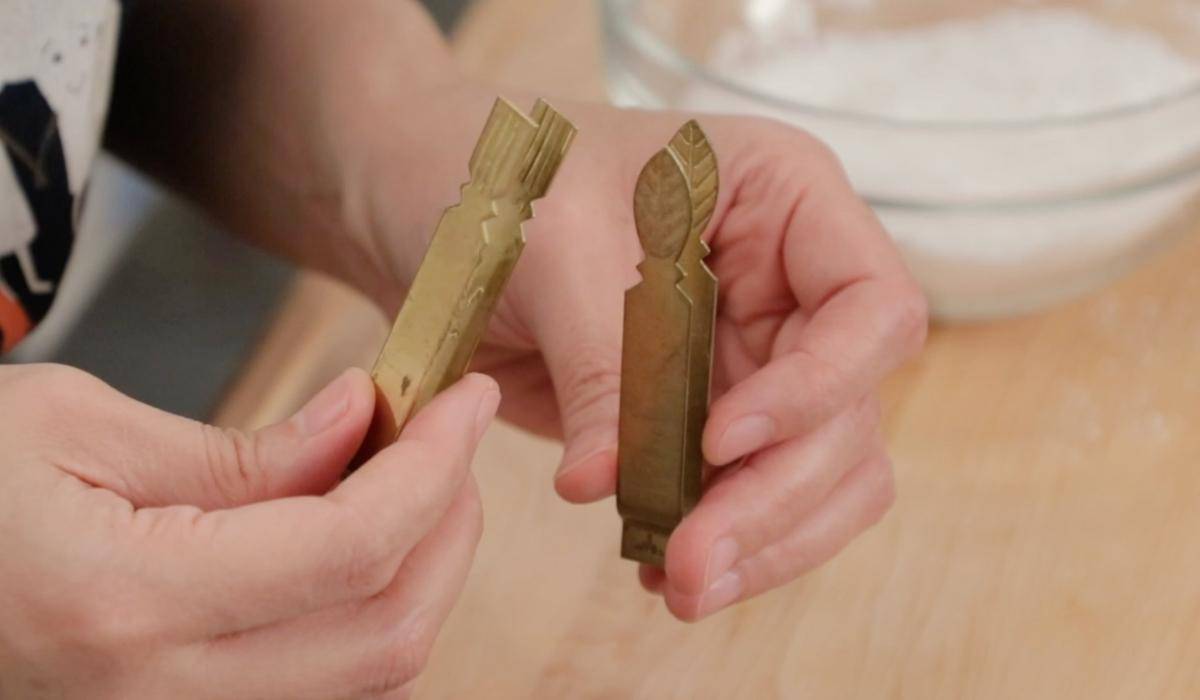 These tweezers can also be used to make "bird dumplings" as shown in my "Royal Thai Cooking Livestream" with Chef Farm at the Royal Thai Consulate.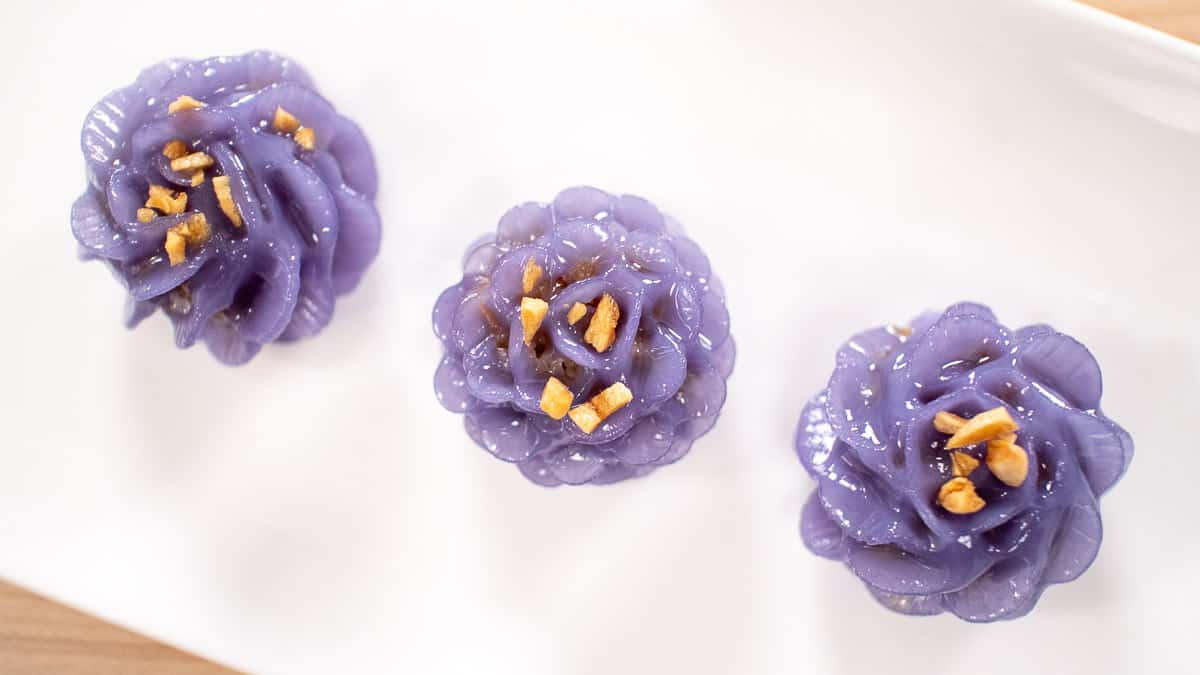 Where does the purple colour come from?
"Chor" means bouquet, and "muang" means purple. And the purple colour comes from steeping butterfly pea flowers, which are actually blue, but lime juice is added to turn the water purple. If you have access to fresh ones, great, but dried ones work perfectly well and can be purchased online.
Spreading out the work
These take HOURS to make if you do it all in one go. So if you're wanting to make them for a special occasion, here are some things you can do to spread out the workload:
Make the filling up to a week in advance. You can also allow for two days to make the filling and form them into balls on the second day. You can also freeze the filling balls.
Make the dough and shape the dumplings one day in advance, then keep them ready-to-steam in an airtight container in the fridge. Be careful not to pack them too tightly or the flower petals might be squished.
Make the fried garlic up to 2 days in advance. Keep the oil and the garlic separate in their own tightly sealed container.
How to Make Flower Dumplings
Here's a bird's eye view of the steps involved in making the chor muang dough and shaping the dumplings, so you get an idea of how to beautiful flowers get their shape and how the tweezers are used. I highly recommend watching the full video tutorial before you make these because you're going to need all the tips and techniques for this one!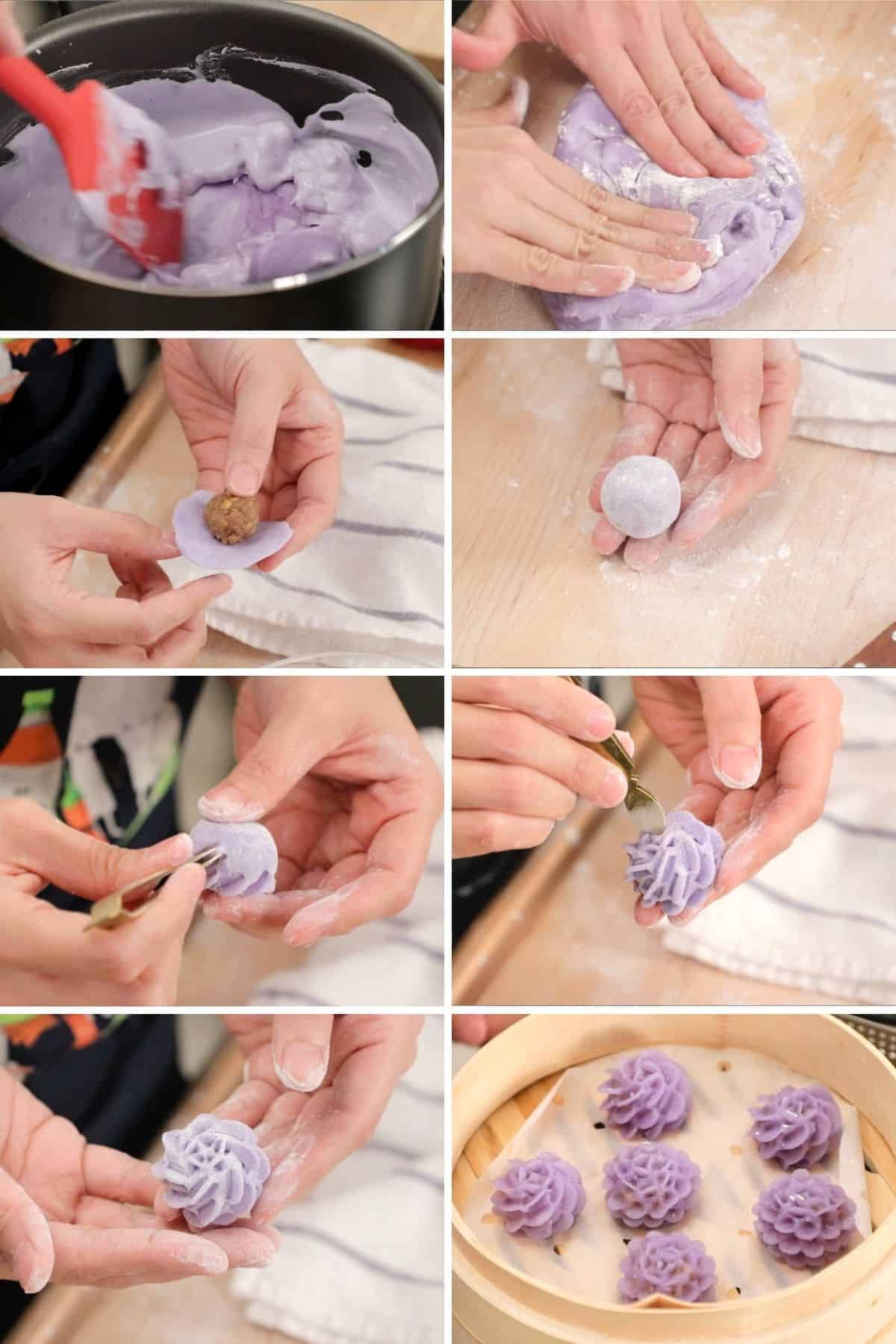 Storage and Reheating
The dough has to be used the day it is made. If refrigerated it will be more difficult to work with, but if well wrapped to prevent drying it will last at room temp for several hours. Once you've made them into dumplings you can store them in the fridge.
It's best to cook these right before serving. Serving them warm is the best, but room temp is okay as long as they haven't been sitting out for too long as the petals can dry out.
If you have leftovers that have been refrigerated, the best way to reheat them is to steam them again for a few minutes. Microwaving tends to dry out the exterior of the dumplings.
Just wanna know what they taste like without the work?
You can totally just make balls! If you're not trying to impress anyone and just curious about the flavour, simply wrap them in dough and steam. Since you are not constrained by the need to make petals, you can get away with a little bit less dough; which I think would make them even better.
Alternatively, make the filling and have it with Thai sticky rice! I've done it before with my leftover filling and was so surprised by how good it was! Sticky rice is great for eating with this sort of thing. Keep the lettuce though; it really helps to lighten and brighten it up. Here's a video on 7 ways to make sticky rice in case it's helpful.
Watch The Full Video Tutorial!
All my recipes come with step-by-step video tutorials with extra tips not mentioned in the blog post, so make sure you watch the video below to ensure success - and if you enjoy the show, please consider subscribing to my YouTube channel. Thank you!
---
Print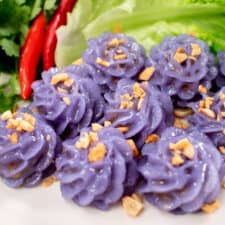 Royal Flower Dumplings - Chor Muang
Author:

Pailin Chongchitnant

Prep Time:

2 hours

Cook Time:

20 minutes

Total Time:

2 hours 20 minutes

Yield:

40 dumplings
---
Description
Beautiful, intricate flower dumplings created for royalty. Sweet-salty pork and peanut filling wrapped in a flower-dyed, tender, gluten-free dough. 
---
Filling
1 tsp

white peppercorns

6

-

8

cilantro stems, chopped

5

cloves garlic

1 Tbsp

toasted white sesame seeds, optional

⅓ cup

roasted peanuts

250 g

. (

9

0z.) lean ground pork or ground chicken

2 Tbsp

oil

¼

medium onion, minced

80 g

. (

2.8 oz

.) palm sugar, chopped

1Tbsp

+

2 tsp

fish sauce
Dough
100g

(1 scant cup) rice flour (plus ~

¼ cup

for dusting)

25g

(

3 Tbsp

) arrowroot starch (or sub tapioca starch)

12g

(

1½ Tbsp

) glutinous rice flour

¾ cup

hot water

3 Tbsp

coconut milk

1 Tbsp

dried butterfly pea flowers (about

20

flowers)

2 tsp

lime or lemon juice
For Serving
Fried garlic & garlic oil (use 1 head of garlic, recipe below)
Green leaf lettuce
Cilantro (optional)
Thai Chilies, sliced into rounds (optional)
Special tools: Chor muang tweezers
See a list of my kitchen tools and ingredients
---
Instructions
Make the filling:
Note: I recommend making the filling a day or two ahead to help spread out the work and to allow it time to chill in the fridge, which will make it easier to form into balls. The filling will last several days in the fridge.
Using a mortar and pestle, pound white peppercorns until fine, then add garlic and cilantro stems and pound into a paste. Remove this from mortar, but don't clean it yet.
If using sesame seeds, add to the mortar and lightly crush them to release the aroma. Then add peanuts and pound until coarsely ground, making sure the big pieces are no larger than ⅛ inch. Alternatively you can grind them in a small food processor or chop them with a knife.
In a mixing bowl, use a fork to mash the ground pork and mix with the fish sauce.
In a wok or a saute pan, add the oil then sauté the herb paste and onions until the onions are translucent.
Add the ground meat and stir until the meat is fully cooked; breaking it up as finely as possible. You do not want any large chunks of meat.
Add palm sugar and cook until the sugar is dissolved.
Add the peanuts and sesame seeds and continue cooking and stirring until the mixture is dry and the colour has darkened slightly.
If the meat is too fatty there might be some excess oil that has separated from the filling; in this case push the filling to one side and tilt the pan to separate the oil out, then spoon the filling into a bowl, leaving the oil in the pan. You can keep this oil for frying the garlic.
Let the filling cool completely, or preferably till chilled. While the filling cools, I recommend making the fried garlic and prepping for the dough.
Once cooled, roll the filling into 6-7 g. balls (or a little more than a tightly packed teaspoon.)
Make the fried garlic and garlic oil:
In a small pot or a wok, add ¼ inch of oil and turn the heat on to medium. Add one piece of garlic as the "test", and once the test garlic starts to bubble add the remaining garlic and turn the heat to medium low.
Fry the garlic slowly, stirring frequently, until golden and the bubbling has subsided. Drain the garlic from the oil through a metal sieve and keep them separate. The oil will keep in the fridge indefinitely, but the garlic won't remain crispy if stored.
Make the dough:
Put butterfly pea flowers into a bowl, then measure out ¾ cup of off-the-boil water and pour it over the flowers. Steep for at least 15 minutes, or until the water is at most lukewarm.
Prepare the steamer. Cut the parchment into a circle a little bit smaller than the steamer rack, then cut/punch several holes in it to allow steam to come up through the paper.
Remove the flowers from the water pressing out as much water as possible. Add lime juice to turn the water purple.
Prepare your work station: combine about ¼ cup of rice flour and 2 tablespoon tapioca starch in a bowl; this is your dusting flour. Prepare a clean work surface and dust it lightly with the flour mix.
Cook the dough: Off heat, add all the flours into a non-reactive pan, preferably non-stick. Add the cooled butterfly pea water and coconut milk then stir to completely dissolve the flour. Turn the heat on to medium-low and stir constantly with a rubber spatula; scraping the bottom and folding it onto itself until it clumps into a rough dough. It shouldn't be smooth at this stage, but it should not be wet anymore.
Transfer the dough onto your prepared work surface, dust with a little more flour on top and then knead just until it's smooth. The dough will be hot, but the trick is to do this fast so you're not touching the dough for a long time. You can also use a bowl scraper or rubber spatula to help knead it if it's too hot. Knead just until smooth. It shouldn't stick to your hands, but you can add a little flour if it feels a bit sticky.
Wrap the dumplings:
Note: You can wrap the dumplings a day in advance of serving and store them in a tightly sealed container in the fridge.
Pat the dough into a ¾ inch thick rectangle and cover the dough with a damp towel or plastic wrap  to keep it from drying while you're not using it.
Pinch or cut off a 7-8 gram piece of dough. Roll into a ball and flatten the dough into a 1½ inch circle, then flatten only the edges so that it expands into a 2-inch circle. Dip your fingers in the dusting flour as you work if the dough sticks to your hands.
Place one ball of filling in the flattened dough, closing the seam well, then push the seam side against the counter to flatten so you have a sort of a bell shape.
Dust the exterior of the dumpling with flour, then pinch with the chor muang tweezer into petal shapes; dipping the tweezers into the flour about every 3 tweezes to prevent sticking (you'll probably need to watch the video for this technique).
Place the formed dumplings directly onto the lined steamer. Repeat with the rest of the dumplings.
When ready to serve, steam the dumplings on high for 5-6 minutes, the dough will become more translucent once cooked. Remove them from steamer onto a serving plate and immediately brush with garlic oil to prevent them from drying out.
When ready to serve, top with fried garlic, and serve with green leaf lettuce, cilantro, and sliced Thai chilies if desired. This is best served warm, but room temp is okay too.
---
Keywords: appetizers,dumplings, gluten free