---
As my pregnancy came to its last weeks, freezer meals were on top of my mind in preparation for this baby! But with an always-packed freezer, I have to be conscious of how much space things take.
Here's how I make Thai curries for the freezer that will reheat well AND will not take up unnecessary space. This video isn't so much as recipe, but more of a tips and tricks video. You can apply this method to any of my coconut-based Thai curry recipes. And now you will have a meal that's ready to be served in just a few minutes!
Tricks & Tips for Making Freezer Curries that Reheat Well and Saves Space
Concentrate the sauce. When making a freezer curry I reduce the amount of sauce down to only what's necessary to cook the meat. Then I simply add more water when I reheat it! If you're working with a recipe that calls for stock or water in addition to coconut milk, be sure to omit it and and add it when you reheat. You will still reduce the coconut milk as shown in the video.
Use overcook-resistant meats. Because you need to reheat the curry, the chances of you overcooking the meat is high. So don't freeze protein that is not something you want to eat if it's overcooked. For example, I really dislike overcooked chicken breast, so I opt for thighs instead. Apart from chicken, any stewed and braised meats are perfect as they are essentially overcooked-proof.
Consider adding vegetables when you reheat. If you are particular about veggie texture, please note that thawed vegetables will be completely soft, so if you like that "al dente" or firm vegetables, I recommend adding them at the end when you reheat. Most veggies only take a couple of minutes to cook anyway, and this way you save even more space!
If freezing veggies, choose them wisely. Of course you CAN add in veggies if you want to make it a microwave-ready meal. Here's the rule of thumb: Choose vegetables with low water content. Water turns into ice crystals in the freezer, and those ice crystals are sharp and they puncture the cells of the vegetables causing them to be soft when thawed (which is why thawed berries "bleed" out their juices). Broccoli, cauliflower, potato, bell peppers, peas are some vegetables that will be intact when thawed. Bamboo shoots in particular will come out almost exactly the way it went in!
If possible, add delicate herbs when reheating. Delicate herbs such as Thai basil will look and taste much better if you add them at the end. This is not to say that you cannot freeze the curry with Thai basil, but just so you are aware that the Thai basil will be dark and mushy when thawed.
Which curry freezes the best?
Any kind of curry sauce will freeze equally well, however, there is one curry that lends itself particularly well to freezing and that is panang curry. This is because panang has a very small amount of sauce naturally, and doesn't have any vegetables or delicate herbs, so you don't have to make any modification to the recipe and just freeze it as is!
Bonus content for Patreon members: For this episode I share what other foods I regularly freeze which makes my cooking much easier. Click here to learn more about becoming a Patreon member!
Watch The Full Video Tutorial!
All my recipes come with step-by-step video tutorials with extra tips not mentioned in the blog post, so make sure you watch the video below to ensure success - and if you enjoy the show, please consider subscribing to my YouTube channel. Thank you!
Print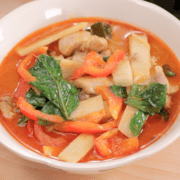 Freezer Red Curry with Chicken
---
Description
This video isn't so much a "recipe", as you can apply this method to any of my curry recipes. Having said that, this recipe below is a what I made in the video
---
50g

(3-4 Tbsp) red curry paste (or another paste of your choice)

1 ¾ cups

(420 ml) coconut milk

1

lb (450g) chicken thighs, boneless, skinless, 1.5-inch pieces

1

-

2

tablespoon fish sauce (this depends on the saltiness of your curry paste, if not sure, start with 1 and you can add more when you reheat) 

1 ½ Tbsp

palm sugar, chopped
Optional:
5

kaffir lime leaves, recommended if making red, green or panang curry

1 ½

cups (approx.) vegetables of your choice (see notes above regarding freezing vegetables)
For Reheating:
1 cup

unsalted chicken stock or water

1 ½ cups

vegetable of your choice (if you didn't add it prior to freezing)

A big handful of Thai basil, optional

Cooked jasmine rice for serving (which you can also freeze!)
---
Instructions
Make the curry:
Reduce ¾ cup coconut milk in a pot until thick, then add curry paste and saute with the coconut milk for a few minutes until coconut oil separates from the paste, or until the paste is very thick. 

Add the remaining coconut milk , 1 tablespoon fish sauce and 1 tablespoon palm sugar, and simmer for 7-10 mins to reduce liquid volume by about half. Note: I keep the seasoning on the light side for now so I have room to adjust when I reheat and add fresh veggies to it. 

Add chicken (or whatever meat you're using) and kaffir lime leaves, if using, and cook another 15-20 mins until chicken is fork tender. If using another meat, adjust cooking time accordingly.

I stop and freeze the curry at this point, and I will add vegetables, fresh herbs, and more water/stock when I reheat. But if you want, you can add in some vegetables now (see note above).
To freeze:
Put the curry into freezer bags, dividing it into portions that you will most likely eat at a time. So for me, I divide it into 2 servings per bag. 

Removing as much air from it as you can before closing, and place in a large bowl of cold water to cool it down quickly.

Once cool, dry and label the bags, you might also indicate that it's concentrated and needs diluting in case you forget! 

Lay the bags flat to freeze, pressing it down so it has even thickness. This will make is fast to thaw.
To reheat: 
Bring out frozen curry and soak the bag in a bowl of hot tap water for a few minutes just until it can slide out of the bag. Meanwhile, bring water or stock to a full boil in a pot (if you divided the curry into portions, make sure you divide the water accordingly.)

Slide the curry out into the pot. Cook over medium heat until everything is melted. Bring to a simmer then add whatever vegetables you want and cook till they're done.

Stir in any fresh herbs, such as Thai basil. 

Taste and adjust seasoning.
If you don't need to add any veggies you can microwave it:
Place the curry bags in a bowl of hot tap water just until it can slide out.

Break the curry into chunks and add to a microwave-safe bowl.

Add only half of the water or stock called for, then microwave until hot, stirring a few times in between.

Stir in fresh herbs at the end if desired.

Taste and adjust seasoning, adding more of the remaining water/stock as needed to adjust consistency and flavour. 
---