Panang curry is one of the most popular curries offered in Thai restaurants outside of Thailand. Growing up, it's a curry we made at home a lot because of its simplicity and speed. There's very little prep involved (if you buy the curry paste), and it's done in just a few minutes. It's also gluten-free, and can be made vegan (more on this in the FAQ). This panang curry recipe is made with pork, but panang beef is also great, or sub any other protein!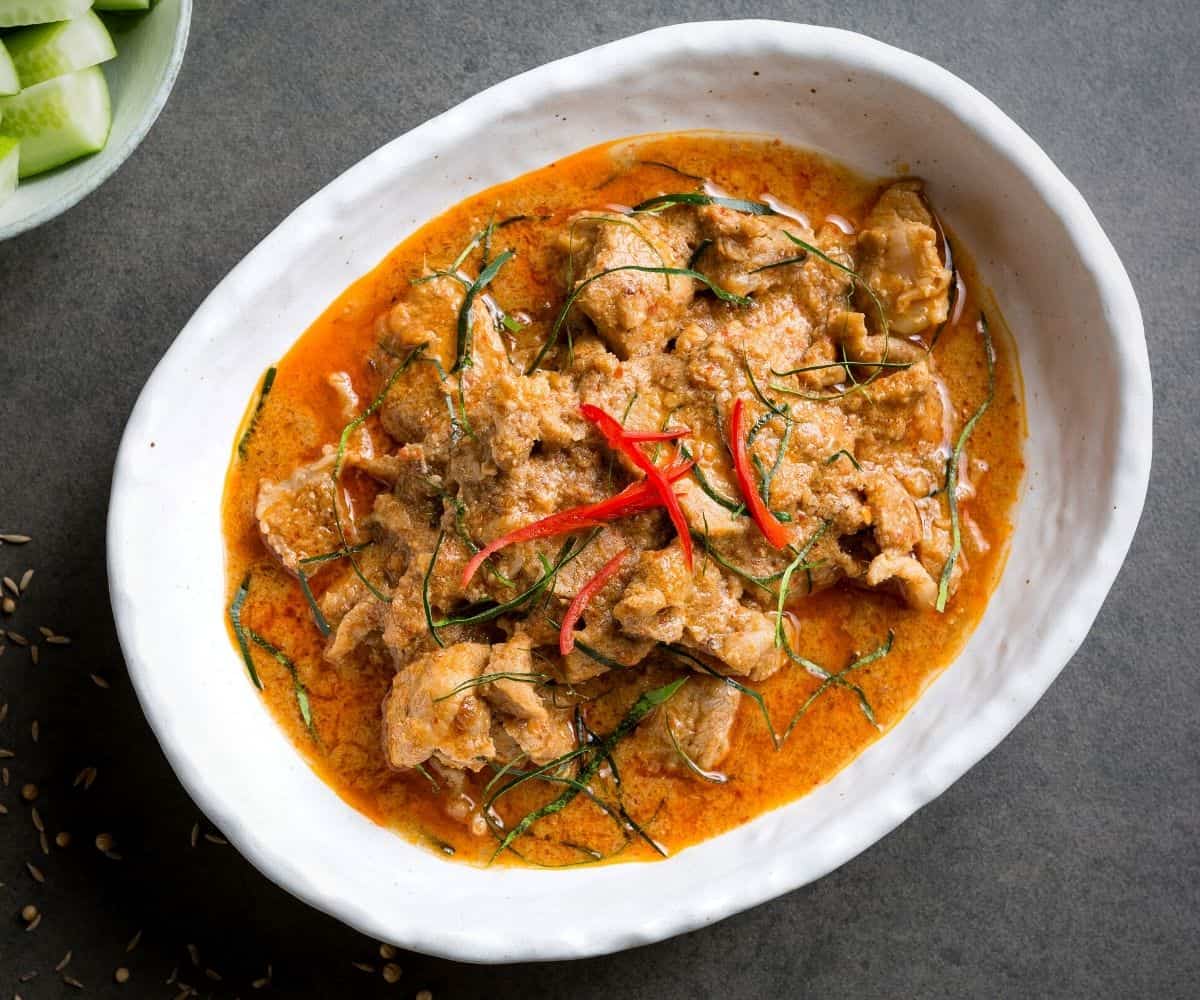 What is Panang Curry?
Of all the different Thai coconut milk based curries, panang is one that is quite unique. Instead of having plenty of sauce that is creamy but soupy, like a Thai green curry, panang comes in a small amount of thick, rich sauce. You can make an argument that it's more of a saucy stir fry!
Another defining feature is the generous use of cumin and coriander seeds which distinguishes its flavour from the basic Thai red curry. Peanuts are also ground into the curry paste, making the resulting sauce thicker and richer, though for commercial panang curry paste the peanuts are sometimes omitted or replaced with mung beans to avoid allergies.
You can buy panang curry pastes from some Asian grocery stores that stock a lot of Southeast Asian products, but it's not an easy one to find. If you want to make your own, try this from-scratch panang curry paste recipe, or if you're short on time, try the semi-homemade version that builds upon store bought red curry paste.
How to Make Panang Curry
The steps are outlined below so you can see an overview of the process, but all my recipes come with step-by-step video tutorials with extra tips not mentioned in the blog post, so make sure you watch the video below to ensure success.
Saute the curry paste in oil until aromatic, then deglaze with about ⅓ of the coconut milk. (This is the "quick" method, you can also saute the curry paste in reduced coconut milk, as is traditionally done. See my panang beef recipe for that technique.)
Add the makrut (kaffir) lime leaves and cook to infuse the flavours for a few minutes.
Add the pork and toss to coat in the curry paste.
Add the remaining coconut milk, fish sauce, and sugar and cook just until the pork is done. Remove from heat.
Garnish with a drizzle of coconut milk, julienned red chilies and a few finely julienned makrut lime leaves. Serve with jasmine rice!
Video Tutorial
If you enjoy the show, please consider subscribing to my YouTube channel. Thank you!
FAQ
What is panang curry made of?
Panang curry is a Thai curry that is made from thinly sliced meat in a rich and thick coconut milk-based sauce. You may be surprised that there's no vegetables in it, aside from some garnishes and herbs. Typically, meats used are pork, beef or chicken, but it can be made with any kind of protein.

The base flavour of panang is similar to a Thai red curry, but it has a heavier use of cumin seeds, coriander seeds. It's also thickened with peanuts (or another legume), and is always scented with makrut (kaffir) lime leaves.
Is panang curry hot?
All Thai curries are spicy to some degree, but panang is one that is usually quite mild, so it's a popular "starter curry" for kids in Thailand (also because there aren't any pesky vegetables!).

If you're making your curry paste from scratch, be sure to use mild dried chilies such as guajillo peppers, or use gochugaru - Korean pepper flakes.
How it Panang curry different from other Thai curries?
The main difference between panang and most other Thai curries is that panang has a smaller amount of sauce that is thick and rich, whereas most other Thai curries have plenty of liquid that is quite soupy.

Panang also does not involve any vegetables, and uses only one herb, makrut lime leaves, in addition to what's in the curry paste. I have to say, though, that if you order panang curry in a N. American Thai restaurant, it might not be as I just described because I have seen many restaurants make it soupy, with added vegetables, but now you know that that is the "Westernized" way!

In terms of the curry paste itself, the ingredients are all of the usual suspects of Thai curries: lemongrass, galangal, dried chilies, etc., but roasted peanuts are added to thicken the sauce. In commercial pastes, sometimes beans are used instead to avoid allergies.
How can panang curry be made vegan/vegetarian?
If you're making the curry paste from scratch, the first thing to do is omit the shrimp paste. Most store-bought curry pastes are already vegan, but do check the ingredient list for shrimp paste.

You can replace the meat with sliced and pan-fried tofu or your meat substitute of choice, but I love making vegan panang with hearty roasted or grilled vegetables such as roasted portobello mushroom, grilled peppers, or roasted eggplant. The fish sauce can be simply replaced with soy sauce.

Simply cook your veg separately, make the curry sauce as per the recipe, then toss the two together.
More Thai Recipes You'll Love
If you're ready to try more dishes, here are some popular classic Thai recipes to check out, complete with video tutorials as always!
Print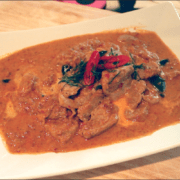 ---
3

-

4

tablespoon panang curry paste, store bought or homemade (see note)

1 ½ tsp

sugar

1

-

2

teaspoon fish sauce

¾ cup

coconut milk

8 oz

(

230g

) thinly sliced pork tenderloin or another protein of your choice

3

kaffir lime leaves, torn into chunks

2

kaffir lime leaves, very thinly sliced for garnish

2 Tbsp

coconut milk for garnish (optional, see note)
Spur chilies or other types of mild red chilies, sliced into rounds for garnish
---
Instructions
Sauté the curry paste in some vegetable oil until aromatic, 2-3 minutes, and deglaze with ¼ cup of the coconut milk. Note: Traditionally, we sauté the curry paste in rendered coconut oil. See more information about this method in Green Curry videos.
Add the 3 torn kaffir lime leaves and let the mixture cook, stirring constantly, until the coconut milk dries up again.
Once the coconut milk has dried up, add pork to the pan and toss to coat thoroughly in the curry paste.
Add remaining ½ cup of coconut milk, fish sauce, sugar, and cook until the pork is done.
When the pork is done, remove from heat immediately.
To serve: pour the curry on to a deep plate or a shallow bowl, spoon the 2 tablespoon of coconut milk over the top for garnish if desired. Top with thinly sliced kaffir lime leaves and spur chili slices. Serve with hot jasmine rice!
---
Notes
If you are using store bought curry paste, start with 3 Tbsp. Depending on the brand, you may need to add more so taste and adjust as needed. You will also need to add 2 tablespoons of ground roasted peanuts because most store bought pastes leave out peanuts.
When you let coconut milk sit, the fatty part usually floats to the top. This thick, fatty coconut milk is great for using as garnish, so don't stir your coconut milk until you have spooned out some!