---
The first water-based curry on the show! Woah, took me long enough, eh? 🙂 Gaeng som is a classic staple curry in many Thai homes because of its simplicity. It is probably the easiest curry paste to make from scratch, and arguably the healthiest as well. Tons of vegetables and herbs in a light, tart broth enriched with fish! Serve it with rice and I can have it every day!
In this recipe I have chosen green papaya, napa cabbage, carrots and long beans as my veg, but the options for veg are endless so think of this as a vegetable soup you can play around with. As is often the case with Thai food, it is gluten free 🙂
TIP: Gaeng som is also known for being better the next day as the flavours have time to mingle and penetrate the vegetables, so make this in advance if you can!
BUY THE JULIENNE PEELER AND OTHER TOOLS & INGREDIENTS I USE
Watch The Full Video Tutorial!
All my recipes come with step-by-step video tutorials with extra tips not mentioned in the blog post, so make sure you watch the video below to ensure success - and if you enjoy the show, please consider subscribing to my YouTube channel. Thank you!
---
Print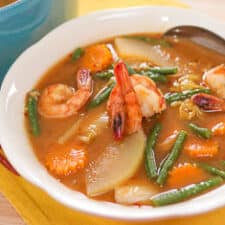 Sour Curry w/ Shrimp and Green Papaya (Gaeng Som) แกงส้ม
---
10g

dried chilies (see note)

1 tsp

salt

⅓ cup

shallots

3

cloves garlic

3 Tbsp

chopped or shredded fingerroot (grachai)

1

-

1 ½

teaspoon fermented shrimp paste (gapi)

3 cups

chicken, pork or fish stock, unsalted

75 g

white, mild flavoured fish meat (I used cod)

1

-

2

tablespoon fish sauce

3

-

4

tablespoon tamarind juice what is tamarind juice?

2 Tbsp

palm sugar, chopped

2 cups

green papaya, cut into thin slices

1

medium carrot, sliced

1 cup

long beans, cut into

2

-inch pieces

3 cups

napa cabbage, chopped

175 g

shrimp, peeled and deveined

1

-

2

tablespoon lime juice, or as needed
Note:  You can make this as spicy or mild as you like. I used a combination of large mild chilies (guajillo) and a few spicier ones (arbol or Thai chilies). If you're in Thailand, use large dried spur chilies or "prik chee fah".
---
Instructions
Remove seeds from dried chilies. Combine chilies, shallots, garlic, fingerroot, salt and shrimp paste in a blender. Add just enough water to blend and blend until smooth.
In a pot, add the stock and bring to a simmer. Add the fish and let poach just until it's done. Turn off the heat for now and remove the fish with a slotted spoon and add it to a mortar and pestle or a plate. Pound the fish until fine or you can also just mash it finely with a fork.
Add the curry paste and the mashed up fish into the broth and bring to a boil.
Add fish sauce, tamarind juice, and sugar and stir to dissolve.
Add papaya and carrots and simmer for 8 minutes or until it's almost done. If you're using different vegetables, adjust cooking time accordingly.
Add the napa cabbage and long beans and simmer for 2 more minutes.
Add the shrimp and cook for 30 seconds or just until they are done. Remove from heat, then taste and adjust seasoning with more fish sauce, tamarind or lime juice as needed. (I didn't quite explain this in the video, but I like to add lime juice to adjust tartness at this point because I like the sharp and bright acidity of lime, and also, my tamarind isn't that sour and I would have to add a lot of tamarind to reach the tartness I wanted, which would make the curry darker and thicker than I would like. If you have tamarind that is quite tart, you may just need a little more tamarind and no lime).
Serve with jasmine rice.
---