---
This recipe is an a bit of an exploration into Thai history! Here's the story: A lovely HTK fan recently sent me a copy of a very special Thai cookbook: The very first Thai cookbook to ever be written in English! The book is titled "Everyday Siamese Cooking" by Sibpan Sonakul, who is the granddaughter of King Rama IV. What's even more special is that the photos in the book were taken by King Rama 9, our beloved king who recently passed away in October of 2016.
So, I wanted to cook a recipe from this book, and I wanted to do it "live" along with you guys! So in this video, it is the very first time I'm making this recipe! And it's so fun and so interesting! This gorgeous dish is called "Ma Haw" or translated as "galloping horses", and it is a bite-size appetizer of various fruits, topped with a sweet-savoury pork and peanut filling.
Here's the recipe as written in the book, and I have made my notes on it as well in case you want to try making it!
---
From "Everyday Siamese Cooking" by Sibpan Sonakul
Watch The Full Video Tutorial!
All my recipes come with step-by-step video tutorials with extra tips not mentioned in the blog post, so make sure you watch the video below to ensure success - and if you enjoy the show, please consider subscribing to my YouTube channel. Thank you!
Print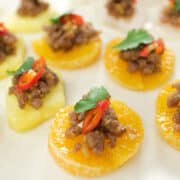 Ancient Cookbook Recipe Experiment! - Galloping Horses ม้าฮ่อ
---
½

kilo pork, lean and fat mixed [the recipe tells you to "chop the pork fine", which in the Thai context that means making ground pork, so you can just use regular ground pork]

5

cloves of garlic
Castor sugar [Not sure what she meant by castor sugar because I doubt they had actual castor sugar back then...and in either case it doesn't make sense why this recipe would need castor sugar. So I would just use palm sugar or granulated sugar]
Rambutans [I don't recommend it personally, I would go with pineapple instead :)] or oranges [Thai oranges are closer to mandarin oranges, not navel oranges]
nam plā [fish sauce]
Lard [if you can render your own lard from fatty pork, that would be the authentic way]
Chilies
Coriander leaves

3 tablespoons

of roasted peanuts, coarsely ground
---
Instructions
Chop the pork fine. Crush garlic, and fry in about 2 or 3 tablespoons of lard till light brown. Add pork, peanuts, and seasoning.
[Nowadays, most recipes will call for garlic, white peppercorns and coriander roots to be pounded into a paste and then fried in the fat. You can do that if you want extra flavour. The "seasoning" refers to the fish sauce and sugar. You will need to just taste and adjust as the recipe doesn't specify amounts! It should be sweet and salty. Make sure you really get the pork broken up into small bits, as small as you can, and adding a bit of water in the beginning will help loosen it up a bit. If you have large chunks you'll have a hard time getting the filling to stay on the fruit and hold together.]
[Let the filling cool completely before proceeding.]
Cut each rambutan in two and remove the seeds. In the case of oranges, separate them according to their natural sections, cutting them open on the back and lay them flat on a serving dish, skin downward. Fill each piece of fruit with the pork mixture, and decorate tastefully with picked coriander leaves and chilies.
---