---
Pork leg stew on rice, or kao ka moo, is the quintessential Thai street food. You can find this all over the streets of Thailand and in any food courts. It's beloved by everyone especially kids because it's not spicy and it's got that salty-sweet flavour kids love. Served with boiled eggs and some pickles, and it's just the most comforting dish. Takes a little time, but it's so worth it! You can now bring the flavours of Thai street food to your home!
Watch The Full Video Tutorial!
All my recipes come with step-by-step video tutorials with extra tips not mentioned in the blog post, so make sure you watch the video below to ensure success - and if you enjoy the show, please consider subscribing to my YouTube channel. Thank you!
Print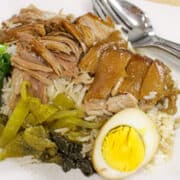 Slow-Braised Pork Leg on Rice ข้าวขาหมู (kao ka moo)
---
The Pork Stew
1

pork leg, or other cuts of stew-friendly meat e.g. beef shank, lamb shank, dark meat chicken (see note)

1

pork foot (optional)

1 Tbsp

Golden Mountain Sauce (or sub soy sauce)

3

-

4

tablespoon soy sauce

3

-

4

tablespoon oyster sauce

2 Tbsp

black soy sauce (or use dark soy sauce)

75 g

palm sugar or rock sugar

6

-

8

cilantro roots (or

½ cup

of roughly chopped stems)

5

cloves garlic

2

cinnamon sticks

2

star anise

1 tsp

Szechuan peppercorns

½ tsp

white peppercorns, cracked

10

slices galangal

2

shiitake mushrooms

4

-

6

medium boiled eggs (boil for

8

minutes)

Pickled mustard greens or another pickled vegetable such as sauerkraut, pickled beans, or pickled carrots

200 g

. dark leafy greens, blanched or steamed (optional, see note)

Jasmine rice for serving
Chili Vinegar
2

spur chilies, or you can use any other kind of medium-to-mild chilies such as jalapenos, serranos, or fresno. For extra spicy vinegar, you can add Thai chilies or use habaneros.

2

cloves garlic

½ tsp

sugar

A pinch of salt

White vinegar, ¼-½ cup as needed
---
Instructions
If the pork leg still has some hair on it, burn it off with a blowtorch or shave it off with a razor. Wash and dry thoroughly.
Optional step: Sear the pork leg in a wok to brown the skin on all sides. The oil will splatter quite a bit here so if you have a splash guard, use it! If you don't, you can skip this step.
Add the pork leg and foot into a large stock pot, cover with water. Add Golden Mountain Sauce, 3 tablespoon soy sauce, 3 tablespoon oyster sauce, black soy sauce, and palm sugar. Simmer for 45 minutes.
Skim off any scum that has floated to the top, then add cinnamon, star anise, Szechuan peppercorns, white peppercorns, shiitake mushrooms, cilantro roots, garlic, and galangal. Cover and simmer for 2.5 hours or until the meat is fork tender. 20 minutes before the pork is done, add the eggs and the pickled mustard greens and simmer for 20 minutes.
Remove the pork, mustard greens, and eggs. Using a mesh skimmer, scoop out all the herbs and spices and discard; alternatively, strain the sauce through a sieve. Taste and adjust the seasoning of the sauce with more soy sauce and oyster sauce. If you want the colour to be darker, add more black soy sauce.
To serve, carve some pork from the leg and cut into bite-sized pieces. Place the pork on top of jasmine rice, along with the egg, chopped pickled mustard greens, and a little bit of blanched gai lan. Pour the sauce generously over the rice, and drizzle with some chili vinegar, if desired.
To make chili vinegar: 
Put all ingredients into a blender, starting with ¼ cup vinegar. Blend until smooth, adding more vinegar if needed to help it blend better.
---
Notes
Pork legs have a lot of skin, if you don't like too much skin and prefer a lot of meat, you can add extra skinless leg meat or pork shoulder.
This is just some steamed veggies on the side to balance out the dish. Traditionally we use blanched gai lan (aka Chinese broccoli), but you can use whatever greens you like.
Keywords: kao kao moo, khao kha moo, pork stew, pork leg, street food