---
Here's a classic dip to pair with those rice crackers that you now know how to make (because I made a video for it!). This dip is rich and flavourful, with all the flavours you associate with Thai cuisine. Traditionally we use pork and shrimp, but you can change that to chicken and shrimp, only pork, only chicken, or for a vegetarian option you can use crumbled firm tofu or one of those "veggie ground meat."
It's a simple dip that can be made in advance and reheated when ready to serve. You can also buy plain rice crackers from the store and serve with these if you don't want to make them, I do all the time!
Watch The Full Video Tutorial!
All my recipes come with step-by-step video tutorials with extra tips not mentioned in the blog post, so make sure you watch the video below to ensure success - and if you enjoy the show, please consider subscribing to my YouTube channel. Thank you!
Print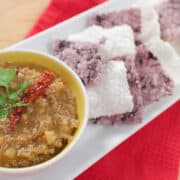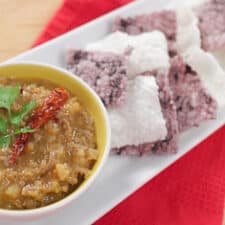 Pork & Shrimp Peanut Dip ข้าวตังหน้าตั้ง (Kao Tung Na Tung)
---
4

 cloves garlic

¼ tsp

white peppercorn

2

cilantro roots or

6

cilantro stems

Dried chilies, to taste (see note)

100g

ground pork

100g

ground shrimp (simply buy raw shrimp and mince them with a cleaver or a large knife)

½ cup

coconut milk

¼ cup

peanuts, roasted and ground into a coarse meal

2

-

3

tablespoon tamarind juice (a.k.a. tamarind concentrate)

1 ½ Tbsp

palm sugar

1 Tbsp

+

1 tsp

 

fish sauce

1

small head shallot, thinly sliced
Plain rice crackers for serving, store bought or make your own
Note: Use large dried chilies for a milder dip (spur chilies are traditional, but guajillo or puya peppers also work well). For a spicy dip, use small dried Thai chilies. You can remove the seeds to lessen the heat from any peppers.
---
Instructions
Grind the dried chilies in a coffee grinder into small flakes; set aside. In a mortar and pestle, add the garlic, peppercorns and cilantro roots and pound into a paste. Add ground chilies and pound to mix.
If you don't have a coffee grinder you can use for the chilies, you can soak the chilies in water until softened, cut them into small pieces and pound them in the mortar and pestle until fine. Then add the garlic & co. and pound into a paste.
In a small pot, over medium heat, add a little vegetable oil and sauté the herb paste in it for 2 minutes until aromatic and slightly golden.
Add ¼ cup coconut milk, then saute the paste until the coconut milk is reduced and the oil starts to separate from the paste.
Add pork and shrimp and stir and mash to break up the meat. You want the texture to be quite fine so no big lumps! 
Add the remaining ¼ cup coconut milk, peanuts, palm sugar, fish sauce, and tamarind. Simmer on low heat for about 3 minutes, stirring occasionally. Add the shallots and cook for about 30 seconds just to wilt and remove the raw flavour. Add a splash of water if it becomes too dry—it should be moist and creamy but not runny. Remove from heat, then taste and adjust seasoning.
Garnish with cilantro leaves and dried chilies if desired. Serve the dip warm with rice crackers. Enjoy!
---