---
These pork toasts are addictive little appetizers! I used to get these in Thailand from a street vendor as a kid, but the traditional ones are deep fried and the bread gets really oily, so I developed this recipe that is baked instead of fried, so you still get the same delicious flavour but without the grease!
Watch The Full Video Tutorial!
All my recipes come with step-by-step video tutorials with extra tips not mentioned in the blog post, so make sure you watch the video below to ensure success - and if you enjoy the show, please consider subscribing to my YouTube channel. Thank you!
Print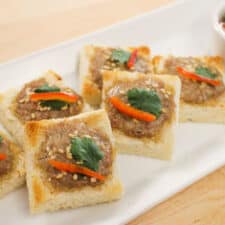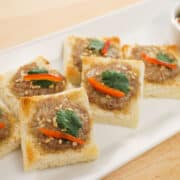 Thai Pork Toast ขนมปังหน้าหมู
---
Pork Toast
7

slices white sandwich bread (preferably squared, so the crust can be easily removed)

2 Tbsp

any neutral flavoured oil

2

cilantro roots or

6

 cilantro stems, chopped (note)

3

cloves garlic

½ tsp

white peppercorns

150 g

ground pork (I prefer regular ground pork, not lean, because it is more tender and moist)

1 Tbsp

soy sauce

½ tsp

sugar (omit if your bread already has a sweetness to it)

Half an egg, beaten

1

-

2

Tbsp white sesame seeds, toasted

Optional garnish: Cilantro leaves and little re

d pepper juliennes
Note: If using cilantro roots, I recommend cutting off the fine little root hairs first because it takes a while to get them really fine in the mortar!
Ajaad (quick cucumber pickle to be served with the toasts)
½ cup

quartered and sliced cucumber

1 Tbsp

thinly sliced shallots
Thinly sliced chilies (as much as you like and any kind you prefer, depending on how hot you want it to be)

½ cup

white vinegar

¼ cup

granulated sugar
a pinch of salt
---
Instructions
For the ajaad: In a small pot, heat the sugar, vinegar and salt over medium high heat until the sugar is completely dissolved. Let cool. Combine the cucumber, shallots, and chilies in a small serving bowl. A few minutes before serving, pour the cooled vinegar over the vegetables.
For the pork toast: Preheat the oven to 375°F.
Cut off the crust from the bread. Brush one side of the bread lightly with the oil. Cut each slice into 4 pieces and place the pieces on a baking sheet, oiled side down.
Make the pork mixture: In a mortar and pestle, pound together cilantro roots or stems, garlic, and white peppercorns into a fine paste. Add the pork, soy sauce, sugar (if using) and the egg and mix well.
Spread about 1 teaspoon of the pork mixture on each piece of toast (on the unoiled side) into a circular shape. Brush the top of each toast lightly with oil, making sure you get the exposed edges of the bread as well. Sprinkle toasted white sesame seeds on top (you can put as much or as little as you like) and pat them down with your fingers to secure them onto the pork. Bake for 8-10 minutes until the pork is fully cooked.
Change the oven setting to "broil" on high, and broil the toast just until the top side of the bread is nicely browned (this can take anywhere from 30 seconds to 2 minutes, depending on how fast your broiler heats up, so don't walk away cuz it burns quick!). Note: I usually just leave the rack in the center position for broiling, but if you're impatient, you can move the rack higher and it'll brown faster. Be really careful though, cuz when it's that hot it'll burn really quickly if you leave it in even just a few seconds too long!
Let cool slightly and garnish with cilantro and bell peppers if desired, serve warm with the ajaad.
To reheat: You can refrigerate any leftovers and then bake them again in a 375°F (190°C) oven for about 5 minutes or until hot.
---