Beef lovers, this one's for you! Intensely beefy and full of flavour, shaking beef looks premium but it is so easy and quick to put together that you can easily have this on a weeknight. Served with rice, and it's a thoroughly satisfying meal.
WATCH THE VIDEO TUTORIAL FOR THIS RECIPE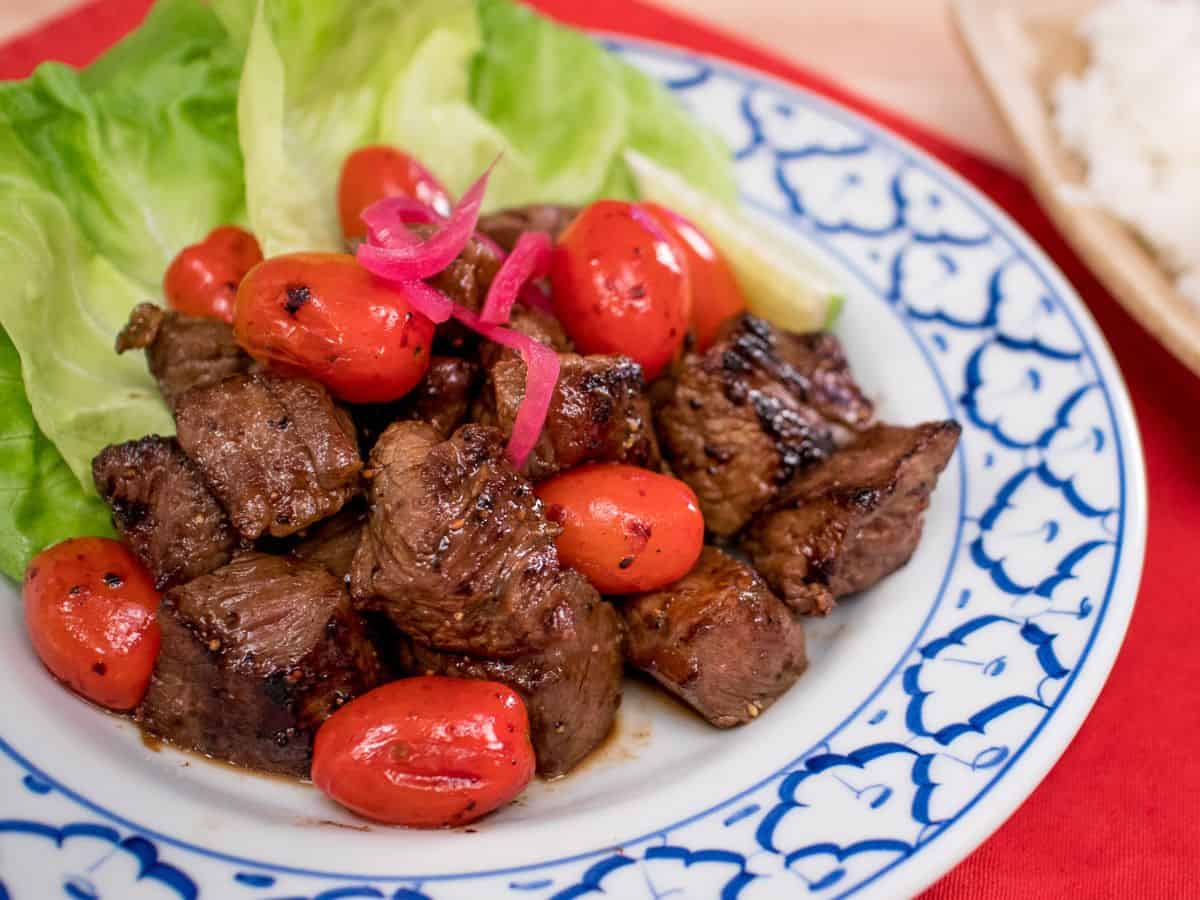 What is Shaking Beef?
Shaking beef is a Vietnamese dish that really highlights the flavour and texture of beef. The term "shaking beef" is translated from its Vietnamese name bò lúc lắc, and it refers to the act of shaking the wok to toss the beef when cooking.
The beef is marinated and seared in the wok, then served with some veggies, pickled onion, and rice. There's also a tart, salty dipping sauce to complete the meal.
Vegetable choice can be flexible. I like tomatoes for the colour and acidity, but red pepper would also work here. I use butter lettuce for some greens, but if you like peppery bitter greens like arugula or watercress, those are fantastic with this also.
What is the best cut of beef to use?
Choosing beef for shaking beef follows the same rule for choosing beef for a seared steak, because essentially these are little cubes of steaks. Tenderness is important, so nothing chewy here, and flavourful is also a bonus.
Here are some beef cut options:
Tenderloin for maximum tenderness but a milder beef flavour. This is what you want if you're guests include an elderly or someone with TMJ issues. It is very pricey, however, so not for everyone.
Rib-eye (my personal fave) has a great amount of beefy flavour and is quite tender. Also a little pricey, tho not as much as tenderloin.
Top sirloin is an inexpensive versatile cut that's widely available. It's not quite as tender as the two above, but still great.
Tri-tip a great grilling steak that would work well here, but can be hard to find in some locations (certainly is in Western Canada!)
PS. If you're a steak lover, you must check out this super popular recipe for the only steak marinade you need, which also comes with an awesome Thai dipping sauce for steak!
The Optional Dipping Sauce
You'll sometimes see shaking beef served with a dipping sauce that's simply made with coarse salt mixed with black pepper, and a squeeze of lime over it. I don't find that my recipe needs anymore salt, but a squeeze of lime can be nice to cut the grease.
Shaking Beef Recipe Tips
If you prefer the tomatoes or peppers softer, saute them first, remove from pan, and then toss them back in when the steak is done.
Remove the beef from the pan promptly after turning off the heat so they don't continue to cook in the hot pan.
If you like the meat quite rare, cut the beef bigger so it gives you more time to cook the outside without overcooking the inside.
Watch The Full Video Tutorial!
All my recipes come with step-by-step video tutorials with extra tips not mentioned in the blog post, so make sure you watch the video below to ensure success - and if you enjoy the show, please consider subscribing to my YouTube channel. Thank you!
---
Print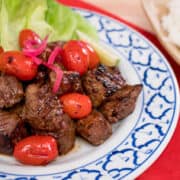 Shaking Beef (Bo Luc Lac)
Author:

Pailin Chongchitnant

Prep Time:

30 mins

Cook Time:

5 mins

Total Time:

35 minutes

Yield:

Serves 4
---
250g

steak, cut into

¾

" cubes (see note)

1 Tbsp

oyster sauce

½ Tbsp

soy sauce

½ Tbsp

fish sauce

½ tsp

black soy sauce (or sub dark soy sauce and reduce soy sauce amount slightly)

1

big clove garlic, grated

1 tsp

sugar

½ tsp

black pepper

2 tsp

cooking oil

A handful cherry tomatoes, pierced with a knife, or julienned bell peppers.

Pickled red onion or another pickle of your choice, optional (see recipe below) 

Some salad greens for serving, optional
---
Instructions
To make pickled onion: Thinly slice a red onion so you have about 1 cup loosely packed, place into a thick glass jar with a lid.  In a small pot, combine ½ cup vinegar (you can use white or rice vinegar), 2 teaspoon sugar and ¼ teaspoon salt (you can add more sugar if you like a sweet pickle). Bring to a boil, then pour the hot vinegar over the onion until it is completely submerged (you may need to push the onion down a bit). Close the lid and let it sit at room temp until cool. Store in the fridge.
For the Shaking Beef:
In a mixing bowl, combine the beef, oyster sauce, soy sauce, fish sauce, sugar, black pepper, and grated garlic. Toss to mix well and marinade for about 30 minutes, stirring once or twice in between. 
Once the beef is done marinating, add a little cooking oil and toss to coat.
Heat a wok or a large skillet over medium high heat until very hot, add just a little bit of oil, then place the beef cubes down in one layer on the wok/pan so that they are not touching each other. Let sear without moving the beef until the bottom side has browned well (with a hot pan it should only take 30 seconds to 1 minute), once it is browned, shake the pan to release the beef cubes and toss them so that the beef flips to the other side. If there are unflipped pieces, you can go in and individually flip them with tongs.
Add the tomatoes and scatter them around them pan and let sear for another 20 seconds or so. Shake the pan again to get the tomatoes mixed with the beef. Keep cooking the beef until desired doneness. If you like the beef still pink, you can remove the beef within a minute of adding the tomatoes, otherwise keep cooking and occasionally tossing until done to your liking. Remove from the pan immediately.
---
Notes
Steak options: Use whatever cut of beef you would want as a big piece of steak. Something tender, preferably. I'm using ribeye, but tenderloin (super tender, more expensive) or striploin (less tender, less expensive) are also good choices.