This simple marinade is the only steak marinade you need. Bold claim, I know, but once you try it you'll understand why (and hopefully agree!). Even though it is a classic Thai beef marinade for the grill, the flavour is not distinctly Asian. It's just really fantastic, bold flavours that would pair well with any meal, and any side dish; Thai or not.
Thai Marinade, Universally Delicious
The main stars of this marinade are oyster sauce and soy sauce, with just a touch of sweetness added in. This combo creates intensely umami flavours that compliment the beef perfectly - and the little bit of sugar is the secret to balancing the salt and giving you those smokey-flavoured grill marks. These sauces are Asian, but they have relatively neutral flavours that won't make you go, "woah, SO Asian." So they will not clash with say, mashed potatoes.
This is also endlessly customizable, so that if you do want it to have a distinct flavour of any particular herbs or spices, you can totally add them to this base marinade. So use what's given as the base ratio, then get creative from there!
What is "Crying Tiger"?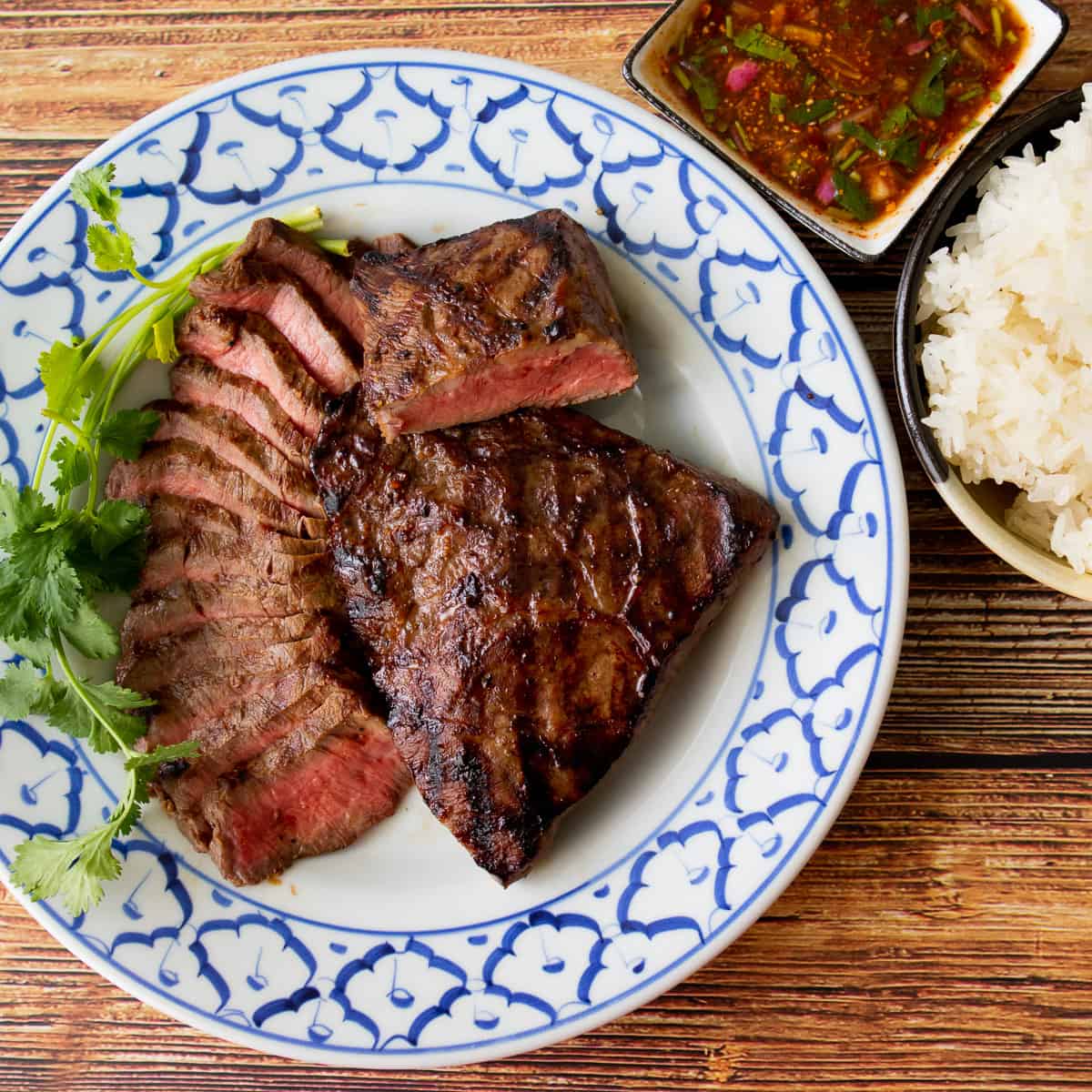 "Crying Tiger" is the way the steak is served. You might have seen this name on Thai restaurant menus, or maybe it was Tiger Cry, Weeping Tiger, or some variation on that theme. This is a direct translation from the Thai name "seua rong hai", which refers to a marinated grilled steak, sliced thinly and served with the ultimate dipping sauce for grilled meats: nam jim jeaw. Sticky rice is usually served as a side.
Technically crying tiger calls for a specific cut of beef; the brisket. There are many stories explaining the origin of the name, but the one I like best is that the brisket is so chewy even the tiger cannot eat it ... so it cries!! How sad! But the chewiness is why the steak is always very thinly sliced.
Nowadays people make crying tiger using other (better) cuts that don't involve any tears or jaw pain (and I don't recommend you use brisket for this), but really the most important thing here is the marinade; the dipping sauce if you want something very Thai.
More classic must-try Thai recipes for the grill
FAQ About This Marinade Recipe
I am allergic to shellfish, what can I use instead of oyster sauce?
You can use an additional 1 tablespoon of soy sauce instead of the 1 ½ tablespoon of oyster sauce. You can also buy vegetarian oyster sauce which is usually labeled as "vegetarian stir fry sauce" and it should have a similar consistency to oyster sauce.
Can I change the amount of sugar in the marinade?
Yes! You can add another 1-2 teaspoons for a sweeter, more teriyaki-ish flavours. Or you can reduce it to 1 teaspoon if you prefer it less sweet, though I suggest not omitting it altogether because it helps with getting those nice grill marks.
Can I pan-sear the steak instead of grilling?
Marinated steaks, especially one with sugar like this one, are better suited for the grill. If you pan-sear, the marinade will more easily burn with full contact with the hot oil. So without a grill, I recommend doing a quick sear on the pan just to get it nice and browned, then finishing it off on a rack in the oven.
Can I use this marinade for other meats?
Yep! This definitely works with pork, chicken, lamb, and any other meats you would grill.
Have leftover steaks? Try using them in these recipes!
---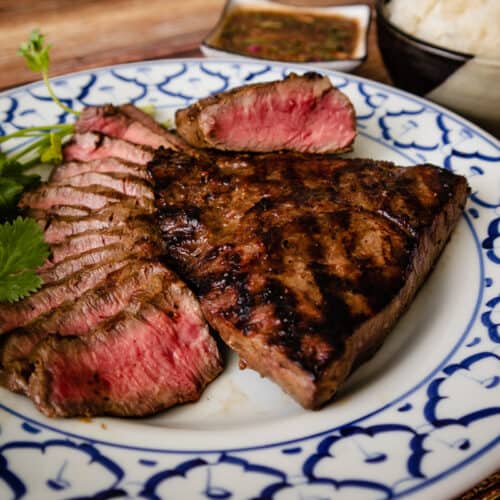 Thai Marinated Grilled Steak with "Jeaw" Dipping Sauce (Crying Tiger)
Even though this is a classic Thai steak marinade, it's for a neutral enough flavour that it will work with any meal, Thai or not. Loaded with flavours, endlessly customizable, it's the only marinade recipe you need. The dipping sauce is also a classic that no Thai person would go without!
Ingredients
Marinated Steaks
1.5

lb

steaks

,

see note

½

teaspoon

black peppercorns

2

cloves

garlic

2

tablespoon

soy sauce

1 ½

tablespoon

oyster sauce

2

teaspoon

sugar

1

tablespoon

lime juice

2

tablespoon

neutral oil

Sticky rice,

for serving, see note
Nam Jim Jeaw Dipping Sauce
2

tablespoon

tamarind paste

1

tablespoon

fish sauce

1

tablespoon

lime juice

1

tablespoon

palm sugar,

very finely chopped

2

tablespoon

minced shallots or chopped green onion

½

teaspoon

roasted chili flakes

,

or to taste

1

tablespoon

uncooked jasmine or sticky rice

,

(for toasted rice powder)

3

sprigs

cilantro or mint

,

chopped
Check Out Ingredients and Kitchen Tools I Use
Notes
Any cut of steaks you like for the grill will work. Keep in mind that for marinated steaks, you want to stick with something thin. I'm using flatiron in the video, but flank, skirt and hanger steaks are examples of great cuts for the grill. 
Sticky rice is a classic accompaniment to Thai steaks, but these would go with any sides, Thai or not.
All my recipes come with step-by-step video tutorials with extra tips not mentioned in the blog post, so make sure you watch the video to ensure success. If you enjoy them, consider subscribing to the YouTube Channel to not miss an episode. Thank you!
Subscribe to my YouTube Channel
Instructions
To make the marinade, pound the black pepper in a mortar and pestle into a powder, then add the garlic and pound into a fine paste. Add all remaining marinade ingredients and stir to mix well.

½ teaspoon black peppercorns,

2 cloves garlic,

2 tablespoon soy sauce,

1 ½ tablespoon oyster sauce,

2 teaspoon sugar,

1 tablespoon lime juice,

2 tablespoon neutral oil

Place the steaks into a dish just big enough to hold them in one layer, or put them in a freezer bag. Add the marinade and move the steaks around to ensure they're thoroughly coated.

Marinate the steaks for a minimum of 3 hours and up to overnight. Bring the steaks out 1 hour before grilling so they will not be too cold and will cook more evenly.Note: Marinated steaks, especially ones with sugar like this, are better suited for the grill. Pan searing is fine but the marinade will more easily burn with direct contact to the hot oil. So without a grill, I would recommend doing a quick sear on the pan just to get it nice and browned, then finishing it off on a rack in the oven.

Grill the steaks to your preferred doneness. I like grilling them on high heat with the lid open to ensure they have nice grill marks. See the video above for more grilling tips.
For the Nam Jim Jeaw dipping sauce
In a small bowl, combine the tamarind, fish sauce, lime juice and palm sugar and stir until the sugar is mostly dissolved. Stir in the shallots and the chili flakes and set aside while you make the toasted rice powder; don't worry about any undissolved sugar chunks.

2 tablespoon tamarind paste,

1 tablespoon fish sauce,

1 tablespoon lime juice,

1 tablespoon palm sugar,

2 tablespoon minced shallots or chopped green onion,

½ teaspoon roasted chili flakes

Make the toasted rice powder: In a dry skillet, add the rice and toast it over medium high heat, stirring constantly, until the grains are deep brown (see video for the colour you're going for). Pour onto a plate to cool, then grind in a mortar and pestle or coffee grinder into a mostly-fine powder.

1 tablespoon uncooked jasmine or sticky rice

Close to serving time, stir the sauce; the sugar should now be completely dissolved, and if there are a few stubborn chunks, they can be easily smushed with the back of a spoon. Stir in the toasted rice powder and cilantro or mint.

3 sprigs cilantro or mint
Watch my videos AD-FREE and get bonus content on Patreon!
Nutrition
Calories:
468
kcal
Carbohydrates:
13
g
Protein:
35
g
Fat:
31
g
Saturated Fat:
12
g
Polyunsaturated Fat:
2
g
Monounsaturated Fat:
17
g
Cholesterol:
104
mg
Sodium:
898
mg
Potassium:
556
mg
Fiber:
1
g
Sugar:
9
g
Vitamin A:
35
IU
Vitamin C:
3
mg
Calcium:
29
mg
Iron:
3
mg
Tried this recipe? Share a pic!
Tag @hotthaikitchen on Instagram and Twitter!