---
Steamed fish with black bean sauce is my mother in law's signature recipe and I'm so excited to be sharing her recipe with you for the first time! It's also my husband's favourite way to eat fish, partly because of nostalgia cuz it's something his mother has made his whole life and he never gets tired of it. Simple, quick and healthy, it's really the perfect weeknight dinner. We always use black cod, also known as sable fish, because it's such a tender, oily, flakey fish that is really forgiving.
*Extra Goodies for Patreon Members: In this episode of "Show-After-The-Show" I'm going to be talking you through a different fish steaming technique that's more commonly done in Thailand, and I will discuss the pros and cons of each technique. And as usual, answer some questions from Adam the cameraman! Find out more about becoming a Patreon member here.
Choosing the right fish
If you're not using black cod, you can use any white, tender fish with a mild flavour. Anything you would want to steam, such as ling cod, sea bass, or tilapia. I chose to use steaks because the bones and skin keep everything more moist, and adds flavour to the sauce. But if steaks is not available, you can definitely use filets instead, just be sure to reduce cooking time. I would check filets at 8-10 minutes depending on the size.
About Chinese Black Beans or Dao Ci
You may have heard, or even eaten, "black bean sauce" many times but did you know what these black beans are exactly? Even though these are always referred to as black beans, they are NOT black beans, but rather soybeans. The soybeans have been fermented and turned black in the process. They are quite salty, and has an interesting funky flavour...think of it has the cousin of miso. This funky flavour adds character to many many Chinese dish, including theses dim sum spare ribs that are super popular if you ask any dim sum lovers. If used too much, however, it can be quite overpowering, not to mention salty, so a little bit goes a long way. I always give them a quick rinse before using to wash off some of the salt.
There are many brands, and the most popular one is "Yang Jiang Preserved Beans" which has ginger in it and comes in a big tub. I find that this is too big for me because I don't use it often, so I opt for one of the smaller bags that my grocer carries. I have found some brands to have moist, sticky beans, while others have drier ones that do not stick together. Honestly do not know the difference and I have used both with success, so I am partial towards the dry ones which are easier to use.
Once opened, store black beans in a sealed container in the fridge and they'll last you for years to come.
What if you don't have black beans?
Chinese black beans are a stable at any Chinese grocery store, so if you have access to one, you will likely be able to get it. But if not for whatever reason, or if you don't want to stock yet another ingredient in the fridge, try this other recipe of mine: Steamed Fish with Ginger and Thai Miso. Of course you'll then have to look for Thai miso! But that can be easily substituted with Japanese miso paste (use half the amount called for).
Shop Ingredients & Kitchen Tools I Use
Watch The Full Video Tutorial!
All my recipes come with step-by-step video tutorials with extra tips not mentioned in the blog post, so make sure you watch the video below to ensure success - and if you enjoy the show, please consider subscribing to my YouTube channel. Thank you!
Print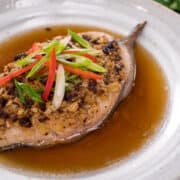 Steamed Fish with Black Bean Sauce
---
2

fish steaks ((~500-6

00g

total weight))

1 Tbsp

+

1 tsp

Chinese black beans

2 Tbsp

chopped ginger + a little extra julienned ((the extra is optional))

2 Tbsp

chopped garlic

1 Tbsp

soy sauce

1 Tbsp

Chinese cooking wine ((optional))

1 ½ tsp

sugar

½ tsp

ground white pepper
Green onion
Red pepper garnish (such as bell pepper) ((optional))
---
Instructions
In the plate you're using to steam the fish (make sure the plate has some depth to catch the sauce), combine sugar, soy sauce, Chinese cooking wine and white pepper. Stir to dissolve the sugar as much as you can (it won't all be dissolved, that's okay).
Place the fish steaks on the plate and flip to coat it in the sauce. Cover and marinate it for 30 minutes in the fridge, flipping the steaks half way through.
Rinse black beans in some cold water to wash off excess salt.
Combine the chopped garlic and the ginger on your cutting board, add the black beans to the mix then run your knife through the mixture again so you're essentially chopping the beans into the garlic/ginger mix. You want the black beans to be broken up into smaller pieces, but it need not be a paste.
Once fish is done marinating, flip it one more time and spread the black bean mixture evenly on top of the fish steaks.
If using the extra ginger, sprinkle it around the fish in the sauce.
Place a piece of parchment paper over the plate, making sure the edges go over the edges of the plate, to prevent condensation from dripping into the fish.
Steam the fish over boiling water for 13-15 minutes or until cooked through (thermometer will register 145°F).
Sprinkle with green onions and red pepper and close lid for 30 more seconds to wilt the onions.
Taste the sauce, add a little more soy sauce if you think it needs it. Or add a tad more water if you think it is too salty.
Serve with jasmine rice.
Enjoy!
---