---
"Tao Jiew" is the Thai version of miso. It's fermented soybean paste that is salty with a touch of acidity, and it goes incredibly well with fish! We also add loads of ginger which is a flavour match made in heaven with fish as well. I'm using black cod here, also known as sablefish, as it's flaky, tender, fatty, and a sustainable species here in BC, Canada. Feel free to use any white, mild flavoured fish local to your area.
This is one of my favourite ways to eat fish, and it takes just a few minutes to cook. Make your sauce while you preheat the steamer, and the fish only takes a few minutes to steam.
If you don't have a steamer like mine you can also buy a steamer rack from a Chinese grocery store, place it inside a wok or a large stock pot and turn it into a steamer. You can cover it with foil if you don't have a wok lid. You can even use a roasting pan as long as it can withstand direct heat.
RELATED VIDEOS: Tom Yum Soup with Fish Recipe
Watch The Full Video Tutorial!
All my recipes come with step-by-step video tutorials with extra tips not mentioned in the blog post, so make sure you watch the video below to ensure success - and if you enjoy the show, please consider subscribing to my YouTube channel. Thank you!
---
Print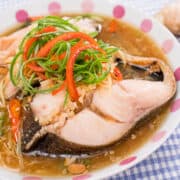 Steamed Fish w/ Ginger & "Thai Miso" ปลานึ่งเต้าเจี้ยว
---
2

-

3

lemongrass tops (optional, see note)

3

fish steaks, about

500g

total (see note)

1 tsp

soy sauce

2 Tbsp

tao jiew (Thai soybean paste, see note)

1 Tbsp

sugar

1 Tbsp

soy sauce

½ cup

chicken or pork stock, unsalted

2

inches ginger, julienned

4

cloves garlic, chopped

1

-

2

Thai chilies, to taste, cut into big chunks or

¼ tsp

ground white pepper (optional)

1

green onion, sliced thinly on a bias and keep the white and green parts separate

Red pepper juliennes for garnish (optional)

Jasmine rice for serving
---
Instructions
Preheat the steamer and bring the water to a full boil.
Smash lemongrass tops, then cut into 3-inch pieces and line bottom of a plate that you're using to steam the fish. Place the fish steaks on top of the lemongrass and drizzle the soy sauce on to each piece of fish and let it sit in the fridge while you prep the sauce.
In a small bowl, combine tao jiew, sugar, soy sauce, stock, and stir to dissolve the sugar. 
In a small pot, saute the garlic and ginger in a little bit of vegetable oil for a minute until aromatic, then add the sauce mixture. Add the chilies or pepper, and let the sauce simmer for 2 minutes. Remove from heat and add the white part of the green onions. Keep covered so it stays warm.
Steam the fish for 7-8 minutes or until cooked through. (Note: If the steamer is ready, you can steam the fish while you cook the sauce to be extra efficient).
Once the fish is done, spoon off or pour off most of the collected water on the plate (if you've got a tablespoon or so of water left that's fine).  If using black cod, pull out pin bones which should come out easily if the fish is cooked through. Pour the sauce over the fish, distributing the ginger and garlic all around. Top with the green part of green onions and julienned red pepper for garnish. 
Serve immediately with jasmine rice. Enjoy!
---
Notes
Because I only cook with the bottom half of lemongrass (the more flavourful part), I keep the tops in my freezer for stock and other things like this! I line the plate with the lemongrass tops so the fish can be propped up, allowing heat to circulate more evenly. And the little bit of infused flavour is a bonus.
You can use any tender flesh, mild-flavoured white fish available to you. I am using black cod which is a widely available local species here in Vancouver. 
If you local Asian grocery store has a lot of Thai products, there's a chance they may carray tao jiew. If not, you can try using Japanese miso or the Korean doenjang. But because the Japanese and Korean versions are much thicker, start with just 1 tablespoon and thin it out with another 1 tablespoon of water. Make sure you taste and adjust the seasoning of the sauce first. I tried to look for this on Amazon to put into my Kit, but there isn't any available. However, the people at importfood.com has it here.
Keywords: fish, steamed fish, healthy, steaming