---
"Sukiyaki" is a Japanese hotpot, but Thai people have taken the idea and created our own version of this hotpot with a bold flavoured sauce that better matches our palates. Not only that, we have created 3 different ways you can have sukiyaki (or just "suki" as we call it in Thailand)!
In this video I show you "suki nam" which is the kind of suki we have most often at our home. "Suki nam" is basically taking all the ingredients of the hot pot, and rather than the table-top cooking, we turn them into ready-to-eat individual bowls of noodle soup. A lazy man/woman hot pot is what I like to call it! The key is in the sauce whose flavour is so unique I cannot compare it to any other food. The only way to experience it is to try!
Watch The Full Video Tutorial!
All my recipes come with step-by-step video tutorials with extra tips not mentioned in the blog post, so make sure you watch the video below to ensure success - and if you enjoy the show, please consider subscribing to my YouTube channel. Thank you!
---
Print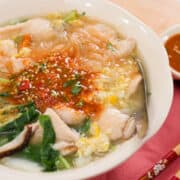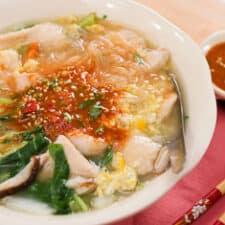 Thai Sukiyaki Soup (Suki Nam) สุกี้นำ้
---
Amounts Per 1 Serving (simply scale up to however many people you're serving)
1 cup

chicken stock or pork stock, unsalted

20 g

dry glass noodles

1 cup

chopped napa cabbage

1 cup

water spinach (or regular spinach)
A small handful chopped Chinese celery or sliced regular celer

2

fresh shiitake mushrooms or other Asian mushrooms, chopped (optional)
~75g of protein of your choice (I usually do chicken breast)

1

egg

2

-

3

tablespoon of Thai sukiyaki sauce (recipe below)
Thai Sukiyaki Sauce (makes 1 cup, enough for about 4-5 servings)
4

Red bean curd cubes (see video for more info on this item)

2 Tbsp

red bean curd juice
Thai chilies, to taste (I put 2)

5

cloves garlic

2 Tbsp

granulated sugar

¼ cup

white vinegar

1 Tbsp

toasted sesame oil

1 Tbsp

soy sauce

1 Tbsp

white sesame seeds, toasted

¼ cup

chopped cilantro
Sriracha, for dipping sauce (see note)
Note: Some people like to serve a dipping sauce on the side to dip meat and veggies in as they eat. To make the dipping sauce, simply mix some suki sauce with sriracha using a ratio of about 2 parts suki sauce 1 part sriracha, and use Thai Sriracha if you have it. Also, if possible, make the sauce at least 30 mins in advance to allow flavours to mingle.
Marinated Chicken (serves 4-5)
350 g

chicken breast, sliced

1 Tbsp

soy sauce

1 Tbsp

oyster sauce

1 ½ tsp

sesame oil

1

egg white

2 Tbsp

cornstarch
---
Instructions
Make Suki Sauce:
Pound garlic and chilies into a paste, add sugar and grind some more till sugar is dissolved.
Add sesame seeds and crush gently (I did not do this in the video but I recommend it to get more flavour out of the sesame seeds).
Add bean curd cubes and mash. Add bean curd juice, vinegar, soy sauce, sesame oil and stir to mix.
Stir in some chopped cilantro.
Tip: You can make the sauce in advance and keep it in your fridge so it'll be ready for you. To make sure your sauce lasts a long time, do not add cilantro, and bring the sauce to a full boil before storing. Store in a well-sealed container and this should last you at least a few months. Add cilantro when ready to use.
Make Dipping Sauce (optional):
Set aside an amount of the suki sauce you will use for the soup (you'll need 2-3 tablespoon per serving), then with whatever is left, stir in about 30% Sriracha—this is your dipping sauce.
Marinate chicken:
Combine meat with soy sauce, oyster sauce and sesame oil and toss to thoroughly combine.
Add egg white and cornstarch and mix well to combine. Let marinate for at least 20 minutes and up to one day in advance.
Assemble:
Bring chicken stock to a boil.
Add vegetables and blanch 1 minutes or just until done. Remove with a slotted skimmer and distribute into serving bowls.
Bring broth back to a boil, add glass noodles and cook for about 2 minutes; remove and distribute into serving bowls. NOTE: If you're not using glass noodles, cook them separately in boiling water. Unlike glass noodles, rice or wheat noodles tend to release a lot of starch into the water as they cook, which will make your broth starchy and unappetizing.
Bring stock to a boil again, then add marinated meat and spread it out so the pieces are not clumping together and let cook until almost done. Add the egg and quickly stir it into the soup. Turn off the heat and distribute the soup and protein into serving bowls.
Top each bowl with sauce (as much as you like, starting with 2 tablespoon per bowl), and serve immediately. Enjoy!
---