---
If you love Tom Yum Goong, you are going to loooovvvveeeee this dish! All the beloved flavours of lemongrass, lime and Thai chili paste are concentrated into this fried rice, and made perfect by a Thai-style fried egg. YUM!
Watch The Full Video Tutorial!
All my recipes come with step-by-step video tutorials with extra tips not mentioned in the blog post, so make sure you watch the video below to ensure success - and if you enjoy the show, please consider subscribing to my YouTube channel. Thank you!
Print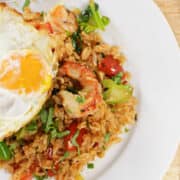 ---
Sauce
3

slices galangal, chopped

3

 inches lemongrass, thinly sliced (use bottom half of the stalk only)

3

kaffir lime leaves, center rib removed, thinly sliced

2 Tbsp

Thai chili paste, store-bought or make your own

1 Tbsp

fish sauce

1 Tbsp

soy sauce

1 tsp

sugar

Thai chilies, to taste

2 Tbsp

lime juice
The Fried Rice
2

eggs 

10

medium shrimp, peeled and deveined

¼ cup

diced onion

2

stalks Chinese broccoli, stems thinly sliced, leaves roughly chopped

300 g

cooked rice (1¾ cup) (see note)

1

tomato, seeds removed, bite-sized pieces

1

green onion, chopped

A few sprigs chopped cilantro
Note: This fried rice has quite a lot of liquid in the sauce, so it's very important that your rice is quite dry to begin with, otherwise you might have mushy fried rice. Day-old, refrigerated rice works well (as long as it wasn't too soft), but if you're making rice specifically for this dish, follow the tips in my Pineapple Fried Rice video (@4:00)
---
Instructions
To make the sauce: In a mortar and pestle, pound together lemongrass, galangal, kaffir lime leaves, and Thai chilies until fine. Stir in all remaining sauce ingredients. Alternatively, you can add all ingredient into a blender and blend until smooth.
To make Thai-style fried egg: Add about 1 cm of vegetable oil into a wok or a small frying pan. Heat the oil over medium high heat until very hot but not smoking. Crack the egg into the oil, then lower the heat to medium. If the oil is hot enough, the egg white should bubble excitedly right away. Let the egg fry for about 1:30 minutes or until the edges are browned. If you don't like your yolk runny, turn the heat down to medium low after adding the egg so the yolk has time to set without the white burning. If the egg sticks to the bottom of the pan, let it fry for a minute until the bottom of the yolk firms up before gently nudging it off with a thin spatula. Reserve the oil for another use. 
To make the fried rice: In a wok or a large sauté pan, add just enough vegetable oil to coat the bottom (you can use the oil from frying the egg) and heat over medium high heat until hot. Add the shrimp and sear until browned on one side; flip and brown the other side until done. Remove from pan and set aside.
In the same pan, add a little more oil if needed, then add onion and saute until translucent. Add Chinese broccoli and toss briefly until the leaves turn bright green. Add the rice and toss until most lumps are broken up. Pour the sauce over rice and toss until all grains are coated evenly in the sauce and the rice is dry. Add the tomato and cooked shrimp, toss briefly just to heat them up. Remove from heat and stir in green onions.
Plate the fried rice, sprinkle with chopped cilantro, and top with fried egg. Enjoy!
---