This classic chili paste is super versatile. We use it in the famous tom yum goong soup, we add it to stir-fries like this classic cashew chicken, and we even use it in a salad dressing like in this wing bean salad! We also use it simply as a spread on toast, sometimes as part of a sandwich, but really, use it in whatever way you can think of!
Watch The Full Video Tutorial!
All my recipes come with step-by-step video tutorials with extra tips not mentioned in the blog post, so make sure you watch the video below to ensure success - and if you enjoy the show, please consider subscribing to my YouTube channel. Thank you!
---
Print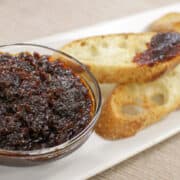 Thai Chili Paste/Chili Jam - Nam Prik Pao
---
8

-

10

large dried chilies (I use spur chilies, but you can use any type of mild dried chilies)

2 Tbsp

dried shrimp

10

cloves garlic, whole, peeled

4

heads shallots, peeled and cut into large chunks

2

-

3

tablespoon tamarind juice

¼ tsp

salt

1 Tbsp

fish sauce

3 Tbsp

palm sugar, finely chopped, packed

¼ tsp

shrimp paste, optional

¼ cup

vegetable oil (see note)
---
Instructions
If dried chilies feel dusty, dunk them for just a few seconds in cold water and dry them off on paper towel. Cut them into large chunks with scissors and remove the seeds and pith to reduce spiciness. If you want a spicier chili paste, you can leave some of the seeds in.
Toast the dried chilies in a dry saute pan over medium heat, stirring constantly, until they are charred in some spots and smell smoky. Remove from pan and set aside. In the same pan, add garlic and shallots and toast, stirring constantly, until they are charred. Remove from pan.
In a coffee grinder or a mortar and pestle, grind dried chilies into a powder. Add dried shrimp and grind until fine.
In a food processor or a blender, add all ingredients except the oil and grind into a fine paste. If it needs more liquid to grind properly, add some or all of the oil. If using a food processor, scrape the sides down occasionally.
Transfer the chili paste into a pot or a wok along with any remaining vegetable oil. Cook over low heat, stirring constantly, for about 10-12 minutes to cook the herbs and to thicken the paste to a desired consistency. If you are making a large batch, it will take more time to cook.
Store in a glass jar, and it'll keep in the fridge for a few months or in the freezer indefinitely. Use as a spread on crackers, toast, burgers and sandwiches, or use in any of these recipes: Cashew Chicken, Tom Yum Goong, Shrimp & Chili Paste Stir-Fry, Roast Pork Salad, Thai Tuna Salad, Wing Bean Salad
---
Notes
In commercial versions of this paste, more oil is typically used to the point where there is always a thick layer of oil that it on top of the paste. I don't like to add that much, but if you want to replicate the "traditional" style feel free to add more oil.