It's SO hard to find a really delicious beef and broccoli, don't you think? That's because simple dishes like this is actually tricky to make well, so you end up with a lot of mediocre one out there. In this video I show you my tricks and tip to making the BEST version of this weeknight-friendly dish.
Your choice of beef, how you cut it, how you marinade it...are all very important. Even the seemingly straightforward broccoli, how you cut it and how you cook it makes ALL the difference. Watch this video to see the simple little things you can do to maximize flavour!
If you love a good beef stir-fry, then shaking beef (bo luc lac) is a must-try recipe you've got to also check out!
Watch The Full Video Tutorial!
All my recipes come with step-by-step video tutorials with extra tips not mentioned in the blog post, so make sure you watch the video below to ensure success - and if you enjoy the show, please consider subscribing to my YouTube channel. Thank you!
---
Print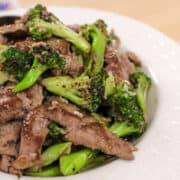 The Best Beef & Broccoli เนื้อผัดบรอคโคลี่
---
Beef Marinade
250 g

tender cut of beef (I use ribeye), sliced against the grain into thin, bite-sized pieces

1 tsp

soy sauce

1 tsp

oyster sauce

1

egg white

¼ tsp

ground white pepper

1 ½ tsp

cornstarch or tapioca starch
Sauce
4

cloves garlic, minced

¼

 

tsp ground white pepper (I forgot to add this in the video!)

½

 

tsp ground black pepper

1 Tbsp

oyster sauce

1 tsp

Golden Mountain sauce or soy sauce

1 tsp

fish sauce

1 ½

 

tsp sugar

1 Tbsp

water
The Rest
Vegetable oil, as needed

250g

broccoli (1 small head) cut into florets, slice the stems
Jasmine rice for serving
---
Instructions
Place the beef in a bowl, then add oyster sauce, soy sauce and white pepper; mix well. Add egg white and cornstarch, then mix well, making sure all pieces of beef are coated in the marinade. Let sit at least 20 mins.
Combine all sauce ingredients together, stirring to dissolve the sugar.
In a wok (if you have a round bottomed wok, use a large flat skillet), add just enough oil to coat the bottom, heat until very hot then the broccoli and spread them out into one layer, turning them so the flat side is facing down. Do this in batches as needed so you don't crowd the pan. Let the broccoli sear without moving for 1-2 minutes or until they have browned on one side. Flip them and let the other side brown briefly (it won't brown as well but that's okay). Remove from wok and set aside on a plate. 
If you used a skillet for the broccoli, you can switch to a wok for this part for easier tossing. Add a little oil to the wok just to coat the bottom and heat over high heat until very hot. Add the beef, spreading it out into one layer as much as is possible. Let the beef sear until well browned on one side, then give the beef a quick toss. Add the broccoli and the sauce, then toss just until the beef is fully cooked, adding just a splash of water if it seems a little dry (don't add too much water, stir-fries always look dryer when they're in the pan, you will see more sauce once it is plated.) As soon as the beef is done, turn off the heat and plate!
Serve immediately with jasmine rice. Enjoy!
---
Keywords: stir-fry, broccoli, beef and broccoli, quick meals